This season may have lacked the dramatic flare of 2011's frantic finish, but the stretch drive of 2012 has been thrilling in its own right, with division races coming down to the final day and one unlikely club making its only ascension to the top of its division at the most opportune time. After a day of reflection, we are now staring at an unprecedented slate of play-in games to the postseason tournament, where a season's worth of hard work comes down to nine innings of play.
October can be bittersweet for many loyal fans whose teams fell short of the playoffs. Football will lure those whose residual frustration is too great to bear, while others will adopt a more successful team to support through the postseason. But some of our baseball-loving brethren will follow the action regardless of rooting interest, and to those fellow baseball junkies who cherish every last pitch of October baseball: I salute you. To enhance your enjoyment of the next few weeks, here's a list of 10 pitchers who'll be in action this October—one per playoff team—and what makes them worth watching.
***
Atlanta Braves – Kris Medlen's called strikes
Kris Medlen has been the hottest pitcher of the second half, with a 0.94 ERA and a 9–0 record since the All-Star break. Medlen has drawn the start for today's wild card play-in game versus St. Louis, and he will need his best stuff to suppress the Cardinals' second-ranked offense in the National League. While not as overpowering as your traditional playoff ace, bringing modest 90-mph fastballs to the table, Medlen is able to keep hitters off-balance with a devastating change-up that he commands with exceptional precision.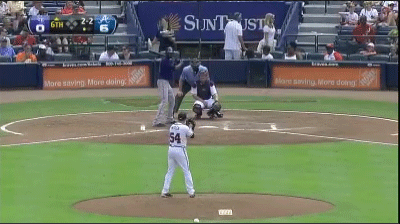 Medlen is deadly with two strikes: his ability to sneak a changeup over the plate has produced an inordinate amount of backwards K's for opposing left-handers, as Dexter Fowler found out on September 3rd. Medlen is third in the league in generating whiffs with his change, ranking behind only top-tier arms Stephen Strasburg and Cole Hamels. The Nats caught a glimpse of Medlen's skills first-hand on September 24th in a potential preview of the NLDS, in which the righty struck out 13 Nationals, eight of whom were retired on a called third strike. The average pitcher gets about 25 percent of his K's via call by the umpire, but Medlen has posted a 40-percent rate of strikeouts where the batter was caught looking, joining David Price atop the list of umpires' favorite hurlers.
St. Louis Cardinals – Jason Motte's controlled fury
Cards closer Jason Motte approaches the game like a man possessed, hurtling pitches toward the plate at 100 mph. The twitchy lumberjack look-alike has loud momentum and flailing limbs that give the appearance of violence and a lack of control, but the numbers tell the story of a guy who knows exactly where the ball is going. There are high-K closers who rely on sheer velocity and movement to get outs, with a common trend toward high walk rates when batters lay off their explosive stuff, but Motte breaks the mold with his preternatural pitch command.
It might come as a shock given the visible extremes of his delivery, but Motte's mechanical efficiency allows him to control the chaos. His timing will occasionally fall out of whack, but he is able to consistently harness very high quantities of kinetic energy with minimal loss of efficiency. Though his balance indicators are less than ideal, his combination of momentum, stride, and posture are impressive for a player with so much energy running through the system. The intensity of Motte's motion may not inspire confidence, but he is a trustworthy closer, and when the situation gets dicey one can always challenge friends to a drinking game based on the number of times that Motte adjusts his cap between pitches.
Texas Rangers – A whiff of Yu Darvish
Though it comes as no surprise to those who have been following Sam Miller's incredible GIF-work this season, it might open some eyes to learn that Yu Darvish has the second-highest percentage of swings-and-misses in the majors and leads the world in whiff percentage on fastballs. Darvish has no fewer than a half-dozen weapons to choose from, and each of his offerings carries an above-average whiff rate due to movement that is as unpredictable as it is explosive. The curveball is a high-60's looper that causes batters to shift their weight into awkward contortions when they swing, and which has been good enough to rank sixth on the major-league charts for whiff percentage on curveballs.
Darvish has evolved his approach throughout the season, and what once appeared to be a haphazard collection of myriad pitches gone awry has more recently taken the shape of a blueprint for success. Early in the season, it seemed that Darvish might be showing off too much of his repertoire and that he could benefit from saving certain pitches for his second trip through the league, especially considering his early-season struggles with mechanical timing and repetition. More recently, Darvish has exaggerated the use of his cut fastball, to the extent that nearly half of the pitches that he threw against the Angels in his final regular-season start were of the cutter variety. Darvish continues to surprise as well as amaze, and I have little doubt that he will have another trick up his sleeve for the postseason.
Baltimore Orioles – Brian Matusz transitions to the bullpen
Matusz has yet to live up to the promise of his pedigree as the number-four overall pick of the 2008 draft, and after watching him spend a frustrating couple of years in the rotation, the O's have opted to change course. Baltimore turned Matusz loose in the bullpen in mid-August, and the immediate returns have been nothing short of overwhelming. The guy who had a career ERA of 5.51 as a starter has spun 13 1/3 innings of 1.35 ERA ball out of the pen, with a 19:6 K-to-walk ratio and just five hits allowed.
The southpaw has ditched the advanced repertoire that he needed as a starter, relying on a steady diet of fastballs and sliders since his transition to relief. Many pitchers experience a velocity spike when working in shorter bursts out of the bullpen, but Matusz's heat has held steady despite the transition, so an uptick in velo is not responsible for the sudden wave of success. There are plenty of caveats when discussing a sample size of a dozen innings, but what stands out to me is a whiff rate of 20.6 percent since his conversion, up from his career norms of 6.6 percent. Granted, that gaudy percentage is based on a total of just 102 fastballs thrown, but it would take another 200 consecutive whiff-less fastballs in order to bring that percentage down to career norms.
Washington Nationals – Gio Gonzalez can't be slugged
With the end of the season comes debate about awards, and in Washington, the Cy Young talk has been dominated by hometown nominee Gio Gonzalez. Traditionalists may point to the lefty's 21 victories as proof of his worth, but his case is further substantiated by his league-leading rate of 9.4 strikeouts per nine innings and a sub-3.00 ERA, in addition to VORP and WARP totals that place him in the top five in the National League. Gonzalez is virtually tied with Clayton Kershaw for the lowest hit rate in the majors among starting pitchers, allowing just 6.7 hits per nine innings, which has combined with a career-low walk rate to knock 18 points off of his previous-best WHIP, pleasing his fantasy managers as well as Davey Johnson.
Gonzalez has maintained a better-than-average BABIP for the past three seasons, but playing in front of the NL's best defensive unit has propelled him to the Kershaw zone, with a BABIP of .271. Even more impressive is the sub-.300 slugging percentage that Gio has allowed to opposing batters this season, including just nine homers and an opponents' Isolated Power under .100 in his 199 innings of work. His opponents' slugging mark of .299 leads all of baseball by a healthy margin, sitting 19 points better than runner-up David Price (Medlen sneaks in below Gio if we lower the inning threshold). Gonzalez is throwing his signature curve less often this year, but when he unleashes the big breaker, it still has enough action to make ultimate slugger Ryan Braun look bad.
Cincinnati Reds – Bronson Arroyo's arm slot
Bronson Arroyo is an enigma wrapped in a riddle inside of a mystery, defying projections with his approach, his stuff, and his mechanics. His delivery is covered in funk, a fact that helps to hide the incredible efficiency behind his methods. A showgirl-style leg-kick enables Arroyo to stride closer to the plate, and the 35-year-old exhibits the balance of a surfer as he repeats his delivery on a daily basis. The grizzled veteran also has unreal command of his motion, with an uncanny ability to alter his arm slot throughout the game without any adjustment to his near-perfect posture.
Often times, when a pitcher is said to be "changing his arm slot" he is doing so unintentionally, as a pitcher who lacks the functional strength to execute his own delivery will exhibit varying degrees of spine-tilt at release point, a factor that will artificially tweak the arm slot. Arroyo is one of the rare freaks that can alter their arm slot on command without an adjustment to posture, instead changing the angle of shoulder abduction to give batters different looks without sacrificing efficiency. The GIF below demonstrates the other extremes of the spectrum, contrasting the over-the-top motion with a sidearm delivery that borders on submarine.
San Francisco Giants – Matt Cain's BABIP
Matt Cain has been the bane of some sabermetricians for years, as his persistently low BABIP's fly in the face of DIPS theory. Such consistent success is particularly remarkable for a pitcher whose strikeout total has been parked in the modest range of seven-to-eight strikeouts per nine innings. A single season of remarkable BABIP can be easily cast aside, but Matt Cain has sustained a BABIP below .270 for four consecutive full seasons, a fact that is impossible to ignore.
With mid-range velocity and good-but-not-great walk numbers, the basic stats fall short of explaining Cain's success, as the right-hander possesses qualities that travel under the statistical radar. The ability to repeat his timing with efficient mechanics allows Cain to paint targets both inside and outside the strike zone, and the late movement of his darting slider and fading changeup keep batters guessing until the pitches are too deep for an adjustment. A pitcher of Cain's profile can succeed due to an exceptional ability to induce weak contact, a skill that carries more weight than many people realize, as demonstrated by BP alum Mike Fast in his experiments with HITf/x.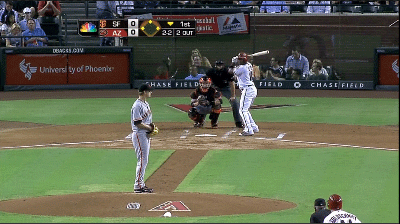 New York Yankees – CC Sabathia's two-strike slider
There is a lot riding on the big shoulders of CC Sabathia, who carries the weight of anchoring an inconsistent rotation on a Yankee team with aspirations of a World Series victory. Perhaps no player is better equipped to handle such a role, as Sabathia is no stranger to the burdens of a team savior, and he has proven himself equal to the task even on short rest. CC is the rare pitcher who has earned the True Ace label, and the veteran workhorse's most recent string of success eases any injury-related concerns as the Yanks head into the first round of the playoffs.
Sabathia is a great example of a pitcher who relies heavily on upper-body load to create hip-shoulder separation, resulting in consistent mid-90s smoke, but it is his slider that is his weapon of choice when it comes time to kill. The slide-piece was on full display on September 26th against the Twins, where seven of his first eight strikeouts came on replica sliders that were aimed at a common location. Each strike-two pitch started middle-down in the zone before it broke down-away from lefties. In the case of right-handed batters, the pitch darted toward their shoe-tops.
Detroit Tigers – Justin Verlander's wicked stuff
Absolutely everything Verlander throws is filthy. The best pitcher in the game has three plus pitches, with both his fastball and his curve earning a perfect 80-grade on the scouting scale for stuff. The heat is Verlander's calling card, and his ability to build velocity as the game progresses, reaching for triple digits even as he ventures past 100 pitches, has flummoxed major-league batters for years.
Verlander typically cruises at 96 mph for the first few innings, but he cranks up the heat on his second and third trips through the lineup, such that hitters are unable to anchor on any one timing pattern across plate appearances. The above strikeout of Torii Hunter came on Verlander's 97th pitch of the game and was the last of four consecutive fastballs that topped 98 mph on the gun. Verlander's exemplary arsenal keeps hitters in the dark, as they must gear up for fastball velocity with the knowledge that, at any given time, Verlander can rip off one of these:
Oakland Athletics – The Bernie Lean
The upstart A's will face Verlander in game one of the ALDS on Saturday, and though the spotlight will be hogged by Verlander and triple-crown winner Miguel Cabrera, there is a laundry list of items to divert one's attention toward the visitor's dugout. Beginning on the mound, the interchangeable parts in the Athletics rotation are so abundant that potential playoff starters Brett Anderson and A.J. Griffin missed the cut when I covered the pitching staff several weeks ago. BP's resident rock star Ian Miller compared the system to a hydra that spontaneously regenerates from the A's complex in Phoenix, with Billy Beane sorting through his options like Tuco Ramirez looting an arms dealer.
The A's have the proverbial momentum from their final-week sweep of the rival Rangers, and though such surges can be fleeting, there is plenty of opportunity for irrational exuberance. Green collar baseball offers a world in which every game is started by a rookie pitcher, where an Aussie can exhaust a section of bleachers by entering the game to Metallica's "One," and where an entire organization can be inspired by a 20-year-old movie that refuses to die. The battle begins on Saturday, and until then, A.J. Griffin and Jerry Blevins will be doing the Bernie Lean as they bask in the glory of the A.L. West crown.
Thank you for reading
This is a free article. If you enjoyed it, consider subscribing to Baseball Prospectus. Subscriptions support ongoing public baseball research and analysis in an increasingly proprietary environment.
Subscribe now