As part of Baseball Prospectus Night at Target Field on August 5, Minnesota Twins general manager Thad Levine joined us for an interview and audience Q&A. The following is a transcript of his interview with me, which has been edited for clarity and brevity, as the entire session lasted more than an hour and was over 10,000 words when transcribed. You can listen to the unedited, hour-plus Levine audio, including the audience Q&A, on the "Gleeman and The Geek" podcast.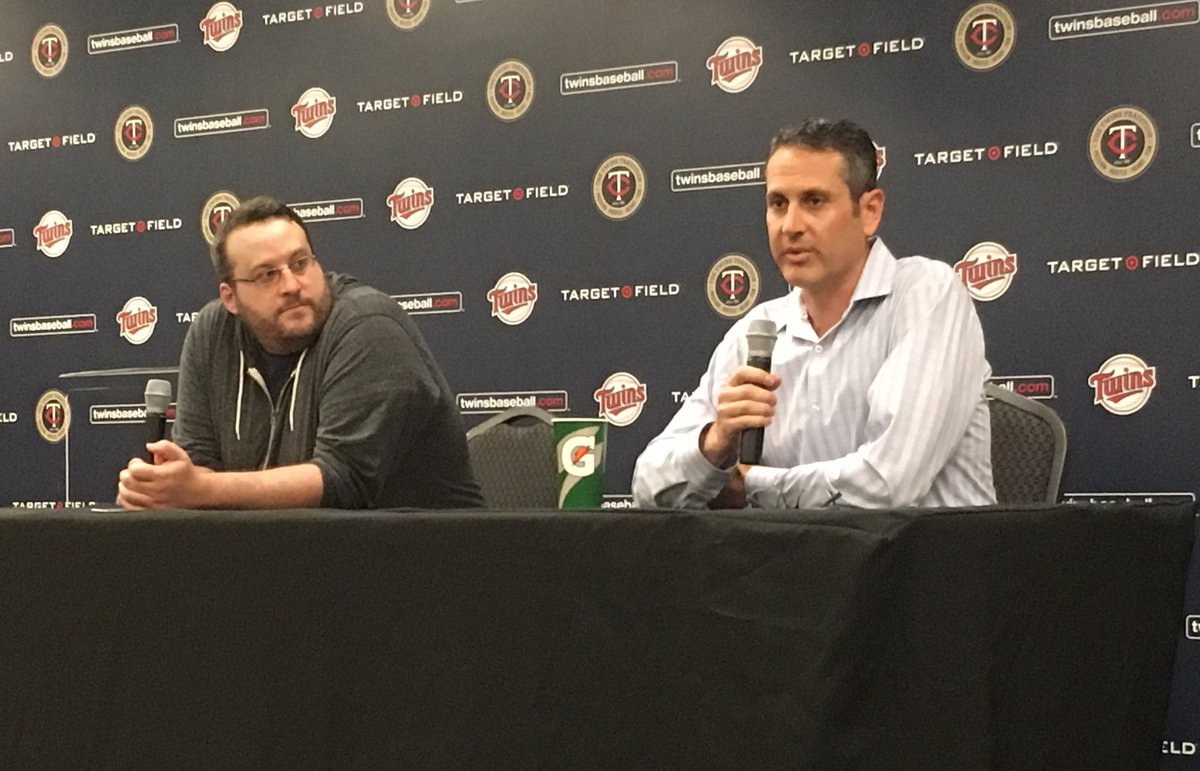 Aaron Gleeman: We should start with the trade deadline stuff that everyone wants to talk about. What are the mechanics of a trade? What I mean is, I think they showed this during the Moneyball movie—we see these long phone calls where you're behind a desk—but is it? I'm assuming at this point, are people texting? Are they Gchatting? Are you on Snapchat? How do the actual ABCs of a trade discussion happen at this point?
Thad Levine: Most of it's done through Tinder. You don't get off the ground quickly, no trades. A lot—too much, in my opinion—is put on the profile picture. Actually, none of that's true.
I think what you're talking about is it's significantly evolved over even my career and certainly people who have been in the game a lot longer than I have, where there are 29 other teams that we need to keep track of and that we want to negotiate deals with. I feel as if our responsibility to our ownership group is to be able to negotiate with all 29 of those clubs. You don't want to alienate relationships with any of them. Believe it or not, there are teams out there who'll say, "I can't deal with so-and-so because they don't treat me fairly," or "We have a bad relationship," or you'll hear a team say, "We just can't trade within our division." And I think we view that as, I hope everyone feels that way, because we want to beat you then, because we're going to be able to trade with 29 clubs.
At the outset of our tenure here, [chief baseball officer] Derek Falvey and myself sat down with [assistant general manager] Rob Antony. There are 29 teams and there are three of us, so we basically carved it up and said each of us are going to have relationships with specific teams. It's not as if every time we deal with the Yankees, one of us talks to them, because sometimes they're going to have incoming calls and those teams will have a comfort zone with one of the three of us. But in terms of gleaning the information from those teams, being responsible for knowing exactly where they are in the buy-versus-sell cycle, one of us would be tasked with that. Our hope was that we could do a deeper dive by breaking that up between three people.
Back in the day, I think one general manager would talk to the other 29 general managers. By and large, that was done in person and in offseason—at the general managers' meetings, at the winter meetings. We all used to get together at the All-Star games and talk to one another face-to-face. I know that sounds crazy old school. We would play old records and drink Mint Juleps, and we would talk to one another. But it's evolved now. You would be shocked to see how many full-blown trades involving All-Star players are done entirely on text, where you never pick up the phone and call the person. Then, when you're exchanging medical information to make sure everything is all buttoned up on the deal, you've got to understand the nature of the team you're talking to.
Part of my job is to scout the other general managers and understand what are their tendencies? What types of players do they tend to like? What types of players do they tend to undervalue? What types of deals are they comfortable making, and, quite frankly, what types of deals won't they make? And so you walk into each of those conversations with that intelligence. I take the tack and the Twins take the tack of, I want this negotiation to be handled in such a professional manner that it greases the skids for the next negotiation. I want to be able to lay the groundwork for the next negotiation, which I don't know what it's going to be. It could be a really small deal, or it could be a really big deal. It's a blend of text, it's a blend of e-mail, and it's a blend of Tinder. As we mentioned, it's a phone call or two.
Derek Falvey and Thad Levine at their introductory press conference in Minnesota.
AG: You traded for a couple high-minors guys [in exchange for Jaime Garcia]. Did you set out to acquire—obviously pitching—but did you say to yourselves to go for the best available player? Or did you want guys who were closer, in theory, to the majors? Was that a consideration?
TL: Yeah. I think the answer is always get the best player available. Last year our international group, headed up by Fred Guerrero over in the Dominican Republic, signed Wander Javier, a shortstop who we think has a lot of high upside. We go into the draft this year and take Royce Lewis, who's a shortstop we think has a high upside. And you get the question of, "Don't you guys think you have too many shortstops?" My response is, "I also don't have too much money in the bank." No, I will work with this problem of having too many shortstops.
Our view is that you would be surprised how many guys are playing in tonight's game who are playing positions other than shortstops who were shortstops. Some of them are pitching for you, some are playing third base, or moved to center field, and some moved to second base, but by and large, a shortstop can move to lots of places and still bring value to your team. A third baseman may be able to move to first base. A left fielder may be able to move to right field or first base. First base may be able to move to DH. DH may be able to move to softball league. But the point is, the levels of degradation as the game gets more difficult, as you progress, shortstop, quite frankly, lends itself to having the greatest staying power because there's the most versatility that they offer. We are ideally going for the best player available.
I think you brought up a great point: There was a little bit of a sense of a tie going to a pitcher, for us, just because we view our major-league club as being a little bit more talent-rich on the position player side. We see a core in our minds that can be here when we're winning championships in the AL Central. We wanted to marry that up with a little bit more depth in our pitching. This year and last, just the exposure you can feel when you get through that first wave of starting pitching. When you have to go to that second wave, if there's a huge drop-off, it's at a significant disadvantage. Then, when you get to that third wave, all hell's breaking loose. So we wanted to augment this team with as many pitchers as we could.
We've always talked about, we're always reluctant to get you guys excited about the next best prospect. I'd rather get you excited about the wave of prospects that are coming, because in practice, for the guys who have been fans of the game for a long time, you know that prospects come at their own pace. Some of the guys in the next wave of players we all think are going to be coming to Minneapolis soon—one of them will have a setback, whether that's injury, performance, otherwise, but one of them vault forward. I'd rather tell you we have waves upon waves upon waves. We've got pitching now through this trade cycle at three different levels for us. Some of those guys might catch up to one another at some point, but the point being you can start this vision of augmenting the waves that are coming and going to hit the beach, hopefully one after the other.
AG: You mentioned that it was a weird—you bought Jaime Garcia, turned around and sold him, then turned around and sold Brandon Kintzler. It was a unique situation. I thought it was relatively straightforward in that the cost to acquire him was not huge in terms of prospect capital. And then, after a rough week, when you were sort of on the margins of contending anyway, you turned around and sold him. But when you acquired Garcia, or a week later when you sold Garcia and Kintzler, were there any other trades that you were relatively close to pulling off?
TL: Yes.
AG: That's good. That's a one-line answer on that one?
TL: I will answer a different question.
AG: Okay.
TL: This is one of the tactics you employ when you're trying to dodge a question—you answer an entirely different question. I'll do that right now. So, when you asked me about my wedding and how I proposed to my wife—I'm just kidding—beautiful day. So it was a very unique setup. Honestly, I don't think in my tenure I've even been in a position where we've literally bought and then ultimately sold within the same week of the trade deadline, let alone the same player. But we entered the season coming off a 103-loss season, which you guys weathered, and we apologize for what you guys did have to watch last year and live through that. Derek and I kind of actually got the benefit of you guys having to absorb all the pain, and then we got to pick first in the draft, which was glorious for us, so I can't exactly say we share your pain. We appreciate the pain you endured.
We wanted to see a more competitive product on the field; we wanted to see some of those mistakes we were making game in and game out last year be reduced. Maybe not eradicated, but certainly reduced. We find ourselves three months into the season, and we find ourselves having spent most of the season in first place or within shouting distance of first place. A lot of people talk about the negative run differential, but, you know, I don't mean to go too old school, but we're in first place. And so, to a certain degree, as much as you want to dismiss the fact that there were some underlying metrics which would suggest that maybe we were overachieving, the facts were we overachieved for three months, and we weren't going to take that lightly. So we started the trade cycle saying to every team, "We're buying. We're interested in buying. We see starting pitching as our biggest area of need."
The deal we did there was a testament to [owner] Jim Pohlad and his support of our decision-making, because he allowed us to take Jaime Garcia's salary, which—come to find out, we didn't know this at the outset of negotiation—the other teams that were competing for his services weren't prepared to do that. This was an area that we were unaware of, once again, but we learned as we went through the trade negotiation that this was a competitive advantage for us. If we were willing to take the entirety of his remaining salary, which was about $4.7 million, then we were going have a leg up, and that was something that was meaningful to Atlanta and ultimately to Atlanta's owners, and they were driving their general manager to make a move that would give them as much salary relief as possible. Jim Pohlad allows for us to take on the salary.
It was a half-game deficit at the time of the acquisition. It was then a six-game deficit, literally, maybe seven days later, and we all of a sudden found ourselves in a much different complexion, in terms of our pursuits. We had aspired to make sound baseball decisions. The first one was short-sighted, you know, with a short-term vision in mind. We wanted to help the 2017 team, and we wanted to put them in the best position to win. A week later, we found ourselves looking more medium and longer term. At that point, I think our charge was pretty clear—we had assets that the industry valued. We were going to find out exactly how much they valued it; we had about 72 hours to do it. Ideally, we'd like to hang in there a little bit longer. We'd like to see if we could rebound. … We preferred to give the team a few more games to really evaluate, such as the case was. We wanted to strike; we felt that the deal was a good deal. As we talked earlier, we were able to add some pitching to the thick of our system, which was important to us at the time.
In the interim, I will tell you, yes, there were other trades that were considered—the front end, buying Jaime Garcia was not the only starting pitcher we inquired about. It was just the one that came with the most reasonable cost, as we were talking about earlier. When we rank the guys to start with, I'm not saying he was necessarily number one on our board, but once we weighed it against what the acquisition cost, he became number one on our board in a hurry. That was mostly because it's far less painful to spend someone else's money than your own prospects. Lesson learned: If in doubt, spend someone else's money. So then, when we decided to sell at that juncture, there were teams that were very excited at the prospect of us selling, came at us for a number of our players. Obviously we only traded two of them because from a timing standpoint, we believe in this team; we think we're not far away. We weren't really looking to sell heavy; we were just looking to sell—primarily, we ultimately sold two guys who had expiring contracts with us.
AG: Going back to before the season, was your expectation—I can tell you, Baseball Prospectus' PECOTA system had the Twins at 78 wins. Was your expectation something along those lines, and did that play a part—obviously you signed Jason Castro to a multi-year deal—but on the pitching side, Matt Belisle, I think, was the only major-league contract, and Craig Breslow ended up making the team on a minor-league contract. Was your expectation or your view of how things were likely to go that if things went well, maybe on the periphery of contention? And it wasn't worth investing heavily in the short term on the pitching front? Or, an example of you went for that and the deals were just not in place? You ended up with Belisle and Breslow, and for the most part, status quo until some prospects arrive?
TL: I've never been one of those guys who targets a win total for the year. I will say, we have the utmost respect for your guys' system, as well as the other systems out there; they're usually pretty accurate. Going into the season, I don't say, "Those guys are dead wrong. We're winning 95 games." I think those were relatively accurate representations of the team. Now, as you know, seasons don't always go true to form. Even though it's 162 games, that doesn't prove to be a sample size that's exceptionally informative. So when we're doing what we'd like to deliver to the fan base, I will tell you, our win total that we're aspiring to is one more than the team in second place in our division. Whatever that number is, that's what I'll take. Some years, it might be 88, some it may be 96, whatever it may be, but the number to me means far less than the place we finish in.
To us, the goal this year was to be better, and obviously that's a lot of room to fulfill that promise. Talking to Paul Molitor in spring training, with his whole staff, we identified a lot of areas where this team could get discernibly better. We knew we had to if we aspire to greatness at some point. There was a foundation of fundamentals that we were going to have to just improve. You guys are so familiar with it, and I'm just getting to learn it—kind of the Twins Way. From the outside looking in, what that meant to me was the Twins always had athletes at every position. They were exceptional defenders. Balls in the air were caught. They pitched to contact and didn't walk anybody. They had an extremely dynamic offense which wasn't dependent on who could hit the home run, but could string a lot of hits together.
I think that ideal had become very much a departure from what product you guys were seeing on the field. And I'm not saying that we're trying to get back to that exact place, because I think we're trying to redefine what the Twins Way is, but now we're in a little bit different model, based upon the personnel we have. But we at least wanted to take uniform steps because all of that spoke to playing championship-caliber baseball, and we knew we were falling short on that front. So that was really our growth for this year. It really had less to do with that place we finished in this season or how many wins we had, but rather that we knew this wasn't going to be something where we flipped a switch.
Our hope and goal is that we are competitively relevant in the month of September, year in and year out. We may find ourselves in the playoffs a few of those years, may find ourselves short a couple of those years, but hope is that you guys be exhilarated when you come in September, not just in April or the first couple weeks of the season. So it wasn't just a sense of a get-rich quick scenario; we don't aspire to spike up and then recede. We don't expect to be in the playoffs every season, but what we wanted is to be competitive deeper into games, which we felt would then lead to being competitive deeper into the season and ultimately then putting ourselves in a position where we at least could scare some people. I surely think we did that.
Prior to coming to Minnesota, Thad Levine worked alongside Jon Daniels in Texas.
AG: It's interesting timing that last night, news broke that you parted ways with director of baseball research Jack Goin. What is the plan or the view longer term, of the analytics department, both in terms of the goal that they're trying to accomplish and then from a head count standpoint? I know for many years, before you got here, there was a lot of talk of how far behind are the Twins, not just in terms of how they were doing, but also because they only have X number of people, compared to what Derek had in Cleveland or what you had in Texas. So what is the goal, moving forward as you make changes, starting now, of what they're trying to accomplish, but also give a rough idea of the analytics department? How many people are involved? What are they doing on a day-to-day basis?
TL: We use a Ouija Board. It's not the most exact thing, to be honest with you guys. One thing we're trying to achieve here is to take the best of Cleveland, take the best of Texas, and take the best of Minnesota to take the best of the American League. That's our goal as an operation—across the board and not just in our analytics department. Specific to our analytics department, I actually would tell you that walking in the door here, I don't think we're as woefully behind as maybe we were portrayed to be. There were some extremely talented people here who work in our analytics department. One of your questions was how big is our analytics department. Right now, we have four full-time employees who work in our department, and I'll tell you they're exceptionally talented. Our latest hire was a PhD graduate from a university in Canada, and he has been lights-out since we got him. I think we're in a really good place with our analytics department.
We all know where the Minnesota's payroll ranks among the 30 clubs. We're not going to be in the top 10, and we're fine with that. There's no excuses about the payroll. One thing that when Derek and I joined the organization, we kind of pulled back the curtain of what we did in Texas from a personnel standpoint—in the front office, in the analytics departments, and otherwise, and so did Cleveland, and we kind of juxtaposed that against what Minnesota was doing. I think at that point, we had a little bit of a revelation that maybe Minnesota, just from a sheer personnel and systems standpoint, was a little bit behind some other teams. And if we're acknowledging that we're going to be a little bit behind on the payroll, we tried to present to ownership—we shouldn't be behind on the infrastructure because if you're not spending on the field and also not spending off the field, outside of sheer dumb luck, I'm not sure how you're vanquishing foes, and our goal is to vanquish the foes.
We talked about—let's leave the payroll alone, but if you give us the latitude to spend more on systems than on people, then we can be extremely competitive. And ownership was 100 percent on board with it. They have been exceptionally supportive of that. We have a four-man staff right now, and I think that's just the tip of the iceberg. In light of the quality people we have in our organization, I think we're very confident that same group can bring more people of that ilk in, and I think if we have this event next year, I'd be shocked if we weren't talking about the department having two to four to eight more people involved in it. I'd say it's an area we're really, really investing in.
We had our draft in this room. For the first time, the organization had the analytics department put together a model to kind of inform us of some of the decisions we can make in the draft, and just big picture, without getting into too many details. If you tell us what the percentage chance was of the player appearing in one of the next three picks that we had, if you don't take them in the second round, what are the chances he'll be in the third, fourth, or fifth round? I see us spending a lot of money and time on our analytics department. They're informing every one of our decisions. But we're not shifting to the point where they're the only voice—we're mirroring it up with our scouting perspective, with out player development perspectives, so that we feel like we have more of a 360 support in terms of the decisions we're making, rather than just really looking at one of those pillars as being tantamount to every decision.
AG: In terms of evaluating something that's quantifiable vs. gut, how do you evaluate coaching and managers? You can look at the lineup, the batting order, the bullpen decisions, but the sense is that at least some things go beyond that. Do you guys have a better model to quantify that stuff, or is there just so much information that can be gleaned day-to-day, from talking to people in the clubhouse and all that, it sort of supersedes, pushes aside the quantifiable aspects to managing and coaching? As you make some changes in the front office—and I'm sure there'll be some changes in other areas—what do you lean on in that regard to evaluate what you have and then bring in people from the outside?
TL: Globally speaking, when you're talking about introducing analytics into your decision making, you're trying to have as objective a point of view as you possibly can. Every decision we make involves a product of human beings. My experience with human beings is that there's a volatility associated with each and every one of us that you can't predict. So to your point, I would tell you that Derek and myself talked to Paul [Molitor] every single day—we try to communicate with the coaching staff. So there's some things that we wish we could tell the fans, "Oh, so-and-so's working on this specific aspect of his game tonight, and you may see someone throwing a few more changeups than they usually throw." One of those changeups results in a double in the gap that, unfortunately, impacts the game. We kind of see it as a win because we're trying to get him to throw changeups. It seems like a systemic failure to the outward person, but we can't share that.
I would say as we're evaluating human beings and some of the human beings who are coaching around our players, part of that is the knowledge of what we're individually working on. Because believe it or not, we have player plans throughout the minor leagues. Every minor-league player has an organic plan that they co-author what they want to achieve throughout the course of the year. The strength and conditioning coordinator will contribute to that, and so will our athletic director, as well as—if you're a pitcher—your pitching coordinator. That evolves throughout the course of your minor-league career. It's no different at the major-league level because, as you guys know, we have a lot of young players. We need to continue to have them develop up here.
Some of that is the proverbial growing pains, where you see a guy do something that seems a little bit counterproductive. What we're trying to do is lay the groundwork for future success, and maybe we're taking a half-step back to go two forward. We have the benefit of that knowledge, and so we're able to evaluate that as well because we're charging our major-league staff to continually serve as development coaches as well, for all the young guys you see out there and that we're going to continue to bring up. So that has to be factored into the process as well. … There are components associated with making decisions on the field. Things are happening in such snap real time. You can't play on the forehand for everything. You want to equip them with the best information possible and then trust them, have the human instincts to make the right decision, and then you've got to grow with them.
AG: You talked about younger players working on stuff throughout the season. You may see ugly stretches, changes in approach. Going into the season, two of the bigger question marks were Miguel Sano moving into third base full time and Jorge Polanco staying at shortstop, at least in the short term. As a duo, as a left side of the infield, how do you think that's gone?
TL: We just talked about the major-league coaching in the previous question, and now we're talking about two specific players. Gene Glynn is our third base coach and also our infield instructor. I would tell you, in my opinion, in spring training, the work he did with those two, among others, has been extremely rewarding. You guys got to witness Miguel Sano playing the outfield last year; it seemed like it wasn't a good fit. Objectively, I would say it probably impacted his offense because he aspires to be a complete player. He doesn't just want to be a one-way player. I think, and I don't know—you may be able to answer this, Aaron, the metrics, I don't know if they support this. He plays, to me, like an average to above-average third baseman. His ability to come in on a ball, he's got a well above-average arm, his athleticism, coming forward, I think is significant. He's still working on his range left and right. But his movement forward—his hands, you know, are great. He's got a cannon.
I'm really encouraged with Miguel Sano. The first time I met him was at the opening of our Dominican academy this offseason. I came up to him and said, "Hey, listen. One of the benefits Derek and I have is the scouting reports in our heads of what our teams' thoughts were. Texas viewed you as a guy who should be a complete player. Which do you want to be? Do you want to be the guy who's going to mash and be known as the guy who can go to the Home Run Derby, or do you want to be known as the guy who's going to stand at third base and be an asset to us?" And he clearly wanted to be the two-way player. And I said, "I'm going to ask you every day in spring training, 'What have you done defensively today? I can see what you're doing offensively; I want to know what you're working on defensively.'"
And I will tell you, he wants to be great. This is a guy who has an amazing amount of energy, loves the game of baseball, is smiling from ear to ear. Leaders come in different shapes and forms, but I'll tell you, from an energy standpoint, this guy's love of the game is palpable and will get us through a 162-game season. That, and he also can hit the ball a very, very long way.
Polanco is, as you guys know, a second baseman who we're asking to play shortstop. There's been a lot of discussion throughout the course of his progress as to whether he's going to stay as a shortstop or move to second base. Gene Glynn did a great job with him, I think—the numbers on him, at least for the first couple of months, he was competitive at shortstop. He continues to be competitive at shortstop. Whether he ends up being entrenched at shortstop for the next five or 10 years, I don't know. I will say, wherever he plays, the time he played at shortstop will benefit him. Wherever he lands, he will be a competitive advantage for us, and a lot of that has to do with the work that Gene put into him playing shortstop. The efforts he's made to become an adequate shortstop at the major-league level—I think the left side of our infield has been just fine, and it's been extremely encouraging based upon, what, quite frankly, we had heard about those two players coming into this opportunity.
Miguel Sano and third base coach/infield instructor Gene Glynn.
AG: You talked earlier about how on the position player side, the core is certainly more in place. But on the pitchers' side—Jose Berrios, Adalberto Mejia, and then, for the most part, it's largely veteran guys. As the veteran parts of the rotation take the mound, and if they struggle, the thing that we always hear is, "Where is Fernando Romero? Where is Stephen Gonsalves?" I'm not going to ask you what day they're going to be called up, but where are they at in the development phase? Is there any notion of them stepping into spots this year?
TL: I'm actually going to bridge to a question you asked me earlier that I probably did not address, and then get into what you're talking about. I think you had referenced earlier that Matt Belisle was really our only investment, such as it was, in a major-league pitcher. I just wanted to address a little bit the veteran component of the question that you just raised, which is—one of the things we tried to accomplish this offseason, one thing we had heard about the 2015 Twins juxtaposed against the 2016 Twins, was how important Torii Hunter's leadership was, and perhaps that was really missing in 2016. That the team, at times, was a little bit rudderless and that those three-game losing streaks turned into eight-game losing streaks. There was no one there to stand up and help put a stop to it.
When we signed Belisle, when we signed Chris Gimenez, when we didn't trade Ervin Santana, when we retained Hector Santiago, it was with a purpose, and it was ideally because we had hoped they'd help us win baseball games. But what we had heard anecdotally about those guys was the value that they bring to the team when they're not playing, the value that they bring to the team in the clubhouse, and, honestly, the value that they bring when things aren't going 100 percent right for the club. We thought that those were very important pieces to invest in around the team that's something that was purposeful on our part, something that we'll continue to do—ideally, we'll get to a point where the guys here who are our core members of the team, are also our leaders, but until that day comes, we're still going to continue to surround our young players with some of these veteran guys to address the aspect.
We're really excited about what Berrios has done. I think you guys saw him come and falter last year—keep in mind, this is a very young player who went through almost the entirety of his minor-league career with almost no adversity. He then gets hit in the mouth last year, gets knocked on the canvas—what is he going to do? He goes and plays in the WBC. He's never said this to me, so this is just speculation on my part, but I have to believe the time he spend on Team Puerto Rico with Yadier Molina and Carlos Beltran, with some of those veterans, had to have paid significant dividends for him. As he returns to the team with a level of maturity and a conviction to perform that we just hadn't seen before. Simply put, what he was doing at the minor-league level, which was getting a lot of outs outside the strike zone, it wasn't laying on the major-league level. So the simple challenge to him was if you throw more strikes, we think you're still going to have success because your stuff is tremendous.
I also think Adalberto Mejia is a worthwhile person to know here. Last year, when Terry Ryan steps down, Rob Antony is the interim general manager. I think Rob deserves a ton of credit for making that trade in the backdrop of what was a little turmoil for the franchise. Mejia, believe it or not, based upon what you're seeing, you may be surprised to hear that his profile throughout the minor leagues was that he was a strike thrower. He hasn't been that for us just yet, but I think that speaks to the fact that he's keeping his head above water now without really utilizing his best strength, which is the command of his pitches. When he gets to that level, similar to the step that Berrios has taken this year, we believe he has the chance to slide into that three- or four-hole spot into our rotation.
One of the things that hurt us this year, and this just speaks to having areas of the game and how you really just can't count on human beings, especially men—I mean, we're very unpredictable—is that we had a bunch of guys—Tyler Jay, J.T. Chargois, Nick Burdi, Jake Reed, Ryan O'Rourke, Trevor May—all of them got hurt. And those are six guys right there that, if I had to guess, come August 1, how many of them would be on our major-league staff of 12 guys? I would have probably told you five. A lot of those guys got taken out of play pretty quickly. You have to make adjustments. That's why in some of those trades, you acquire extra pitching because guys will go down, but I think that's a little bit of an untold story of the 2017 Twins.Tthat perceived next wave of high-end guys that we were going to put around a guy like Matt Belisle, help teach them.
Marry up with Brandon Kintzler, Taylor Rogers, Tyler Duffey. Now, what we didn't know was that Trevor Hildenberger was going to come forward as he's done. Alan Busenitz was going to come forward, another trade that was made—I think Rob Antony was the one who made that trade as well. You just don't know how things are going to progress. The good news is that we get five of those guys back into the fold next year. That's a huge boon for us. We're getting this wave of players back that are just going to get healthy and will now start populating our farm system and be real options to us as we move into 2018. To us, that's like an untold story. Hurt us in 2017, and it's going to be a boon for us in 2018.
***
The above transcript represents about half of Levine's appearance. Audio of the entire thing is available below:
My eternal gratitude to Amanda Anderle for transcribing all of the Levine audio. She is a saint.
Thank you for reading
This is a free article. If you enjoyed it, consider subscribing to Baseball Prospectus. Subscriptions support ongoing public baseball research and analysis in an increasingly proprietary environment.
Subscribe now