Revisiting our reactions, at the time, to the moves that proved key to the Rangers, Blue Jays and Royals making this year's postseason.
Traded RHP Zack Greinke, SS-R Yuniesky Betancourt, and cash to the Brewers for RHPs Jake Odorizzi and Jeremy Jeffress, SS-R Alcides Escobar, and CF-R Lorenzo Cain. [12/19/10]
One way to look at this is that the Royals got lots of stuff, and four useful players: two power arms, and two solid up-the-middle prospects. It's easy to dicker on who the best of the four might be'well, best of three, since Cain is perhaps solidly resigned to being the fourth of four prospects'but whatever else, Dayton Moore acquired depth and buzz-worthy talent. Whether he got enough for two years of a staff ace at sub-market pricing, however, is the question we'll get to last.
Odorizzi is arguably the prize, because he's an athletic, hard-throwing prospect with consistent 90-something velocity and a nice breaker with the upside to be a quality starter in the front end of a rotation (albeit perhaps shy of acedom). Just as happily, the Brewers have handled him carefully since making him a supplemental first-rounder in 2008. If the estimate that he reaches the majors to stay in 2013 is correct, he'll be just 23 years old when he's in a position to give the Royals an answer on his potential, assuming no injuries in the meantime.
Next up might be Escobar, because good help at short is hard to find, and the Venezuelan was the Brewers' top position-playing prospect heading into his rookie campaign in 2010. The expectation of his eventual upside at the plate before the season might have been something along the lines of a fast Deivi Cruz or'dare we say it, a young Yuniesky Betancourt'as a hitter capable of an average in the .280s with 30-doubles power. Unfortunately, Escobar's rookie season was a bit of a disappointment, in that he hit just .235/.288/.326 with a .232 True Average, and his fielding performance generally graded out as adequate between nFRAA, Plus/Minus, and Total Zone.
So, it was rough, but he was also a 23-year-old rookie making his way, his power was consistent with what he'd done in the minors, and turned loose, he ought to manage more than 10 steals after managing 34 and 46 in the previous two seasons. Another half-full/half-empty proposition might involve his walk rate, in that managing to top five percent wasn't Alfredo Griffin-level flailure and was better than Cruz ever managed in any single season in his career, but it wasn't good. And adapting to the majors as a fielder isn't always an overnight proposition; he could still settle in as a premium defender. The expectation for what he's capable of should be much the same as it was before his rookie season: a top glove and a bat who will produce some sock.
The third guy, Jeffress, should be a premium reliever, setting up Joakim Soria from April until whenever it is that either the Mexicutioner gets dealt, fails to vest or earn club options for 2012-14, or Opening Day, 2015. Just as you can fidget over whether any pitcher will still be healthy five years from now before we start dickering over whether Jeffress will ever wind up a premium closer, what adding him does for Dayton Moore is create the possibility that Soria resumes starting as his avocation. In the meantime, it isn't hard to envision a quality bullpen stocked with youngsters at some point in the 2011 season, with Aaron Crow and Tim Collins potentially joining Jeffress in handing over those occasional Royals leads to Soria by season's end.
The fourth prospect, Cain, deserves the label as well as the other three, because he's a fairly safe bet to wind up as a playable everyday center fielder for much of the next five seasons or so that he'll be under Royals club control. Afield, he has the range and the arm to be a quality defender. At the plate, six seasons into his pro career his walk rate has been generally good, topping 11 percent last year, although it's worth noting that he spent a good chunk of the season in his third partial spin in Double-A. Against that cautionary note is the fact that he didn't start playing baseball until high school, suggesting he has some adaptive potential. His speed hasn't really zig-zagged around as his seasonal stolen-base tallies suggest, because the same hole in his hitting performance record was caused by a sprained knee that ruined his 2009 season and cut him down from his usual ~30 attempts. He hit for more power in the lower minors, so I wouldn't rule out his shot at 30 doubles and 10 triples in a couple of campaigns. Add the glove, walks, and good plate coverage with a bat that's far from slappy, and you have a good non-star regular at an up-the-middle position.
Again, in those terms, that winds up looking like a fairly good package. Jeffress should star soonest, but Escobar will be starting at short come Opening Day. Cain shouldn't be too far behind when his primary competition for outfield playing time will be rented filler like Melky and Frenchy, but he'll also be contending with David Lough in-house. Manager Ned Yost is familiar with all three from his days with the Brewers, so there shouldn't be a question of whether the relatively new skipper won't like the cut of any one kid's jib, so an optimistic way of looking at the ready-now trio is that what upside they have seems that much more likely to be realized. And three or four years from now, Odorizzi might be a quality right-hander to stick amongst a left-leaning rotation manned by John Lamb, Chris Dwyer, Danny Duffy, and/or Mike Montgomery.
Another, less generous way to look at it is that the Royals might only wind up with a good reliever with suspension potential, a Low-A arm not better than what they already had in the system, and two filler up-the-middle players with no real star potential. Kansas City gave up two years of Zack Greinke at $27 million, or less than he'd command as a free agent, even after a bad year, though only one season removed from the best season ever delivered by a Royals rotation regular. To be entirely fair to the Royals, he's a guy with his own past issues as far as absolute reliability beyond questions of his ability as a pitcher.
If this deal seems a little light to you in terms of return, you're not alone. Maybe Greinke's limited no-trade protection put the Royals in an especially difficult situation, but if this is really all that two years of an ace brings you in December, that would suggest they'd have been better off holding onto him, and folding up any trade negotiations until later. Not that everybody is going to get what the Rangers got from the Braves at the deadline for Mark Teixeira in 2007, but a year and a half of control while trying to make a run at a pennant has a way of pressuring bidders into action. If this was the best deal they could get for Greinke now, the absence of any one definite difference-maker for the fortunes of the franchise strikes me as a squandered opportunity to convert Greinke into a more certain component of any future success they might aspire to. As good as Jeffress might be, relievers aren't the rarest of rare assets, Cain might be no better than the veterans he'll contend with, and Escobar could be nothing more than a more affordable defensive upgrade on Betancourt.
The other factor worth bringing up is the question of whether the Royals are punting payroll on both seasons, to the point that they might draw some union complaints. Absent Greinke, the Royals' payroll also plummets toward the lowest rungs, and given their commitment of $4 million to sign Cabrera and Francoeur to stock their only seemingly obvious holes on the roster, it isn't like they have much else they really need to shop for. Paid attendance had already dropped below 20,000 per game while remaining 25th overall in the game; that seems likely to fall lower still while the club concedes that fourth place in the division the next couple of years might be too lofty a goal. That was already the case with Greinke in the fold, however, and perhaps even if he bounced all the way back to his 2008-09 levels of performance. —Christina Kahrl
Reportedly acquired RHPs James Shields and Wade Davis from the Rays for OF-R Wil Myers, 3B-R Patrick Leonard, RHP Jake Odorizzi, and LHP Mike Montgomery. [12/9/12]
After a home run-heavy 2010 season, Shields changed his approach. He began pitching backward, a strategy that played to his strengths (his ability to throw strikes with his impressive secondary offerings) and downplayed his weaknesses (his fastball). The shift led to a breakout 2011 season and a solid 2012, though he did struggle at times throughout the first half. His best asset is his durability. He's never been to the disabled list during his big league career and is as close as it gets to a safe bet to top 200 innings annually. In addition to the on-the-field value as a no. 2 starter, Shields receives high marks for his qualitative value as a tireless worker and good teammate. He's under contract through the 2014 season.
Davis moved to the bullpen last year after two full campaigns in the Rays rotation. His results improved, but it's unclear how much of the improvement stemmed from improved velocity versus a changed mindset. Davis attacked batters with a three-pitch mix—a fastball that touched into the upper-90s, a curveball, and a cutter—and that resulted in better interplay. The Royals' plans for Davis are unknown. An options-laden deal has him under contract, potentially, through the 2017 season.
One of the unfortunate parts of any trade, particularly this one, is the need for instant gratification. Shields and Davis are solid pitchers capable of helping the Royals win. Whether the Royals should have made this trade is debatable, but do not confuse that argument by making Shields and Davis into punch lines. They're better than that. —R.J. Anderson
Signed DH-S Kendrys Morales to a two-year deal worth $17 million. [12/11/14]
On Thursday, Kendrys Morales and Ervin Santana each signed multi-year contracts. One year ago, both were barely signable, considered less valuable than the draft picks compensation attached to them. Eventually, each signed a one-year deal: Santana because the Braves were desperate, their pitchers having undergone so many Tommy John surgeries that their Tommy John surgeon was scheduled to undergo Tommy John surgery; Morales in June, at a pro-rated salary, once the draft pick compensation expired. Each went his own way after that, producing two new questions for us to answer: How much can an established player hurt his perceived value over the course of one year? And how much can the value of an established player change over the course of one year due to no known variable at all?
The first one first. Morales entered free agency a year ago with not just a draft pick attached to him, but a pretty good record as a hitter. You might recall a piece we ran about Nelson Cruz a couple weeks ago, in which we established the Bomb-Ass Line for designated hitters, the line whereby a DH goes from ehhhh maybe more trouble than tying up one roster spot is worth to yeeaaahhh that guy can really hit. The Bomb-Ass Line, I declared, because I can just declare things now that Ben Lindbergh isn't around, was "around a 128 OPS+." From 2009 through 2013, in a bunch of pitcher's parks, Morales hit .286/.339/.494, for an OPS+ of… 128. He was 30 years old.
Cruz, incidentally, just signed a $57 million deal as a 34-year-old free agent. His five-year OPS+ is 124. There are other details—playing time, the contours of those five years, park factors, projections, so on—but broad point made.
A year later, his five-year OPS+ is down to 112, and I doubt many would take the over. Only three designated hitters were worse than he was last year, and two of those guys retired. The third was so bad his team replaced him in midseason with the puffed up shell of Kendrys Morales.
So, what happened? He hardly hit anything hard all year. You'll note, probably, that his BABIP was a career-low, and hope for some positive regression. But it's not just that his BABIP was low; his BABIP on line drives was a career low; his BABIP on fly balls was a career low; and his BABIP on grounders was only nine points better than his career low.
| Type | Career | 2014 |
| --- | --- | --- |
| LD | 0.706 | 0.567 |
| FB | 0.141 | 0.076 |
| GB | 0.23 | 0.188 |
We're basically talking about a bunch of singles up the middle from the right side
and a bunch of power (especially to left and left-center) from the left side
which doesn't sound all that damning except it's most of his offense.
Indeed, we might consider this very nearly the lowest end of what an established DH could do without his career ending. So what did such a season cost him? Last year, FanGraphs' crowdsourcing estimate was 2.5 years and $27 million. The Mariners extended him a qualifying offer, which surprised me; I would have guessed he was in line for two years and maybe $22 million. As he failed to find a taker, the Mariners "discussed a two-year concept and also offered a one-year deal for about $5MM." And "Texas made just a $3MM offer to agent Scott Boras." But, ultimately, he did get a deal that was a prorated version of the $14 million qualifying offer, which means two teams offered him that much (Seattle originally, and Minnesota later—though, technically, Seattle was also weighing the value of a draft pick, and Minnesota was paying for only the second half, which is—to a contender, or to a team that might flip him to a contender—more valuable than the first half) so it's safe to assume his market was around, that.
And here he is today, with two years and $17 million coming to him. The FanGraphs crowd this year projected 1.2 years and $7 million. Jim Bowden suggested one year and $4 million. Very reasonable estimates, and not even close. Kendrys Morales had just about the worst year possible for a 30-year-old DH. And it cost him… a little. —Sam Miller.
Signed RHP Edinson Volquez to a two-year deal worth $20 million. [12/17/14]
Signed RHP Kris Medlen to a two-year deal worth $8.5 million with incentives and a mutual third-year option. [12/18/14]
The Royals are using an acquire-in-bulk method to try to replace James Shields, the leader of the 2014 AL Champion staff. In adding Volquez and Medlen, they add a pair of arms who carry big questions, but for quite different reasons and at quite different costs.
Volquez's 2014 is the type of season that will divide opinion leaders. The basic numbers look nice and the results were there, but don't necessarily scream repeatable. The good: His walk rate has dropped each of the past four seasons, from an atrocious 13 percent in 2011 to a respectable, but still worse-than-average 9 percent last year. After battling injuries early in career, Volquez has actually become rather reliable (as far as actually taking the mound goes) and has topped 170 innings each of the past three seasons.
Under the tutelage of genius-of-the-moment Ray Searage, Volquez has also evolved his approach to pitching. More curves-and-sinkers these days than four-seamers-and-changeups, he has seen his Ks drop (to 17 percent last year) along with the walks. Ideally, that leads to weaker contact, and along with a reduced line-drive rate he had the lowest BABIP of his career. That's a strategy that works with Pittsburgh's strong defense, or at least it did once; Kansas City has the defense, though it also has a spacious ballpark that has plumped up BABIPs over the past decade.
Of course, it's no surprise that a pitcher who depended on a career-best BABIP doesn't find much shine with advanced metrics. Even with a career-best 3.04 ERA and the most innings he's tossed since his fake rookie season, he managed only 0.4 WARP, with a FRA of 4.57 and FIP of 4.12. If Volquez's ERA does end up settling in the low fours, it isn't disastrous, but still worse than average, and $10 million a year for a meh fifth starter is the stuff budget squeezes are made of. The super-early and not-close-to-official PECOTA projections aren't too bullish on Volquez, predicting a 4.23 ERA in 156 1/3 innings; that's good for the roundest of round WARPs: 0.0.
Clearly the Royals are gambling that the changes he made under Searage are just a sign of things to come. It's not an awful bet, but a steep one. The gamble on Medlen, on the other hand, is easier to applaud. When healthy, Medlen has been one of the better pitchers in baseball, and the Royals are taking on little risk with the structure of the contract.
It's easy to remember what Medlen was when his elbow wasn't barking and he was at his best. He relies on strong command to keep men off base and the ball in the park. In 2012-2013, Medlen delivered a 156 ERA+, 21 percent K-rate, and 5 percent walk rate. The ERA+ was the second best in baseball in that time, the FIP the eighth best. Of course, if a list of eight is short, the list of two-time TJ survivors is even shorter. To expect Medlen to get back to that 2012-2013 level would be too much; if he does make it back, it likely won't be before June. That's an optimistic return date, and might mean a bullpen role.
What the Royals have essentially done is pay Medlen to rehab under their watch in 2015, and if things work out in their favor they've banked an extra year of a healthy and effective Medlen in 2016, at middle-relief wages. Of course, the downside is that he's never healthy again, and those 8.5 million dollars produce nothing more than 60-day transaction logs, but that's why they call it a risk. —Sahadev Sharma
Acquired LHP Cole Hamels, LHP Jake Diekman, and cash considerations from the Phillies in exchange for OF-L Nick Williams, C-R Jorge Alfaro, RHP Jake Thompson, RHP Jerad Eickhoff, RHP Alec Asher, and LHP Matt Harrison. [7/30/15]
The Rangers have been a quietly fascinating enigma ever since the end of the 2013 season. Briefly a powerhouse whose decline we could imagine, but hardly predict, the 2010-12 reign of dominance ended sourly, and for the last two years, the team has seemed star-crossed. Injuries derailed their perfectly reasonable hopes of competing for a playoff spot last season, and this year, despite a strong stretch in May and early June that gave them at least a glimpse of their stolen glory, they're headed for another sub-.500 finish.
With this trade, Jon Daniels is sending as clear a message as he could possibly send: The Rangers have no plans to allow this to happen again in 2016. Jorge Alfaro, Jake Thompson, and Nick Williams were the team's third, fifth, and seventh prospects on our preseason top-10 list, respectively, and they'd all be higher now. Daniels is cashing them in, along with two mid-level, nearing-the-majors arms, in order to pair Cole Hamels with Yu Darvish at the front of the Texas rotation next spring.
Assuming next year's playoff hopes will ride partially on the young arms of Chi Chi Gonzalez and Martin Perez, the Rangers badly needed a pitcher with a significant track record of both dominance and durability, a stabilizer who could allow them to plan out their roster a bit more than they've been able to recently. In Hamels, the Rangers' staff gets a co-ace as durable as Darvish has been fragile; indeed, he's one of the least injury-tarnished top-of-the-rotation guys in baseball.
Hamels has a 51 percent groundball rate this season, the highest since a 2011 blip and second-highest of his career, so he's clearly ready for the challenge of keeping the ball in the park in Arlington (which has been less of a challenge than usual this season, anyway). In fact, widening the lens, he's been terrific overall despite the perception that he was struggling in the starts leading up to his last, best one as a Phillie.
Is there another level to which Hamels can climb? Maybe so. It's certainly hard to rule that out, given his domination of the Cubs on Saturday. On the other hand, his odometer is pretty high already, and he's entering that part of the ace-hurler career at which the truly great manage just to hold their level of performance, while the mere mortals begin to fade. The Rangers are betting Hamels will keep going, as evidenced by their willingness to pay so much in talent for him.
Hamels' contract, by the way, didn't turn out to damage his trade value. That's as it should be. Too much had recently been made of what Hamels was owed, instead of what he is on the field: a game-changing starter whose equal might cost only slightly more in annual salary on the free market, but who would do so for more than twice the remaining term of his deal. Daniels ponied up for a horse.
Of course, the Rangers do get considerable relief from that salary obligation, too. Hamels is owed $81 million, guaranteed, but Matt Harrison will take the $32 million-plus still owed to him to Philadelphia in this deal, and $9.5 million in cold cash is coming to Texas, probably pinned to Hamels' shirt. Assign Hamels a $40 million price tag for the next three-plus years, and it becomes really easy to see how he could command so much talent.
And that's the story here. Daniels is taking on Hamels, but not the huge, potentially onerous commitment to him that the Phillies made. In so doing, he's keeping his options open. He'll go into the coming winter with money to spend, be it on another starter or on a needed positional upgrade (catcher seems like the big one). He also gets Jake Diekman, who seems to lack command but whose slider is among the toughest with which to make contact in all of baseball. The Rangers' bullpen is 24th in DRA this season, so an upgraded relief corps was going to be part of any move toward contending next year. Diekman is a good start.
This move is about trading the distant future for the near future, and the Rangers could hardly have done that better. This was an A.J. Preller move, only with finesse. –Matthew Trueblood
Signed OF-L Shin-Soo Choo to a seven-year deal worth $130 million. [12/21/13]
As boring as last winter was for Rangers fans, Jon Daniels has atoned for it this offseason with two big splashes. First Daniels acquired Prince Fielder for Ian Kinsler; now he lassos the best free-agent hitter available away from the Yankees for less raw money (though the deals are comparable after taxes are considered). Combined, Fielder and Choo are two of the league's top hitters against right-handed pitching, and among the most reliable on-base machines in the majors. Even last year, a relative disappointment for Fielder, he still reached base at a 36 percent clip.
While Fielder languished in Detroit, Choo flourished in Cincinnati. The Korea native embraced a move to center field and the leadoff position as warmly as one joining a new team and entering a contract year could. Along the way, he posted the second-best OBP in the National League, trailing only former teammate Joey Votto. Of course, there is something to be said for how Choo did it. Although he's always walked at a good rate and been struck by a fair number of pitches, last season he took both to new heights. In fact, his 26 HBP were the most since Chase Utley was pegged with 27 pitches in 2008.
The good new for the Rangers is, should Choo see his walk and hit-by-pitch rates regress, he can cover with other skills. Choo possesses one of the best all-around offensive games in the league, and has the ability to hit for better-than-norm batting averages and slugging percentages. Additionally, he's a threat to hit 20 home runs and swipe 20 bags in a season, something he's already done three times.
The questions then are not whether Choo will hit, but where he'll play and where he'll bat against left-handed pitching. Presumably Ron Washington plans on sliding Choo back to a corner position, likely left field, where his arm cancels out some of his range-based deficiencies. Unfortunately, hiding Choo's bat against southpaws is a tougher dilemma. It is perhaps worth noting that Choo's issues against lefties—he has a .241 multiyear True Average versus them—stem not from a poor OBP, but rather no proven ability to hit for average or power against same-side pitching. Given that Choo has still managed to get on base more than 33 percent of the time, it's possible the Rangers suck it up and play him daily anyway.
There is risk here that the final year or two won't be pretty. That's the case with every seven-year deal, however. What's more concerning is what the Rangers will do in three or four years' time, should both Choo and Fielder's gloves demand the DH spot. That's a possibility Daniels and the Rangers have likely thought about already. For now, Choo should give Texas another middle-of-the-order bat, one capable of helping to replace Josh Hamilton and, perhaps, Nelson Cruz. —R.J. Anderson
Acquired 1B-L Prince Fielder and a reported $30 million in exchange for 2B-R Ian Kinsler. [11/20/13]
So what's not to love? The argument will be that it's the players. They are, after all, at ages where long-term deals go disproportionately bad. Check that; they're at that age, plus the two years since they signed their current contracts.
For starters, here's a preview of the 2014 PECOTA projections.
Fielder: .280/.381/.490
Kinsler: .252/.327/.405
For Fielder, that's a 4.6 WARP before considering his defense, which isn't a part of the PECOTA projections we've run. Knock five runs of fielding off as a best guess and he's about a four-win player. For Kinsler, again without defense, it's 3.3 WARP. Tack on a half-dozen runs (he has averaged somewhere between +7 and +12 per year over the past five years, depending on metric) and he's just about a four-win player. This is close.
But let's go back to the day Prince Fielder was signed. R.J. Anderson wrote the Transaction Analysis, and the move was so overwhelming that he resorted to the final refuge of the overwhelmed: A Q&A with himself. In his defense, the move never really made sense from the Tigers' perspective. They had a first baseman. They had a DH. They had power. They had fat guys nearing the decline phases of their career.
What happens when Victor Martinez returns?

The Tigers could attempt to move Martinez and the other half of the deal, or they could keep him around, in the unlikely scenario that Cabrera plays a palatable third base. In a sense, the Tigers may face a similar situation to the one the Angels are experiencing with Kendrys Morales.

Don't the Tigers know that Fielder is fat and nearing the decline phase of his career?

Of course, Detroit knows about Fielder's weight and his age (he'll be 28 in May). Detroit is paying Fielder through his age-36 season, meaning decline is an inevitable part of the deal. Whether Fielder's body type will lead to his skills atrophying earlier than expected is a gamble, but it's one that could pay off. Fielder would not be the first heavyset player to decline early, but there are plenty of normal-sized players who decline early as well. Relying on his body type and nothing more as proof that he will not age well is having too much confidence in prognosticating abilities based on qualitative attributes.
That's not to say he's not going to hit, or that he can't be a superstar, but just that every baseball player declines and unconventional body types raise unconventional concerns. More than that, though, it's to say that if every team could guarantee that the free agents they sign could be traded two years later, they'd sign every player available.
"If he was coming off the best year of his career then [he wouldn't] be available," Jon Daniels said in his teleconference Wednesday, which is true of buy-low successes like Hanley Ramirez and also true of every player who has declined past the point of return, like Vernon Wells. Which is Fielder?
Most of the lost value came in two areas: his walks dropped and he quit hitting as many of his fly balls over the fence. His plate discipline didn't show much change—he didn't swing more overall, he didn't get thrown more strikes, he didn't chase more; the only real change was a couple-percentage-point drop in contact rate—so we can chalk that up almost entirely to a drop in intentional walks, perhaps a combination of batting behind Miguel Cabrera (lineup protection sometimes works both ways) and batting in front of a switch-hitter for most of the season.
So then the home runs. Had his fly balls left the yard at exactly the rate that they typically do, he would have hit 10 more home runs. Say five of those lost homers turned into doubles and five into outs. Had he hit those 10 homers, and had he drawn 13 more intentional walks to match his 2012 total, his line goes up to .287/.381/.504, hardly a decline at all. Why give him credit for those home runs? You probably shouldn't! But 10 fly balls pulling up just short is hardly enough to declare a guy's career over. And his average fly ball, at 294 feet, went just two feet shorter than his average fly ball in 2012, and four feet shorter than in 2011.
But fair enough, what was true about Fielder's body two years ago is true today. Similarly, what was true about Ian Kinsler is true. Going back to the Transaction Analysis when he signed his extension in April 2012:
Finding a gem like Kinsler in the draft might be easier than finding a flaw in Kinsler's game. He hits well, fields well, and runs well. The only things to nitpick are a colorful injury history and the knowledge that second basemen have shown to age poorly. The amusing bit being that Kinsler might not be a second baseman for much longer.
Nate Silver once put together a chart showing second basemen's declines. Findings are subject to change, but here's that chart:
Kinsler is 31. That chart says he should be at about 80 percent of his peak value right now, but about 50 percent peak value by the time the contract is over. His 2013 WARP was 84 percent of his peak season, so that part holds up. If he keeps dropping, he's around a two- or three-win player in 2017, at the outer edge of his contract. Second basemen age a little funny, but they're not catchers, for goodness' sake. Which is to say that even with the second baseman's tax, Kinsler should continue to be a very good player, easily worth the $14 million to $16 million he's due annually in the final two years of his deal. The club option for 2018—which amounts to $5 million for a 36-year-old Kinsler—could be the sort of bargain that gets its own category, like a John Lackey Option or an Evan Longoria Extension.
Notably, he had a down season in 2012. It was the worst of his career, and it came at age 30, when we start taking declines seriously. Notably not for what it says about Kinsler, but because of what it says about Fielder. Players have good years and bad years. Not every down season is the end. Kinsler rebounded to produce 5.2 WARP, to essentially match his prime seasons (he had one clearly superior year, back in 2008) and essentially match Dustin Pedroia and Robinson Cano in total value.
Oh, it's so easy to focus on the downsides a player has. Certainly, the Tigers are excited to have Kinsler today—and they're a little nervous, too. The Rangers are thrilled to finally land the Big Bat they chased two years ago, but they know it can go south as fast as Albert Pujols did. But there's always a way that a player can go wrong. Right now, both of these guys are impact players whom projection systems love, and who fit their new clubs' needs. The Tigers get to start over with an All-Star second baseman signed for, basically, five years and $97 million (or four and $92 million). The Rangers get to start over with an All-Star first baseman signed for, essentially, seven years and $138 million. We'll have to see how the offseason goes, but my hunch is that each looks reasonable after this crop of free agents signs.
Go back to those Transaction Analyses quotes, and the real worry in each was not that the player was going to be bad. It was that the player was going to be in the wrong spot. Now, finally, we can quit worrying about that, and simply appreciate each player for the star he is. —Sam Miller
Signed 3B-R Adrian Beltre to a five-year, $80 million contract, with a $16 million voidable option for 2016; noted the loss of C/1B-R Max Ramirez to the Red Sox on a waiver claim. [1/5/11]

Apparently failing to get Cliff Lee has its benefits. As a defending pennant-winner, once you have decided that you have roughly nine figures to burn as fuel for your franchise's ambition, and then you don't get your man, what are you supposed to do? There was no other pitcher in the market worthy of anything like the same money. Maybe the Royals wanted too much for Zack Greinke. The list of pitchers you'd want to throw scads of cash at to pitch in Texas is fairly short.
As a result, the Rangers couldn't nevertheless improve themselves by just offering some significant fraction to the next-best option—there wasn't one, because by the time Lee had slipped away, the shelves were already emptying out.* Rather than merely re-sign and reward Vladimir Guerrero for a nice season to re-stock their DH slot, Jon Daniels resorted to something exceptionally bold, adding the best bat left on the market to make a massive upgrade at a position they were supposedly already set at, third base.
To be sure, paying Adrian Beltre $96 million over six years won't look good over the long haul. He'll hit his 32nd birthday shortly after Opening Day, so he's potentially under contract through his age-37 season. I say "potentially," because as Jason Parks noted in the most recent BP Podcast, here are stipulations for voiding the sixth year, based on combined fourth- and fifth-year plate appearances (1200) or in the fifth year individually (600). Between the potential for injury or a bat gone slack with age, getting that last season voided isn't so very unlikely. Nevertheless, credit Scott Boras for holding out for something better than the Uggla money the A's and Angels were willing to throw at Beltre over five years. The game's best agent identified his idea of his client's value, and in retrospect, he clearly had it pegged.
For the Rangers, were there alternatives to spending this kind of money? Even if you could set aside the problem of choices going away as we moved deeper into December, I'd have to say no, not really. Daniels decided to not throw big money at a market overstocked with first basemen and DHs, which as I'll get to shortly, strikes me as an entirely rational response to the market. At any rate, absent Lee, the Rangers needed more than just a bat at their question-mark positions, first base and DH. Bigger price tags were attached to the two big outfielders on the market, Carl Crawford and Jayson Werth, but without that many obvious reasons why they deserved so much more than Beltre. In the abstract, getting in on Adrian Gonzalez or the like didn't really make that much sense either; where Texas has a great collection of talent on hand, they don't have so much ready or nearly ready big-league talent to deal from without hampering their efforts to win now.
Looked at that way, signing Beltre had everything to recommend it. Whatever your offensive metric of choice, Beltre was among the five best free-agent bats in baseball last season. But unlike the first-base/DH types like Jim Thome and Paul Konerko, and unlike Crawford and Werth, Beltre was the one premium bat that played one of the big three infield positions. And, as I noted yesterday, he's kinda good at it. That last consideration was particularly key. Using last year's rates of Marginal Lineup Value, let's say that Beltre is roughly a fifth of a run better than Michael Young—per game.
That's a two- to three-win pickup on a season right there, operating on the fairly safe assumption that Beltre's going to like hitting in Texas' cozy confines almost as much as he liked bopping in Boston. But the add defense to the mix, and going from Beltre, perhaps the best defender at third, from Young, one of the worst according to Colin's nFRAA, and even the most charitable interpretation of Young's range still adds up to another one or two wins; it gets bigger if you don't cut Young any slack. So in isolation, Beltre versus Young, we're probably talking about a four- or five-win pickup. Is that worth $96 million? Absolutely, as long as that holds true, over Young or any other ready replacement, which it will, with margins that large for the next year or three.
There is still the big question about whether they really have the horses to deliver another division title, because the Rangers have the worst rotation in the division. Last year's gambles with C.J. Wilson and Colby Lewis have to be this year's sure things. Brandon Webb's comeback has to be a thing of glory, and Scott Feldman's doing likewise on his own comeback trail from repairing microfractures in his right (push) knee would do wonders. They need Tommy Hunter to fend off the regression monster that's stalking after a 2010 far better than you had cause to expect. They need Derek Holland to finally break through. Pile up that stack of ifs, and you've got a team that will have real problems getting through a short series, above and beyond having enough arms to deliver a season's worth of work they can win with. —Christina Kahrl
Claimed RHP Shawn Tolleson off waivers from the Dodgers. [11/20/13]
Tolleson does nothing but miss bats, get grounders, and get hurt. In 127 2/3 innings over four minor-league seasons (only 15 innings of which came at Triple-A), he's recorded a 1.34 ERA with a 13.0 K/9 and a 6.0 strikeout-to-walk rate. The only knock against him from a statistical standpoint is the .316/.426/.561 line lefties posted against him in 2012, his only season with an extended stint in the majors. It's a small sample, and his career .225/.284/.382 minor-league line against southpaws isn't too shabby, but he is mostly a four-seam-slider-sinker guy, so platoon splits could be a concern
Tolleson's body is a bigger problem. He's already worn out one UCL, and he spent most of last season on the shelf following April back surgery to repair a herniated disk, which was succeeded by soreness in his hip. Given his stats and status as Clayton Kershaw's best bud, it's still surprising that the Dodgers didn't deem him worthy of one of the many open spots on their 40-man. If Tolleson stays healthy, the Dodgers will regret letting Texas take him away.
–Ben Lindbergh
Acquired 3B-R Jose Bautista from the Pirates for a PTBNL. [8/21] Placed OF-L Brad Wilkerson on the 15-day DL; added 3B-R Jose Bautista to the active roster. [8/22/08]
Optioned OF-R Kevin Mench to Syracuse; sent C-R Robinzon Diaz to the Pirates to complete the Bautista trade. [8/25]
Activated 3B-R Scott Rolen from the 15-day DL. [8/26]
I'm liking the whole concept of getting Bautista when you're the team that employs the occasionally present and sometimes productive Scott Rolen, especially when it involves dealing from depth. Diaz has been injured much of the year, which superficially hampers his profile as a modest prospect as future big-league backstops go, but between having Brian Jeroloman and J.P. Arencibia in the upper levels, dealing Diaz was affordable. In this organization, the future belongs no more to Rod Barajas than it does to Gregg Zaun, even if Jays fans of a certain vintage or older will remember Cito Gaston's maddening affection for Pat Borders, and the therefore understandably worrisome similarity between Barajas' flavor of productivity and Borders'.
The question is what Bautista's actually for now that he's here. Rolen's under contract through 2010, after all, even if he'll perhaps unavoidably spend some portion of that time on the DL. He got all of one start at third after joining the team, in part because Cito's riding the hot hitting of Marco Scutaro; Scooter's sense of timing has always been his best trait, and nothing like a four-hit game on the day the team trades for a third baseman to keep getting at-bats. Activating Rolen in time to have him sit around and witness a few games-he apparently isn't going to get to play again until Friday-seems odd, especially in light of the club's reticence to play Bautista after having gotten him, but that's also a feature of Gaston-omy, where neglected reserves litter the bench like so many brussel sprouts. Bautista's adventures in the Pirates' outfield don't suggest he's a great fit as Adam Lind's platoon partner in left, and his career mark of .255/.357/.449 against lefties is merely adequate production for a platoon player at any corner (or paired off with Matt Stairs at DH). Still, given that's much, much better than Lyle Overbay (.230/.301/.279 this year, and a similarly pathetic .284/.305/.389 in '06 in his first year as a Jay, against his injury-riddled bass-ackwards '07), there are potential uses for Bautista on this club, especially since he's under control for another couple of seasons. —Christina Kahrl
Re-signed 1B/DH-R Edwin Encarnacion to a three-year deal worth $29 million with a $10 million club option for 2016. [7/12/12]
Back in March, when explaining why he chose to re-sign Dustin McGowan, Alex Anthopoulos said, "But in this division, with what we're up against and what we're trying to do, we have to take a little bit more risk, or maybe a lot more risk than a lot of the other teams, and that's part of it. But I'll take the risk on the right human being, and if you bet on the human being, you're going to be fine."
In extending Encarnacion, Anthopoulos is again betting on a human being. This time it's hitting coach Dwayne Murphy. It was Murphy, along with Luis Mercedes, who served as the guiding forces behind Encarnacion's preseason mechanical adjustments. To be precise, Encarnacion shortened his swing and changed from a one-handed follow through to using both hands (as noticed by Jack Moore):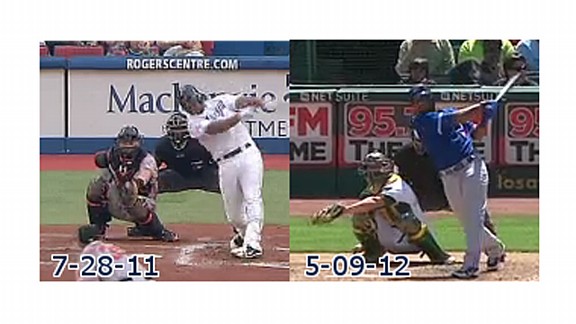 We've seen this help a batter before, just as we've seen the Jays bet on substantial in-season improvements before. The difference between Encarnacion now and the Jose Bautista and Adam Lind extensions of the past comes down to the track record involved. Encarnacion has had an adjusted-OPS over 100 in every season since 2006 except one. That's not to say there isn't risk involved. There is. Encarnacion's value stems entirely from his bat.
But the money and length are reasonable here, and what alternative did the Jays have? Reports suggest they were feeling out the Encarnacion trade market as recently as last week. The new Collective Bargaining Agreement presumably killed their chances of getting a good piece back, since the new team could not receive draft-pick compensation. Similarly, the Jays may have felt Encarnacion would accept the qualifying offer. That left Toronto with two avenues: extend Encarnacion or let him walk at season's end.
When the Twins extended Ryan Doumit I wondered if we'd see more good, not great players receive extensions as a way to improve their trade value. It applies here, too. The Jays can keep Encarnacion through season's end and shop him in the offseason. Alternatively, they could keep him and see if these improvements have turned him into one of the league's better hitters. If the worst-case scenario is having an above-average bat under control through the 2015 season at an average annual value of less than $10 million then you should probably feel okay about doing the deal. —R.J. Anderson
Acquired RHP Marco Estrada from the Brewers in exchange for 1B-L Adam Lind. [11/1/14]
Not as bad of a return as it looks—especially given Alex Anthopoulos' comments that only one other team was interested in Lind.
Estrada had worked his way up from dogsbody status in Milwaukee to averaging more than 20 starts in each of the past three seasons. He's short and doesn't throw hard, but he atoned for those flaws by having a high release point and a beautiful circle-change, which comes in about 10 paces slower than his fastball does. Estrada's equalizer keeps him free of a platoon split, yet hasn't been enough for him to avoid the long ball with regularity. Blame it on Miller Park if you'd like, but misplaced and elevated fastballs tend to get hit hard no matter the ballpark.
Still, Estrada does enough right—throw strikes, miss bats, change speeds—to sit at the tail-end of a rotation. Even that understates his statistics, as he's even finished two of the past three seasons with an ERA+ exceeding 100 and strikeout-to-walk ratios better than 4.00. The worst-case scenario is Estrada has another year like last, where he runs into too many barrels and plays out the string as a swingman. That would be a rotten development for Toronto in more ways than one, because he'll qualify for free agency following next season.
With Lind elsewhere, the Blue Jays are expected to pursue one of the free-agent DH types. Should they fall short in those pursuits, they could always turn to Justin Smoak or Andy Dirks, two recent waiver-wire claims. Neither is an ideal Plan A, but Estrada is proof that useful parts can be found cheap; after all, he was plucked off waivers from the Nationals back in 2010. —R.J. Anderson
Acquired 3B-R Josh Donaldson from the Athletics in exchange for 3B-R Brett Lawrie, RHP Kendall Graveman, LHP Sean Nolin, and SS-R Franklin Barreto. [11/28/14]
Relative to Beane's side of things, Alex Anthopoulos' motivation for this trade is straightforward: He wants to win, and he wants to win now. Donaldson, one of the game's top players, should help Anthopoulos accomplish that goal.
Slotting Donaldson into a lineup alongside Jose Bautista, Edwin Enarnacion, Jose Reyes, and Russell Martin ought to provide the Blue Jays with serious offensive potential*. Add in the possibility that Anthopoulos re-signs Melky Cabrera and/or ships out Dioner Navarro in favor of a traditional DH, and scoring should be even less of an issue for the Blue Jays, who, it must be noted, tallied the fifth-most runs in baseball last season.
*On a somewhat related note, no team will benefit more from late-bloomer types than the '15 Jays. There's R.A Dickey, Bautista, Encarnacion, and Donaldson. Add in Cabrera and maybe they should change their name.
Alas, staying on the field has been problematic for Toronto's core. Believe it or not, Donaldson should help with that aspect, too. He's tallied more than 650 plate appearances in each of the past two seasons, and has showed a willingness to play through injury. Perhaps that's not the smartest thing a player can do, yet it's tough to argue with his results (.277/.363/.477 and high-quality defense). As an added bonus Donaldson, who turns 29 in a little over a week, is under team control through the 2018 season.
That timing works well for the Blue Jays, provided Anthopoulos and the Blue Jays have interest in keeping Donaldson into his mid-30s. Mark Buehrle's contract expires after next season, and three big deals (Bautista, Encarnacion, and Dickey) could come off the books the following winter, with Reyes' ending right as Donaldson is scheduled to hit free agency. (Martin, as of now, is the only player with a guaranteed contract that lasts longer than Donaldson's team control.) Obviously not all those players will walk, and it's possible that the Blue Jays want to see what Donaldson does for a year or three before investing big money in him; this is just to point out that they have the financial flexibility to make what looks like a long-term fit an even longer-term fit.
There are a few concerns to touch on, like whether the Blue Jays are too right-handed as it pertains to double plays and platoon splits. Toronto fans might as well come to grips now with the reality that the Jays are going to hit into a lot of double plays; in fact, Donaldson nearly grounded into more twin-killings last season (16) than Lawrie has for his career (17). The platoon splits phase, on the other hand, seems overstated; yes, Lawrie is a reverse-splits guy; no, he wasn't better against righties than Donaldson, not over the past two seasons.
The other notable concern is whether the Jays have enough rotation depth to survive an injury or two. That depends on whether the likes of Aaron Sanchez and Daniel Norris develop as intended. Throw in Marco Estrada and the Jays, at least as currently constructed, should be okay in that department.
It's not even December yet, and Anthopoulos still has some work to do as it pertains to left field and the bullpen, but with this trade the Blue Jays can make the argument that they, not the Red Sox, are the most improved team in the AL East. —R.J. Anderson
Thank you for reading
This is a free article. If you enjoyed it, consider subscribing to Baseball Prospectus. Subscriptions support ongoing public baseball research and analysis in an increasingly proprietary environment.
Subscribe now