The Monday Takeaway
On Sunday, the Angels became the majors' highest-scoring offense, taking the crown with a 14-4 romp over the Twins, their fourth win in a row and 10th in 12 games.
A rainout on June 18th threw a wrench into the Halos' travel plans, forcing them to make a one-day stop in Cleveland on an already hellacious road trip that began in Texas and will end there, too. After taking Labor Day off, Mike Scioscia's squad is in the midst of a grueling stretch of 23 games in as many days, but that daunting docket didn't deter the Angels from padding their league-leading run total on Monday afternoon.
The first two visiting batters who came to the plate reached base, as Kole Calhoun and Mike Trout kicked off the day with back-to-back singles. Danny Salazar wriggled out of that jam and traded goose eggs with Jered Weaver for four innings. Then the home starter buckled.
C.J. Cron started the fifth-inning rally with a single and Hank Conger put runners at the corners with a knock of his own. Collin Cowgill's RBI groundout opened the scoring. Calhoun's ensuing two-run big fly put a crooked number on the board. Then, after Mike Trout struck out, Albert Pujols singled, Howie Kendrick singled, and David Freese broke the game wide open:
The third baseman's three-run tater gave the Angels a six-run frame in consecutive games. Freese's opposite number, Lonnie Chisenhall, did his best to counter with a two-run shot in the last of the sixth and an RBI single in the seventh, but that only made it 6-3. The Angels got two of those three back in the top of the eighth—which began walk, single, single, and was capped by Freese's run-scoring double-play grounder—and their yardwork wasn't finished.
Nick Hagadone saw two batters in the top of the ninth and retired neither. In came right-hander Bryan Price to face Pujols
whose 518th career homer brought everyone home. Kendrick was up next, and he followed with a solo blast into the sparsely populated outfield seats.
Sparsely populated, in part, because it was a workday matinee, but also because by then it was 12-3 Halos. With the dozen plated on Monday, their best-in-the-majors run total jumped to 688.
Jairo Diaz, a late-September call-up, brought the #diesel in his major-league debut, fanning a pair to strand a couple of walks and wrap up the win. As if the surging Angels, who padded their West division lead to 7 1/2 games with the win, needed any more help, they've added a 100 mph–touching flamethrower to a bullpen that general manager Jerry Dipoto has deftly upgraded throughout the summer.
Quick Hits from Monday
The Tigers, four behind the Angels in the runs-scored race at the start of play on Monday, stayed hot on Anaheim's trail in their series opener versus the Royals.
Eleven of the first 12 batters who dug into either box at Comerica Park yesterday made outs. The lone exception was Victor Martinez, who singled leading off the bottom of the second. But J.D. Martinez struck out, Don Kelly fouled out, and Jeremy Guthrie was on the verge of a second scoreless inning.
Then Nick Castellanos singled, advancing the elder Martinez to second. After that, Eric Hosmer chose an inopportune moment to commit two errors on the same play. Both runners scored on that misadventure, and the Tigers went up 2-0.
The Royals battled back in a hurry. Mike Moustakas beat out an infield single and Lorenzo Cain followed with an outfield single, and before Justin Verlander could savor his two-run lead, there were two on with nobody out. Kansas City skipper Ned Yost elected to forgo the chance at a big inning and instead played for a tie. Alcides Escobar successfully bunted both runners up a base, and Norichika Aoki's single put both biscuits in the basket to knot the game at 2-2.
The bottom of the third also began with an infield single, this one by Torii Hunter. The bad news for the Royals is that it was the first of two hits in the inning for the veteran outfielder.
In between, Miguel Cabrera singled and Martinez—Victor, not J.D., as difficult as it might be to believe—picked up the second infield hit of the frame, plating Hunter in the process. The younger Martinez hit what might've been a double-play ball, but Omar Infante, whose twin killing ended the top half of the inning, was too slow on the turn. And that's when Guthrie's squeaky wheels fell off.
Kelly got a double. Castellanos got a double. Alex Avila got a double. Andrew Romine was nicer and settled for a single. Ian Kinsler charitably made out no. 2. But Hunter knocked home Avila, and with the Tigers up 8-2, Yost pulled the plug on Guthrie.
The Colemans, Casey and Louis, and Scott Downs, prevented further damage, but Guthrie's worst outing in Royal blue was too much for the visitors to overcome. Summing up the wreckage, Guthrie allowed eight runs (six earned) on 10 hits in 2 2/3 innings. The last Royals starter to give up that many runs without serving up a long ball or completing the third was Luke Hochevar on April 29, 2010.
Verlander cruised from the fourth until the seventh, when Hosmer tripled and scored on a Billy Butler ground out. The next batter, Cain, touched 'em all after Kelly and Hunter collided in right-center field:
Each side would score once more in the 9-5 decision, which brought the Tigers' run total for the year to 681. Brad Ausmus' squad is seven tallies shy of the Angels and, more saliently, one game behind the Royals in the Central.
***
Runs were much tougher to come by for the Cubs, who paid a visit to the Rogers Centre and found Marcus Stroman to be an ungracious host. The rookie authored the first shutout of his career, a three-hit Maddux that required only 93 pitches.
Stroman was in control from the get-go, pounding the strike zone with a filthy arsenal and using the Cubs' lack of discipline against them with a slew of pitches that coaxed swinging strikes below the knees. The curveball yielded seven of Stroman's dozen whiffs, and 44 (79 percent) of his 56 fastballs produced strikes.
To go with his eight strikeouts, Stroman also induced 16 ground-ball outs, which means the ball scarcely left the infield. On one of the few occasions when it tried to, Ryan Goins, shifted up the middle for the hard-swinging, pull-happy Javier Baez, made The Defensive Play of the Day:
And with that Web Gem, Stroman's first-ever big-league gem was complete.
***
Can you spot the baseball in the screenshot below?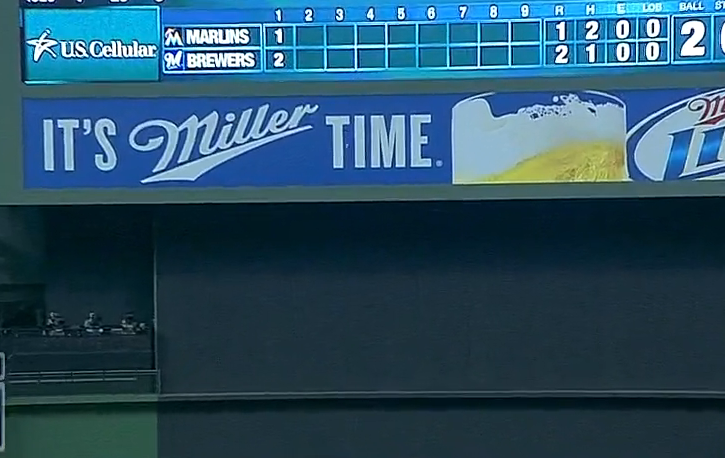 See that little, round, white thing between the "T" and "I" in "It's Miller Time"? When it finally hit the bottom of the scoreboard, what had been a 2-1 Brewers lead became a 2-2 tie. The 462-foot moonshot, the longest by a visitor to Milwaukee in more than six years, was a harbinger of trouble for Brewers starter Yovani Gallardo. It would soon be Miller Time at Miller Park for fans needing a few brews to drink their sorrows away.
I mentioned in yesterday's WYNTK that Gallardo would do well to use his breaking ball with Giancarlo Stanton in the box, given the slugger's propensity for crushing fastballs, but cautioned that a location mistake with the slider could spell disaster. Pitch no. 5 was most certainly a location mistake. Disaster ensued
in the form of Stanton's 37th big fly of the season, tying the personal high he set in 2012. It was also the right fielder's 154th career dinger, giving him a share of the Marlins' franchise record previously held solely by Dan Uggla.
In between the outfielders' jacks, Garrett Jones walloped a solo shot. And after issuing a pair of two-out walks in the fourth, Gallardo was finished with three gopher balls on his line in just 3 2/3 innings. The six-run clunker was the latest in a long line of poor outings by Ron Roenicke's starters
#Brewers starters are 1-11 with a 6.95 ERA in the last 13 games. Take away Mike Fiers, it's 0-10, 7.91.

— Adam McCalvy (@AdamMcCalvy) September 9, 2014
which explains why the Brew Crew is plummeting down the standings. This 6-4 defeat, coupled with the Pirates' win over the Phillies by the same score, pushed Milwaukee further back in the crowded wild card chase.
Meanwhile, the Cardinals strengthened their newfound hold on first place with a combined Maddux pitched by Shelby Miller (seven innings, 81 pitches), Pat Neshek (one, eight), and Sam Freeman (one, seven). St. Louis stayed 4 1/2 games ahead of the Pirates with the 5-0 blanking of the Reds. The Brewers, now in third place, are six back.
***
If the Braves, who entered play on Monday seven games behind in the East, were going to put a scare into the Nationals, they came into the nation's capital likely needing a sweep. Doug Fister had four words for them: Not on my watch.
The first-year National held Atlanta to a couple of singles in seven scoreless innings. Fister walked as many (three) as he struck out, but with the Braves struggling to square up his pitches, the poor K:BB ratio was moot.
Mike Minor, who toed the rubber for Fredi Gonzalez's team, surrendered a first-inning run on three singles. Anthony Rendon's gave the Nats their first baserunner with one out. Adam LaRoche's moved Rendon to third with two away. And Ian Desmond's brought him home with the first run of the night.
Rendon later brought home an insurance run in the seventh on an RBI groundout. That proved critical because the Braves had one in their bats in the top of the eighth. While Fister was in the dugout getting high-fives, Tyler Clippard gave up a double and a walk, and Matt Thornton failed in his lefty-specialist assignment, coughing up an RBI single to Freddie Freeman.
Fortunately for the Nats, Drew Storen, who's supplanted Rafael Soriano as closer, struck out the side to seal the 2-1 win.
***
The A's haven't been so fortunate with their fill-in closers during Sean Doolittle's absence with an intercostal strain.
Ryan Cook and Fernando Abad combined for a walkathon-style meltdown on Sunday. On Monday at U.S. Cellular Field, Eric O'Flaherty, who was unavailable Sunday with a sore back, hung a slider that Tyler Flowers hammered to wipe away a one-run Oakland lead.
That set the stage for extra innings on the South Side of Chicago. Bonus baseball would continue until Flowers' next at-bat:
The second multi-homer game of Flowers' career added to the A's growing pile of miserable defeats. With the aforementioned Angels' win, the eight-game gap between first and second in the American League West is now tied for the second-largest of any division. And the current runner-up was atop the table as recently as August 25.
***
BREAKING: Clayton Kershaw allowed three runs! To the Padres!
Well, sort of. It took a goat rodeo behind him for that to happen:
Besides that mess, Kershaw was charged with only one earned run on just three hits. He walked two and struck out eight. His ERA ticked down to 1.67.
In other words, despite his teammates' best efforts, it was just another day at the office for the National League Cy Young Award favorite. He was backed by a second-inning solo shot by Juan Uribe and a fifth-inning three-run bomb by Carl Crawford, which contributed to the Dodgers' nine-run outburst at the plate.
With the Giants idle on Monday, Don Mattingly's squad now enjoys a 3 1/2–game edge in the National League West.
***
Felix Hernandez pitched Monday night, too, but his command was lacking—by King Felix standards, anyway. The right-hander fanned eight Astros in six innings, but he also walked four. After Hernandez expended 99 pitches to record 18 outs, manager Lloyd McClendon decided to use his bullpen.
But first, the Mariners put their ace in line for the win. When Brad Peacock hit the showers, his relievers, Darin Downs and Jose De Leon, combined to issue two walks and give up a go-ahead single to Brad Miller. Thus, it was 1-0 M's when Brandon Maurer took over for Hernandez.
Pulling Hernandez was one of McClendon's last acts as skipper on Monday, because he'd be tossed for arguing a bizarre play in the top of the seventh. Take a look:
Robbie Grossman launched one deep to right-center field, where Michael Saunders almost made a sensational catch that would've unseated Goins for the Defensive Play of the Day. Alas, Saunders didn't retain possession of the ball. He did, however, knock it back into the field of play, turning a would-be home run into either a double or a triple.
That was the point of contention between McClendon and the umpires, who awarded Grossman third base because he was well past the keystone when Austin Jackson retrieved the ball (see the 2:44 mark in the video embedded above). The placement appeared justified, but that didn't stop the home manager from getting his money's worth.
The argument was fruitless, but the extra 90 feet were critical, because Jose Altuve followed with a game-tying sacrifice fly. That was all the visitors would get in the seventh, but Hernandez was left with a no-decision and the Mariners were left with more work to do in their bid to gain a game on the A's.
Back to Brad Miller. After two walks and a steal left Mariners at the corners with one out, the shortstop drilled a two-run triple that put them back on top. Austin Jackson tacked on a single, and Fernando Rodney preserved the 4-1 margin in the ninth despite throwing more than 30 pitches and allowing the tying run to come to the plate.
The Mariners are a half-game up on the Tigers for the second wild card spot in the junior circuit and just a game behind the A's for home-field advantage in the one-game playoff.
What to Watch on Tuesday
Here's a table of Ben Revere's most recent strikeouts:
The bottom row in that table is in bold italics because it denotes the last time a right-handed pitcher got the Phillies' lefty-swinging center fielder to whiff on a two-strike pitch. If you want visual proof, you'll find it in the Brooks Baseball chart linked here.
It's up to the Pirates—chiefly today's starter, Edinson Volquez, and tomorrow's, Vance Worley—to prevent the 26-year-old Revere from stretching his K-less run versus righties to a full month. Volquez once loved to lean on his changeup when lefties faced two-strike counts, but this year, he's preferred to spin his curveball. The old approach might be the way to go if he jumps ahead of Revere, because the former Twin has shown a proclivity to chase off-speed stuff low and away.
Whether it's via the strikeout or other means, Volquez will do his best to keep the leadoff man off the basepaths while dueling David Buchanan. Should Revere find his way aboard, another chess match may ensue. He's 43-for-50 on steal attempts this year, third behind Dee Gordon and Billy Hamilton in total swipes but well ahead of them on a percentage basis. Volquez, meanwhile, has teamed with his battery-mates to hold opponents to a 6-for-13 clip on their theft tries this year (7:05 p.m. ET).
***
Pop quiz: Can you name the league's leading hitter in average (min. 75 plate appearances) with runners in scoring position this year?
He plays for an American League team, is in his first year with that team, and is batting more than 130 points higher with men on second and/or third than he is overall. He's a left-handed hitter for a club that will face its third different opponent in as many days this evening. Finally, he came off the disabled list on Friday and immediately padded his RISP average with a walk-off single in the 10th inning.
The answer: David Murphy, who's 35-for-91 (.385) in those situations with 11 doubles, a triple, and two homers. He has 10 two-baggers, no three-baggers and five long balls in his other 276 at-bats.
Tonight, the left-handed hitting Murphy gets to stare down another righty: Twins rookie Trevor May, who's never seen the Tribe, but against whom major-league hitters have combined to bat .429 with runners in scoring position since his promotion. May, who turns 25 later this month, has pitched better than his 9.38 ERA might suggest, and both he and Murphy are due for regression in the RISP department. We'll find out tonight if it comes head-to-head (7:05 p.m. ET).
***
Jake Arrieta is thrilled to be out of the American League East because, among other reasons, he no longer has to visit the Rogers Centre on a regular basis. The north-of-the-border yard has been something of a house of horrors for the former Oriole: He's given up 14 runs (13 earned) in 16 innings there, walking seven and serving up four homers along the way. Unfortunately, interleague play has the Cubs breaking out their passports early this week, and Arrieta is due to get the ball in in Toronto. Tune in to see if the 28-year-old's breakout helps him exorcise his demons as he takes on Mark Buehrle (7:07 p.m. ET).
Thank you for reading
This is a free article. If you enjoyed it, consider subscribing to Baseball Prospectus. Subscriptions support ongoing public baseball research and analysis in an increasingly proprietary environment.
Subscribe now