The Angels showed off their new prize last Sunday, as deadline acquisition Zack Greinke made his Anaheim debut in a face-off with 2011 Rookie of the Year Jeremy Hellickson. Greinke returns to the American League after a year and a half spent taking swings in the senior circuit, arriving via a July 27th exchange for three Angels minor leaguers, including Futures Game LVP Ariel Pena. Hellickson made a comeback of his own on Sunday with a return from his first trip to the disabled list, a 15-day hiatus to rest from shoulder fatigue. Greinke and Hellickson are advanced students of the game, and Sunday's throwdown between the two pitch-sequence savants did not disappoint.
The Duel
Sunday was a clinic for pitcher target practice. The two starters yielded just a single free pass between them, with excellent mechanics contributing to masterful pitch execution on both sides, though each player employed his own unique gameplan. The young Helix posted the superior stat line, allowing just a pair of singles while showing off his penchant for inducing weak contact. Hellickson was also the beneficiary of an opposing lineup lacking Mike Trout, who gave way to out-machine Vernon Wells in a swap that cost about 900 points of OPS.
Greinke spent comparatively more time pitching from the stretch, with eight total base runners over seven frames, but his superior bat-missing skills were exemplified by eight punchouts. The crafty duelists traded zeroes for the first five innings before the Rays finally broke through with single runs in the sixth and seventh innings off of the newest Halo right-hander. Hellickson lasted a half-dozen innings, though he was pulled after just 86 pitches to ease his transition back from injury. The Rays held a 2-0 advantage by the time both starters had exited the game, a score that held through the final out.
IP RA H BB K Pitches – Strikes
Greinke 7 2 7 1 8 111 – 70
Hellickson 6 0 2 0 5 86 – 54
***
Greinke
Pitch Type

Avg Speed

Max Speed

Avg H-Break

Avg V-Break

Count

Strikes / %

Whiffs / %

SNIPs / %

FF (FourSeam Fastball)

91.13

93

-3.76

10.56

17

13 / 76.47%

1 / 5.88%

10 / 71.43%

CH (Changeup)

86.26

90.9

-8.86

3.62

13

8 / 61.54%

0 / 0.00%

3 / 37.50%

SL (Slider)

85.11

88.5

3.91

0.92

34

19 / 55.88%

5 / 14.71%

15 / 50.00%

CU (Curveball)

73.76

80.8

6.61

-6.68

20

12 / 60.00%

2 / 10.00%

10 / 55.56%

FC (Cutter)

88.60

89.3

1.82

3.72

2

2 / 100.00%

0 / 0.00%

2 / 100.00%

FT (TwoSeam Fastball)

92.08

94.5

-8.85

7.43

25

16 / 64.00%

2 / 8.00%

11 / 55.00%

Pitch classifications provided by the Gameday Algorithm.
SNIPs are "Strikes Not In Play" and do not include any balls in play.
Zack Greinke is a magician of pitch execution, with impeccable command of a hat-full of tricks. He intentionally alters the velocity of nearly all of his offerings, a talent that the right-hander has demonstrated throughout his career. To quote the 2005 BP annual: "He changes speeds on all of his pitches, actually; in any given start he'll throw at least one pitch at 62, another at 94, and hit most every number in between." Greinke may have dropped the Bugs Bunny stuff, but he has retained the ability to add and subtract velocity at will.
Greinke has five pitches that fall within a narrow velocity range on the PITCHf/x table, including two fastballs, a slider, a cutter, and a changeup. Each pitch averaged between 86 and 92 miles per hour, with the caveat that Greinke's radar readings carry some heavy variance. The slider ran as fast as 88 mph with vicious bite, generating by far the most whiffs on Sunday as Greinke demonstrated an affinity to bury the pitch under the strike zone. Greinke coaxed the baseball to slide, cut, dip, dive, and dodge all over the strike zone, often without Chris Ianetta having to budge his glove.
The exceptional ingredient in Greinke's repertoire was a curveball that he tossed in the low 70s, often dropping it right over the plate on the first pitch of an at-bat in order to get ahead of batters who were sitting on heat. The strategy was surprisingly effective against a Rays team that was too young to heed Crash's advice about the first-pitch hammer—until, that is, veteran Carlos Pena roped an 0-0 curve down the first-base line for a double in the seventh inning.
Key AB: Jeff Keppinger, top of the sixth inning.
Keppinger came to the plate with two out and runners on second and third, following the first run of the contest as the Rays were threatening to the crack the game open. It was the first time that Greinke was visibly off-kilter. The Tampa hitters had revised their approach in the sixth and came to the plate hacking, though Keppinger apparently missed the memo, as Greinke went to the trusty first-pitch curveball to induce a called strike with the bat on Keppinger's shoulder. The latest addition to the Angels' staff suddenly lost his timing, over-rotating on three consecutive pitches that traveled outside the zone to tilt the count in Keppinger's favor at 3-1. The wheels appeared ready to come off the wagon, and Greinke overcompensated for the timing issue with an under-rotated 88-mph slider that missed his target up and in but nonetheless generated a strike call from the home plate umpire. The money offering was a full-count slider with filthy snap that found leather thanks to a perfectly-timed delivery. Keppinger didn't stand a chance, flailing weakly for the strikeout to end the inning as well as the threat.
Hellickson
Pitch Type

Avg Speed

Max Speed

Avg H-Break

Avg V-Break

Count

Strikes / %

Whiffs / %

SNIPs / %

FF (FourSeam Fastball)

92.55

94.2

-5.25

9.75

26

13 / 50.00%

1 / 3.85%

10 / 43.48%

CH (Changeup)

82.06

83.5

-6.04

6.53

38

28 / 73.68%

8 / 21.05%

18 / 64.29%

CU (Curveball)

78.29

80.4

5.41

-8.37

10

5 / 50.00%

0 / 0.00%

4 / 44.44%

FT (TwoSeam Fastball)

92.63

93.8

-8.00

8.89

12

8 / 66.67%

1 / 8.33%

7 / 63.64%

Pitch classifications provided by the Gameday Algorithm.
SNIPs are "Strikes Not In Play" and do not include any balls in play.
The stuff card for Helix is simple when compared to the zoo that is Greinke's pitch pattern, as the Rays right-hander relies on a relatively straightforward mix of pitches. Hellickson leaned heavily on el cambio, pairing his fastball frequency with off-speed pitches that offered a 10-mph reduction in velo. The low-80s change complemented his 91-94-mph fastball to upset batter timing throughout Sunday's game, to be occasionally interrupted by a loopy curve that ran in the high 70s on the gun. The changeup was his most effective weapon against the Angels, producing far more Whiffs and SNIPs than the other clubs in his bag. More than half of the pitches that Hellickson threw to left-handed batters were of the changeup persuasion, while the cambio rate against right-handers was at 40 percent for the game. He further perpetuated the trend of skewing the ball's break away from the batter by tossing eight of his ten curveballs against right-handed hitters.
The fastball-change combination is critical to Hellickson's success as a pitcher who seeks to induce weak contact, following the Matt Cain approach that defies one-size-fits-all statistical models by consistently posting low BABIPs. It might be more apt to characterize Hellickson as a right-handed Tom Glavine, given the preferred approach of pitching to batter weaknesses while toying with hitter timing. Like Glavine, Helix stays away from opposite-handed batters with low changeups on the outer edge, continuing to expand the zone while staying away from the hitter's wheelhouse.
Key AB: Albert Pujols, bottom of the fourth inning.
Hellickson was on cruise control throughout the contest, with the only sign of trouble occurring in the fourth, with Pujols coming to the plate with a runner on second base and one out. Helix started behind after a pair of fastballs that missed on either side of the plate, as his typically strong timing bounced between early and late trunk rotation. The right-hander was using a slide step with the runner on second base, but he suddenly ditched the slide on 2-0 in favor of his typical chest-high leg lift, unleashing a changeup that finished under the zone for ball three.
Pujols had the green light on three-oh, but Helix fooled the three-time NL MVP with another cambio that produced the swing-and-miss. Hellickson put the slide step in his back pocket for the rest of the at-bat, which went to a 3-2 count after Pujols ripped an inside fastball foul down the left-field line, at which point catcher Jose Lobaton went out to the mound to confer with his pitcher. Hellickson responded with a slow curve on the full count, a pitch that froze Pujols and left him pleading his case to the ump after the call for strike three.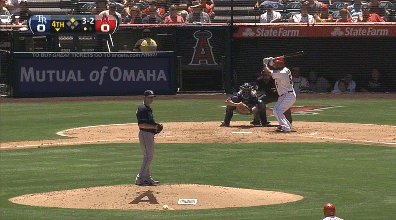 ***
Mechanics Report Cards
Greinke
| | |
| --- | --- |
| Balance | 60 |
| Momentum | 50 |
| Torque | 55 |
| Posture | 50 |
| Release Distance | 50 |
| Repetition | 65 |
The lack of an elite mechanical tool belies the quality of Greinke's delivery. His greatest attribute is a preternatural ability to repeat the timing and sequencing of his motion, an element made all the more impressive by the multitude of pitches that make up his arsenal. Greinke carries minor inefficiencies throughout the motion, with merely decent momentum and a late posture-change as the rotational elements come into play, elements that combine to limit the extension that the right-hander can achieve at release point. There are no real weaknesses in Greinke's mechanical profile, and the plus marks for balance and repetition overshadow all of the other categories.
Greinke's mechanical consistency was most impressive when pitching from the stretch, where he demonstrated the ability to repeat his full pitch catalog with the same timing pattern, allowing him to overcome the obstacles that are typically associated with a slide step. He had a tendency to miss big in the exceptional cases of mistimed deliveries, but overall Greinke used his entire palette to paint leather like a canvas. He also earned extra credit for outstanding PFP.
Hellickson
| | |
| --- | --- |
| Balance | 55 |
| Momentum | 40 |
| Torque | 60 |
| Posture | 70 |
| Release Distance | 45 |
| Repetition | 55 |
Hellickson's lack of momentum is a glaring weakness in his mechanical profile, one that pales in comparison to his other grades for efficiency and which has severe implications for his approach. Release distance is an overlooked ingredient of effective pitching mechanics, with benefits that include increases in perceived velocity and shrinking the time-window that batters have to determine pitch type. The phenomenon carries particular weight with change-of-pace hurlers who rely on the deception of perceived velocity for peak performance. From Matt Cain to Cole Hamels, the top off-speed pitchers in the game take advantage of excellent momentum to maximize their pitch effectiveness, and Hellickson's high leg kick and solid balance form a foundation for future improvement.
On the bright side, Hellickson's nearly ideal posture helps to prevent his release distance from being a larger detriment while also contributing to his mechanical consistency. The occasional use of a slide step was not doing him any favors from the stretch, an issue that dinged Hellickson's overall grade for repetition despite the dearth of pitches thrown with runners on base. In addition to throwing a wrench into his timing, the slide step acted to shrink Hellickson's stride and further mute his release distance. The right-hander has been surprisingly stingy with base runners this season, having allowed just three successful steals on six attempts, though his numbers are heavily influenced by an awesome pickoff move.
Thank you for reading
This is a free article. If you enjoyed it, consider subscribing to Baseball Prospectus. Subscriptions support ongoing public baseball research and analysis in an increasingly proprietary environment.
Subscribe now