The St. Louis Cardinals have enjoyed a sustained run of success, making the playoffs for the third time in four years in 2012 despite a clubhouse that was missing a couple of Busch Stadium staples. The most glaring omission from the roster was the greatest Cardinal legend since Stan Musial, as Albert Pujols chose to pursue the bigger payday offered by the Angels, leaving the team whose offense he had carried on his shoulders for a decade. Manager Tony La Russa opted to end his career on a high note, retiring from the game following the Cardinals' World Series victory in 2011, and TLR took wingman Dave Duncan along with him to further deplete the coaching staff.
Replacing La Russa was former Cardinals catcher Mike Matheny, who shepherded the team past plenty of obstacles throughout the season. Chris Carpenter missed nearly the entire season due to injury, fellow ace Adam Wainwright was inconsistent in his first year pitching after his Tommy John surgery, and southpaw Jaime Garcia dealt with shoulder woes that earned him a summer vacation on the disabled list. Lance Lynn emerged from relative obscurity to spearhead the staff in the first half, but when the dust settled, the best pitcher on the club was Kyle Lohse, the 12-year veteran who entered the season with 4.64 career ERA and is now a free agent.
Fortunately for them, the Cardinals are well-prepared for the possibility that the high-risk pitching staff will need help in 2013, as they have a pair of high-end pitching prospects who appear ready to make their mark in Shelby Miller and Trevor Rosenthal.
Shelby Miller
Miller was the Cardinals' first-round pick in the 2009 draft, selected out of a Texas high school at number 19 overall. He breezed through the low minors, piling up strikeouts without giving away an exorbitant amount of walks, and he yielded just 11 homers in his first 247 innings of pro ball. Miller entered the season atop the Cardinals' prospect hierarchy, and the spring injury to Carpenter had fantasy managers waiting with bated breath for Miller's seemingly imminent call-up.
However, the 6'3" right-hander's career path hit a speed bump in the first half of 2012 as his pitch command went out of whack, resulting in a bevy of walks and hard-hit baseballs over the first three months of the season. He made some adjustments after working with the coaching staff in mid-July, and the results were stunning, with a total 61 strikeouts against just four walks over his final seven starts of the minor-league season, covering 44 1/3 innings pitched. The Cardinals were impressed by his adjustments and gave the 21-year-old Miller a call to the show when rosters expanded in September.

| | | | | | | |
| --- | --- | --- | --- | --- | --- | --- |
| 2012 | | | | K/9 | BB/9 | H/9 |
| AAA | 27 | 136.2 | 4.74 | 10.5 | 3.3 | 9.1 |
| Majors* | 1 | 17.0 | 2.18 | 10.6 | 2.6 | 6.9 |
*includes playoffs
Miller pitched mostly out of the bullpen in his first major-league duty, though the team did grant him a start on the final day of the regular season, after the Cards had officially clinched a playoff berth. Miller rose to the challenge, blanking the playoff-bound Reds over six innings and allowing just one base hit and a pair of walks while striking out seven batters. The right-hander was astonishingly efficient, needing just 72 pitches to record 18 outs, with a dominant stretch in the third through sixth innings that included 29 strikes out of 32 pitches (90.6 percent).
Miller averaged 93 mph on his fastball and maxed out at 95 mph, trusting the pitch more than 70 percent of the time against Cincy and underscoring the common criticism that Miller has a tendency to rely too heavily on the heat. The fastball jumps on hitters due to his excellent extension, allowing the velocity to play up further and coaxing batters such as Jay Bruce and Joey Votto to swing late on the pitch despite the knowledge that the fastball is likely on its way.
Miller's change-up was flat against Cincinnati, coming in around 85 mph with little fade, but he uncorked only seven cambios on the day and batters were occasionally caught off-guard by the pitch. His breaking ball had a tight arc and two-plane movement, with curveball velocity but the shape of a slider. He commanded the pitch well, and 13 of the 14 breaking balls that he threw registered as strikes on the scorecard. Miller threw more breaking balls as the game progressed, choosing to throw several of them early in the count, though he avoided the "show me" breaking ball that some pitchers will put over the dish on the first pitch of an at-bat. The snapper that he threw to Wilson Valdez was a beauty of a pitch, but the infielder was able to slap a single to center field in the sixth inning that broke Miller's bid for a no-hitter.
Miller took his revenge at the plate, collecting a pair of hits that included a double to deep left field in his first plate appearance, as the rookie hurler led all Cardinal batters with three total bases in the game.
Mechanics Report Card
| | |
| --- | --- |
| Balance | 45 |
| Momentum | 60 |
| Torque | 65 |
| Posture | 60 |
| Release Distance | 65 |
| Repetition | 70 |
Miller's mechanics feature a stable baseline as well as considerable upside, with strong marks across the board in addition to a number of traits that are well above average. His delivery is extraordinarily efficient, with a combination of plus momentum and solid posture that helps to extend his release point, and his ability to delay trunk rotation long after foot strike further encourages a deep release. The result is a fastball that feels like it jumps on hitters, invoking late swings from big-league batters who are sitting on heat, as the strategy increases the perceived velocity of his pitches and creates the impression that the ball explodes out of his hand.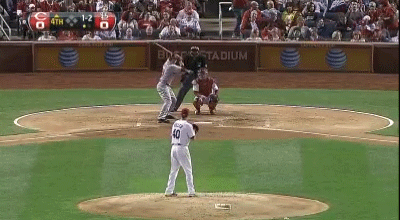 The delay of trunk rotation allows the hips to rotate after foot strike to increase his hip-shoulder separation even more, and the additional upper-body load adds to a high level of torque. The timing of trunk rotation is crucial, as it is for every pitcher, but in Miller's case, that timing is the difference between the pitcher who got lit up for three months in the PCL and the one who shut down a playoff-caliber lineup in October.
Miller and the coaches of the Memphis Redbirds have been understandably vague when discussing the specifics of his mechanical alterations in mid-July, but to this observer, the greatest discrepancy was timing. Miller's deception is fueled by his great depth at release point, but he requires proper timing of trunk rotation in order to release the baseball from an ideal distance. When he is on, Miller is great at extending his release by tracking the body further toward the target between foot strike and pitch release, but at Triple-A his mistimed deliveries prevented him from taking advantage of these under-appreciated elements of his delivery, as late rotation resulted in pitches that were released before he could reach full extension. Miller's timing and sequencing may have been the most impressive element of his mechanics from the lone major-league start, especially considering his early-season struggles in Memphis, though he was not impervious to brief cases of the yips:
Miller has the low arm slot that often accompanies strong posture, as minimal spine tilt lowers the angle of trajectory at pitch release, and he is a shining example of the advantages in stabilizing a consistent release point while maximizing extension. Miller has a quick drop-n-drive that lowers his center of gravity, and his head has a tendency to drift too far out in front of the body, contributing to a below-average grade for balance that stood out against the Reds as the only weak link in Miller's kinetic chain. Miller has all of the ingredients of a top-of-the-rotation starter, but like all pitchers, he will go only as far as his timing and repetition will take him.
Trevor Rosenthal
Rosenthal was also selected in the 2009 draft, though he had to wait 20 additional rounds after Miller heard his own name called. He and Miller share several similarities—their birthdays are less than five months apart, their listed sizes are within one inch and five pounds of one another, and they both rely heavily on top-notch velocity. Rosenthal had more to prove upon his introduction to the pros, but after spending most of 2011 in the Midwest League he was aggressively promoted to Double-A, where he proved his mettle against advanced hitters before the right-hander skyrocketed up the highest rungs on the developmental ladder.
When Rosenthal received his big-league call-up on July 16th, he became the 2,000th player ever to don the St. Louis Cardinal uniform. The Cardinals promoted Rosenthal on three separate occasions, treating him like a yo-yo between the minor-league rotation and the big-league bullpen, but if his end-of-season performance was any indication, he may never be demoted again. Rosenthal ascended to the status of cult hero due to his exceptional performance in the postseason: he was simply untouchable in the playoffs, surrendering just a pair of hits and a pair of walks while striking out 15 batters in eight and two-thirds innings.
| | | | | | | |
| --- | --- | --- | --- | --- | --- | --- |
| 2012 | | | | K/9 | BB/9 | H/9 |
| AA | 17 | 94.0 | 2.78 | 7.9 | 3.5 | 6.4 |
| AAA | 3 | 15.0 | 4.20 | 12.6 | 3.0 | 6.6 |
| Majors* | 0 | 31.1 | 2.01 | 11.5 | 2.6 | 4.6 |
*includes playoffs
Despite the multiple promotions, Rosenthal was used exclusively as a relief pitcher in the bigs and as a starter for Memphis, potentially indicating that the Cardinals are resistant to commit to a permanent change to the pen. In a vacuum, the preference would be to follow the Earl Weaver pattern of introducing his pitchers out of the bullpen in preparation for a gig in the rotation, but Rosenthal's particular circumstances could alter the best-laid plans of John Mozeliak and Matheny.
Rosenthal's pitch selection was even more fastball-heavy than Miller's during his big-league stint, dialing up the heat more than 80 percent of the time. He has exceptional raw velocity that averaged above 98 mph in the majors, but Rosenthal will need to further develop his secondary offerings if he is to succeed in the rotation, and the Cardinals could choose to get value from him sooner rather than wait for those secondaries to develop. His fastball velocity has gained steam during his professional development, and Rosenthal's ability to hit triple digits out of the bullpen may entice the Cardinals to let him and closer Jason Motte dominate the final innings like a couple of wild and crazy guys.
It is rare to get a glimpse of Rosenthal's power curveball, but the pitch has sharp break that can catch batters fishing if and when he can command the pitch. His usage pattern indicates that Rosenthal will consider throwing a curve once he gets to two strikes, in an attempt to get batters to wave at a dirtball, but he had more success generating swings-and-misses with his high heat than he did with the breaker in 2012. The right-hander almost never throws a curve to a right-handed batter on the first pitch, but Hanley Ramirez was treated to such an offering in his at-bat against Rosenthal on September 14th, only to feel the next pitch drill him at 98 mph.
Rosenthal has chucked a handful of other pitches that have been identified as various change-ups, sliders, and cutters, all of which fall within the range of 87-90 mph. That limited arsenal, with one pitch so strong that it can overshadow the lack of secondaries if kept confined to short bursts, makes the Cardinals' decision more difficult. The team has to be worried about his exposure as a starter when he goes through the lineup a second and third time.
Mechanics Report Card
| | |
| --- | --- |
| Balance | 45 |
| Momentum | 65 |
| Torque | 65 |
| Posture | 50 |
| Release Distance | 60 |
| Repetition | 50 |
Rosenthal's mechanics report card draws some distinct lines. The energy-related elements of his delivery are explosive, with premium scores for his momentum and torque, ingredients that support his superb arm speed and velocity. He carves a direct line to the plate, and like his teammate Miller, Rosenthal creates a deep release point that allows the ball to jump on hitters even more quickly than the elite velocity would suggest, resulting in some especially ugly swings during his trip through the minors.
The below-average grades are mostly tied to his ability to support the delivery, as factors such as balance and posture suffer under the strain of such intense mechanics. Rosenthal has a high arm slot that derives from a typical amount of spine tilt in addition to a naturally-elevated angle of shoulder abduction, though he has a tendency to exaggerate the tilt on curveballs in an effort to get on top of the ball. His balance is strong in the early phases of his delivery, but the late posture-change combined with his drop-and-drive delivery tarnish his overall grade for balance.
It is very common for pitchers with high levels of kinetic energy to struggle to harness that energy, since they lack the functional strength to maintain balance and proper positioning at high intensity. Aroldis Chapman is an example of a pitcher who had to tone down the aggressive elements of his motion in order to achieve consistent balance and repetition, and though Rosenthal is not as extreme a case as Chapman, he would benefit from finding an ideal blend of aggression and control with his delivery, something that he might be able to accomplish through off-season training.
Thank you for reading
This is a free article. If you enjoyed it, consider subscribing to Baseball Prospectus. Subscriptions support ongoing public baseball research and analysis in an increasingly proprietary environment.
Subscribe now