The Tuesday Takeaway
Three weeks ago, it seemed more or less a foregone conclusion that the Mariners were done playing meaningful baseball for the year—they had lost eight of their last ten and their playoff odds sat at less than 2 percent, the lowest they'd been all season. But next came a win streak that ignited hope for a Wild Card spot, an absurd flicker burst aflame as one victory followed another and Seattle's playoff odds shot toward 30 percent.
Then, however, the magic of that week-and-a-half faded into something far more pedestrian that has sent the Mariners drifting back in the direction of the elimination they once seemed all but destined for. Before Tuesday's game against the Astros, they were one of four teams within two games of the Wild Card—that is, in that space where a playoff spot requires a perfect syzygy of their own success with others' failures.
And early Tuesday, it looked as if they'd be capable of holding their own in that regard, jumping out in front of Houston early. They headed to the sixth inning with a 4-2 lead, Felix Hernandez on the mound and not appearing to show any signs for concern. But that changed quickly.
First, back-to-back singles from Jose Altuve and Carlos Correa. Soon came the inning's first error, and first run scored, courtesy of an erratic Ketel Marte—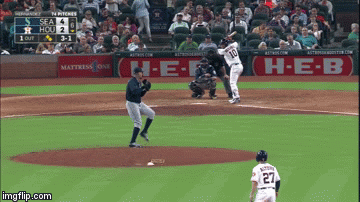 —followed by a walk, and then Alex Bregman at the plate to pinch-hit in his return after being sidelined nearly two weeks with a hamstring injury. The rookie delivered, and the game was tied.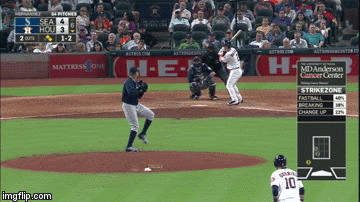 The damage was only just beginning. Another error was next, this one a bobble from Adam Lind that was challenged to no avail—
—and then, with the bases loaded and two outs, a ground-rule double for George Springer to give the Astros a 6-4 lead.
And one more batter for Felix meant two more runs for the Astros, thanks to a single from Marwin Gonzalez. That six-run sixth inning was the last word for Houston, and Seattle went on to lose, 8-4. A crushing blow to their playoff hopes, though certainly not a fatal one as they stay two games back of the Wild Card—while the Astros proved they're not dead yet, pushing themselves in from the fringes of contention to two-and-a-half games behind.
Quick Hits
With David Price on the mound, the Red Sox came out in hopes of clinching the AL East with a victory against the Yankees. But in the first inning, Gary Sanchez made it clear that he had something to say on the matter:
The two-run shot gave the Yankees an early lead that they relinquished only briefly before recovering it and going on to win 6-4, pushing the Red Sox's hopes of clinching off for at least one more day. It also broke a six-day homer drought for Sanchez, which may not sound like too much—but when you have 20 (20!) home runs in just 49 games, a stretch of nearly a week without any at all stands out a bit.
******
What was one of the season's least important games for the Indians (the day after they clinched the AL Central) was one of the most important for the Tigers (two games out of the second Wild Card spot).
Both teams played accordingly. By a score of 12-0, Detroit defeated a Cleveland lineup of backups and bit players, moving just one game out of the Wild Card. Of particular note was Justin Verlander, with an outing that firmly supported the year-long argument he's made to reject earlier reports of his demise. With 12 Ks in seven-plus shutout innings, he added to the highest strikeout rate he's posted since 2009 and his lowest DRA since 2012. Granted, this game had him going up against a team that was batting Michael Martinez second. But still!
******
The NL Wild Card race was propelled by a trio of slugfests on Tuesday—with the Mets, Cardinals, and Giants each scoring 12 runs in their respective wins.
St. Louis avenged yesterday's 15-2 loss to the Reds by countering in kind, with a 12-5 victory anchored by an Aledmys Diaz grand slam. After spending two days away from the team to grieve with the family of Jose Fernandez, Diaz considered the home run a tribute to his childhood friend, he later said.
But the Cardinals' win wasn't enough to gain any ground, as the Giants and Mets were just as dominant in their own games. San Francisco trounced Colorado by a score of 12-3, with 11 strikeouts from Matt Moore and a 4-for-5 night for Brandon Crawford locking things down…
…while the Mets' bats backed up a strong outing by Noah Syndergaard in his return to the mound after a bout of strep throat, for a 12-1 victory over a mourning Marlins team.
Defensive Play of the Day
The Rangers have clinched the AL West, but Carlos Beltran has no interest in taking things easy:
Texas went on to beat Milwaukee, 6-4.
What to Watch Wednesday
Chris Tillman's last outing was the stuff of nightmares and by far his worst of the year–five hits and three walks and a call to the bullpen before the second inning was over. He'll try to redeem himself Tuesday against Francisco Liriano and the Blue Jays, as the Orioles fight to keep their control over the second Wild Card spot (7:07 EST).
Since returning from the disabled list earlier this month, Mike Leake hasn't had too much to be proud of—giving up 14 runs in 19 innings, with the average outing not lasting through the fifth. Wednesday will see him going up against his former team as the Cardinals take on the Reds in hopes of pushing back into the second Wild Card spot, of which they currently sit one game behind (8:15 EST).
Thank you for reading
This is a free article. If you enjoyed it, consider subscribing to Baseball Prospectus. Subscriptions support ongoing public baseball research and analysis in an increasingly proprietary environment.
Subscribe now