We play a game when we go on vacation: One person grabs a steamy romance novel out of the bag, reads the title and back-cover plot summary out loud, and everybody else writes a first sentence for the book. Then the original person reads all the first sentences out loud, and the rest of us guess which one is real. Long way of telling you how I ended up with a copy of The Winning Season, by Alison Packard, not long ago.
The Winning Season is the second in a (to-date) five-part series that's largely about the romances between the players and media-relations personnel for the San Francisco Blaze, a fictional team that plays in an otherwise literal recreation of Major League Baseball. Besides the Blaze all the other teams get their real names—the Milwaukee Brewers and the Miami Marlins and the Los Angeles Dodgers and so on—and the Nationals' star is, in fact, Zimmerman. The Blaze play in a ballpark that is a brick-by-brick facsimile of AT&T Park, and the fans wave orange rally towels and chant "Beat LA." The rules and physics of baseball are followed throughout. There's a lot of baseball in it. There's actually a lot more baseball than there is sexy stuff, unless you think baseball is se—well, no, you wouldn't.
As Ben and I have discussed with semi-regularity, pretty much nobody does baseball well in fiction. Actors playing baseball often do not look like they are playing baseball at all. The space-time continuum is disrupted. And beyond that there's a lot of so-on, and plenty of so-forth, as well. I wondered how romance novels, as a genre, would do, so I fact-checked the baseball in this book. Here's what I found.
1. Actually, this book does a very good job! The baseball is pretty realistic. I'm going to get to the gaffes in a moment, in much more detail, and because of how much time I spend on the gaffes by the end you'll have forgotten this paragraph and concluded that the author gets baseball all wrong, but she gets it almost all right. The examples that follow stand out because they're rare glitches in an otherwise unbuffered stream. For instance:
Matt shrugged. "Taylor will be back in time for spring training. The Blaze only brought me here because they lost him for the year. You know how it works, Kelly. He's good, and he's young."

"You're not old."

"I'm 31. That's getting up there for a ballplayer. Especially a catcher."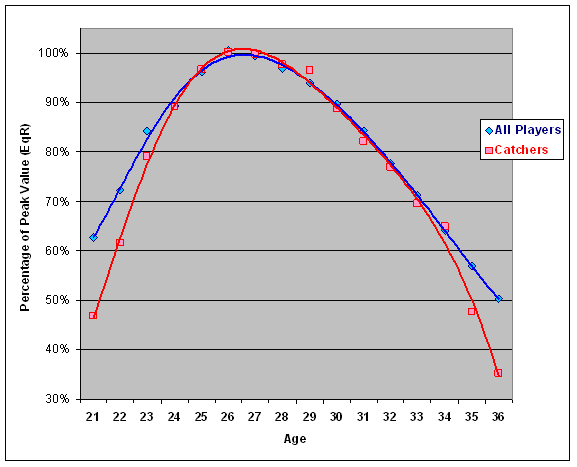 More on catchers:
"What are you, like, five-eight?"

"Five-ten," J.T. shot back with a scowl. … "Catchers don't need to be tall. In fact, the taller you are the worse it is on your knees."
Also true! And when the main character, a Mike Piazza/Steve Garvey hybrid named Matt Scanlon who catches for the Blaze after a mid-season trade from the Dodgers, gloves a pop-up to end an inning, the author even has the bat-boy handing Scanlon his catcher's mask a few minutes later. I was genuinely wondering whether he tossed his mask away, and he did! And then it was retrieved, by the actual person who might retrieve it! This is good stuff. Not even low-expectations "good stuff," but actual good descriptions of how baseball bodies work.
2. Outdated calibration for stadium size. Of the Blaze's stadium, she writes that it "wasn't huge, and because of the intimacy of the design, even the fans in the bleacher seats had a great view of the game. The brick walls in the outfield give it an old-fashioned feel, and there were two iconic San Francisco cable cars parked on the mezzanine occupied by food vendors." How many fans would you guess this "intimate" stadium seats? The answer is 50,000, 10K more than AT&T Park actually holds and bigger than all but four current stadiums, one of which will be dustbinned for something more intimate after this season. This is incredibly minor, and back in the day 50K was intimate, relative to some of the giant bowls.
3. The late-inning pitching changes are bananas, not just unconventional but arguably contradictory. In one late-season game, the Blaze take a one-run lead in the top of the 13th inning; what happens next is this: "In the bottom of the inning, the Cardinals get their first two men on base and were threatening to score when Morgan made the decision to pull their closer and put in Trey Gentry." Gentry is the team's no. 2 starter, and a rookie.
Now, we don't know for sure when the closer came in, but considering the circumstances and basic managerial tactics, it's safe to assume this was his first inning—the manager held him out of the tie game on the road until he got the lead, then brought him in for the save. Unless the Blaze have the world's wobbliest-chaired closer, there is no way he'd be pulled with the save still on the line in a one-run, extra-innings game—and, even less likely, that he'd be pulled for a starting pitcher in a non-playoff game. But it happened. (Gentry struck out the next three batters and the Blaze took a one-game lead in the NL West.)
But maybe manager Tom Morgan has the world's quickest hook. Except a few games later is this: "It was the bottom of the eighth inning and the score was still tied. There were two outs and Rizzo, who was pitching a magnificent game, was up at bat." It's hard to imagine that any pitcher who wasn't throwing a no-hitter would be allowed to bat here, though with two outs and nobody on it's a deceptively low-leverage situation, so maaaybe. All the same, Rizzo strikes out and goes to the top of the ninth, where some minutes later "the Dodgers had the bases loaded and one of their most feared hitters was striding to the plate. The upside was there were two outs." Imagine leaving the starter out there for this! But Tom Morgan did, meaning he must have the world's slowest hook! Or, much more likely, these idiosyncratic strategies are forced upon us because the author has chosen for narrative efficiency to name only five of the Blaze players, and thus must squeeze these five into every important situation. So it goes with the Law of Conservation of Detail.
4. So with two outs and the bases loaded, Scanlon goes to the mound to talk to Rizzo. "He lifted his glove to shield his mouth so nobody could read his lips." Good. "Just keep it low and inside and you'll own his ass." Sure, if he's calling for a back-foot slider. "He might try to bunt. Squeeze in a run that way." No! There are two outs! He's not going to try to squeeze in a run with two outs! "If he does try to bunt and it comes your way, just do what you do best and throw it to me." No! There are two outs! Pick it up, step and throw to first!
This, finally, is bad baseball narrative. We made it this far, but we're here.
5. Kelly Maxwell, Blaze media relations person/fully defined female character with plenty of agency: "I was too young to realize that girls couldn't play in the majors. When I found out, I was pretty ticked off." This is not true! Since 1992, "girls" have been allowed to play in the majors. Kelly Maxwell, your parents let you down.
6. Matt Scanlon: "Don't get cocky. It's not always about the stats." This is false. It is always about the stats. The championship is awarded to the team with the most stats; sometimes it even goes to the team with the most projected stats. This is why the saying goes "It's not whether you win or lose, it's how you have the stats."
7. Hanging curve balls. Really, I want to stress my first bullet once more: The baseball in this book is convincing. The culture of the baseball is even pretty accurate, in the sort of most eye-rolling ways, e.g. the media assistant who says "the Twitter hashtag battle has begun. The Phillies claim their fans are more passionate. Our fans didn't take that lying down. I predict the tweets will be hot and heavy all night long." This is exactly how baseball teams talk about Twitter. The hashtag-battle dialogue is basically Upton Sinclair-level authenticity. And the nits I've picked so far have been, generally, in service of the plot, and can thus be mostly forgiven. But there's this one little thing: Hanging curves.
"I've been in the National League for eight years. I know who can't lay off the first pitch, who's a sucker for a hanging curve."
Can you be a sucker for a hanging curve? About 80 percent of the sport is waiting for hanging curves and then swinging hard at them; this feels a little like a quarterback being a sucker for the blown coverage downfield, or the hockeyer being a sucker for an empty net. But okay, whatever. Let's keep reading.
"The latter included knowing a hitter's weaknesses. Did he always swing at the first pitch? Was he fooled by a hanging curve ball?"

"The kid was going to be a star He had talent, brains, looks and a helluva hanging curve ball."

"'Gentry's in the zone,' her father said as they watched Trey deliver a hanging curve ball that completely fooled the hitter who swung and missed."
I don't know why the appeal of the hanging curve, but it's the one case where you really wish the author had been edited by somebody who also knew baseball. It's the one time her obvious experience and intimacy with the sport failed her.
Otherwise, good book, with more authentic baseball than most other examples of the fictionalized sport. It does get a little dirty toward the end.
Thank you for reading
This is a free article. If you enjoyed it, consider subscribing to Baseball Prospectus. Subscriptions support ongoing public baseball research and analysis in an increasingly proprietary environment.
Subscribe now