Many teams have built new stadiums only to see their teams fail and their attendance drop.
Check this out, though:
Safeco Field opened in the middle of the season in 1999, and for four full seasons, the Mariners have been able to draw at least 25,000 fans no matter the opponent, weather, or the fortunes of the team. The Mariners invested in a team that would draw fans and build a base of interested consumers even before their new park opened, and by fielding competitive teams (which is another story) they've managed to keep the fans coming. The stadium holds just over 47,000 fans, which means capacity has been the limiting factor, and not population. The M's have tried to sidestep this by sticking metal bleachers that wouldn't pass muster at a high school field into the cool center field beer garden, just to squeeze in a couple hundred more paying customers.
Partly as a result of their attendance, the Mariners have been one of baseball's most profitable franchises since they got their new park.
Here's an even better way to look at this. Compare the Mariners' unstoppable 2001 team that won 116 games to the 2002 and 2003 editions. Neither of these latter two teams got into the playoffs; the 2002 squad was 93-69 in Lou Piniella's last season in Seattle, but finished behind both Oakland and Anaheim, while Bob Melvin's first Mariners team stayed in the race until almost the end of the season with their 93-69 mark.
I set the low end of the scale at 25,000 because the Mariners could announce that they were holding a bake sale and 25,000 people would show up looking for a brownie.
I think one of the reasons for early-season volatility is that it's plain unpleasant to watch a night game early in the year at Safeco Field. I'm sure there are other stadiums where it's colder, but Seattle's a city with a reasonably mild climate year-round. Sitting in a cramped seat after the sun goes down and the wind kicks up, feeling colder than you've been all winter–that's not something that appeals to a lot of fans. The number of people who are actually at these games drops off quickly after the fifth inning, right around 8:30 or 9:00 PM. I'd guess that half the people who see the first pitch are there for the last half-inning, and if it's a clear night and the temperature really drops, it's far lower than that.
But Seattle's a great place to be in the summer, one of the most beautiful places I've ever been (don't move here). And in the summer, there's no better place to be than the ball park. You can see that as the season goes on, the park fills up.
Take a look at Seattle's attendance in 2001: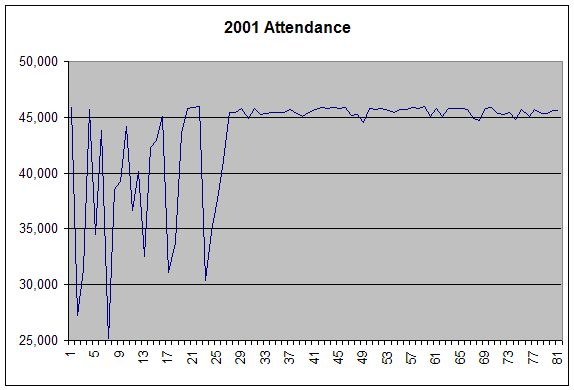 It's said a lot that attendance lags performance by about a year, but that losing can turn fans off almost immediately. That's not always the case, though–even when the Expos had a brief run at contention last year, their attendance spiked in-season. Fans turned out.
Looking back at 2001, the Mariners had snuck into the playoffs as the Wild Card in 2000, but had again been bounced out of the playoffs early. They started the season with dips: a couple mid-week games against Baltimore drew 30,000-37,000 after weekend sellouts against New York in late May, but soon the team was selling out mid-week games against Kansas City and Detroit.
Compare that to 2002, when they got busted out of the race late in the season:
For most of the summer, there were capacity crowds almost any day of the week, any opponent. But right there at the end, several thousand people started to find other things to do. In 2003, when they were in the race almost to the end of the year, another trend starts to emerge:
Look at that, they're getting much more fickle. Mid-week game against Detroit? Ennnhhhh. Toronto? Eeeeeeeeennnhhhhhhhh…. Now, having only 37,000 people show up is a problem I'm sure many teams would love to have. But it's interesting to note that in 2003, the M's were in the playoff race and playing well, but they were drawing 8,000 fans a night less than a team the year before that was in almost the exact same competitive position.
Now we can speculate all day on the meaning of the charts. But here's the next big one: comparable starts.
That huge spike is for the Yankees, who are traditionally a huge draw. You can see that even given the usual depressed early-season attendance, they're running way below previous years. That last spike's a weekend series, so the trends so far do offer the team some hope. If the fans keep coming out for weekend games and rivals (Do the Yankees even realize the M's consider them rivals?) the team could squeak over three million in attendance this year, even as they finish far below .500.
But what does this mean for the team? They've always spent on payroll, though not nearly as much or as intelligently as the Red Sox, who are just ahead of them in revenue. But they've done it not in pursuit of a pennant, but because they've felt that fans might not show up if they don't field a competitive team. What lesson will they learn if a .400 team draws three million fans? They can certainly put together a bad team for much less money (just as they could build a much better team… but that's another issue). Have their attempts to brand the franchise as family-friendly entertainment made the team performance-proof? How much of their continued draw is the result of four winning teams since the stadium's opening half-season, and can that draw be sustained with less successful teams on the field?
The past offers an interesting answer. In 1998 and 1999, the Mariners had two decent, sub-.500 teams: they won 76 and 79 games, but drew 2.7 million and 2.9 million fans respectively. And that was playing in the Kingdome, which as a baseball stadium wasn't a bad place to see a monster truck rally (SUNDAY SUNDAY SUNDAY!). Those teams came on the heels of three good Piniella teams that had won two division titles (1995 and 1997). If the Mariners could ride it out for a couple of years in a terrible stadium, it's fair to assume that they have lengthy grace period before their fans realize that the organization's total incompetence means that they might as well shred and smoke up their twenties rather than spending them on tickets. The attendance will start to fluctuate more between weekday and weekend games, between also-rans and visiting contenders, but it'll be hard for the team to be unprofitable until the fans stay away in droves.
Some Cubs fans complain that Chicago has a ballpark and fan base that discourages the team from trying to win, since that investment doesn't produce much incremental revenue for the effort and investment required (illegal ticket scalping schemes aside). But what might be developing in Seattle could be the true nightmare of the real fan. They might turn into a team with a large fan base that thinks of games as good, clean entertainment, who will show up at a state-of-the-art stadium when the team is good or when they're bad, just as long as it features nice, wholesome young men with winning smiles. Would there be anything more frustrating than watching a team with great public relations play bad baseball year after year, raking in the money? Besides being an Expos fan, I mean–those guys should all get a free swing at Bud Selig and Bob DuPuy.
Even more terrifying is the thought that this could be something that other teams on the decline try to emulate. Will character veterans carve themselves a new market niche pacifying the fans of former contenders? Or will I find a way to end this column gracefully? Widespread adoption of the Mariners strategy could leave the league with a few teams fighting for the best players, and the rest fighting for truly special people, and that'd be bad for baseball.
Thank you for reading
This is a free article. If you enjoyed it, consider subscribing to Baseball Prospectus. Subscriptions support ongoing public baseball research and analysis in an increasingly proprietary environment.
Subscribe now