As the Astros, Yankees, Pirates and Cubs prepare for their one-game auditions for this year's Division Series, we recall the trades, signings, extensions, hirings and waiver claims that led to these teams' success—and what those trades, signings, extensions, hirings and waiver claims looked like at the time. Here are the transaction analyses we wrote at some key moments in each team's journey.
| | |
| --- | --- |
| American League | National League |
Reportedly signed RHP Luke Gregerson to a three-year deal worth $18.5 million and RHP Pat Neshek to a two-year deal worth $12.5 million. [12/10/14]
The Astros, regarded by some as the "EXTREME MONEYBALL" franchise, have approached the offseason just as that moniker would lead you to expect: by throwing money at every high-priced reliever on the market. Andrew Miller passed, opting for less money and a razor, and both Zach Duke and David Robertson said no thanks on their way to Chicago. But Jeff Luhnow persisted, and on Wednesday he found a couple of late-inning arms willing to take his money.
Gregerson earns the nod for being the iron man of the pair, having tossed more than 400 innings over the past six seasons. He made two trips to the disabled list during that span, including once in 2009 due to shoulder inflammation, so durability wouldn't appear to be a concern. And maybe it shouldn't be, except Gregerson is the rare bird whose primary pitch is a slider—a predilection that raises eyebrows and, depending on your beliefs, red flags. Astros fans should rest well knowing Gregerson does throw other pitches—mostly a high-80s sinker, though he'll toss the occasional upper-70s changeup—and that he's a legitimate late-inning reliever until his body says otherwise, be it due to wear or tear.
Neshek, meanwhile, has dealt with enough injuries and personal traumas for the both of them. He topped 50 big-league innings in a season last year for the first time since 2007, and celebrated the occasion by being dominant. Although Neshek used to pitch off his slider like Gregerson, he threw more sinkers than sliders last season, and has continued to use his low-70s changeup more often than in the past. Neshek is perhaps best known for his deceptive mechanics, as it appears as though he's going to drop down and throw submarine before coming to the plate from a side-arm slot. Health provided, he too should pitch near the end of games.
It's worth noting that both Gregerson and Neshek have been roughly platoon neutral over the past three seasons. As a result, they should be interchangeable with Chad Qualls as late-inning choices. Gregerson, whose contract includes closer-related incentives, could be the favorite for the ninth-inning job, but don't be surprised if Neshek picks up a few saves next season as well. However A.J. Hinch sorts things out, the Astros should have an improved bullpen, and given that they've ranked last in the majors in ERA in each of the past two seasons, you can excuse Astros fans who feel relieved. —R.J. Anderson
Acquired OF-R Carlos Gomez and RHP Mike Fiers from the Brewers in exchange for OF-L Brett Phillips, OF-R Domingo Santana, RHP Adrian Houser, and LHP Josh Hader. [7/30/15]
Perhaps the Astros are contending for a postseason berth more quickly than people expected—after all, they won't win the World Series until 2017—but the organization has embraced its situation and taken a massive step to increase its odds for October baseball. While the team has tried to cobble together an outfield and a starting rotation with prospects and fringe-average players, the addition of Gomez and Fiers provides two upgrades at key positions.
Gomez was worth 11.3 WARP between 2013 and 2014, establishing himself as one of the premier center fielders in the non-Trout division of Major League Baseball. His production has fallen a bit this year, but his .278 TAv remains above average and one of the top 10 marks for qualified center fielders. He'll be a massive upgrade over Jake Marisnick, who's hitting .238/.275/.374, and Colby Rasmus, who only has a .236/.304/.459 slash line. Add Gomez's Gold Glove–caliber defense in center field and the Astros have drastically upgraded their outfield situation for the next two seasons.
Once George Springer returns from his wrist injury—a timetable that's suddenly more uncertain—the Astros will have their 2016 outfield intact. Preston Tucker has proven capable of handling major-league pitching, while Gomez and Springer have the potential to be a special combination in center and right. This isn't a two-month quick fix for the Astros. They're gearing up for continued contention in 2016.
That same spirit guides any analysis of the Fiers acquisition. The right-hander has been roughly league-average this year and could be a useful back-end starter for the next couple of seasons, helping the Astros upgrade a rotation that has featured Scott Feldman and pressed Vincent Velasquez into action. If one wants to be super charitable, Fiers' 89 cFIP projects him to be 11 percent above average throughout the remainder of the season. In that way, one wonders if Fiers has a bit more upside than expected, given his pedestrian fastball velocity.
This is different than the Scott Kazmir acquisition, which was very much a "go for it" rental move in the manner that we've become accustomed to seeing at the trade deadline. The Astros understand they've stepped into their window of contention. Any high-profile moves would have to help the club beyond 2015. Gomez and Fiers both fit the bill. And while Gomez is the impact acquisition, the Astros needed to add to their pitching depth. Their combined 4.02 DRA in the rotation ranks sixth in the American League, and that's largely carried by Dallas Keuchel and Lance McCullers. The back end of the rotation has struggled more. Collin McHugh and Feldman have ERAs over 4.40, while Velasquez has a 3.92 ERA but is still adjusting to the majors. Fiers slides into the rotation and provides league-average production with a hint of upside.
Ultimately, this is a shrewd piece of business. They leveraged one of their top prospects, Phillips, with a handful of other non-impact guys to upgrade two key parts of their roster for at least the next year-plus. The fact that they were able to do this without moving Mark Appel, Velasquez, Derek Fisher, or McCullers is huge. Perhaps losing Phillips will hurt in the long run, but playing baseball in October for the next two seasons with an All-Star-caliber center fielder would lessen any residual pain.
Hell, if you're more interested in the symbolism of such a deal, this is the Astros announcing their arrival as a mainstay in the AL West. Perhaps there's value in that alone. They aren't willing to sit back and wait for a magical moment in which all their prospects mature at exactly the same time. The club is ready to grab the AL West by the throat and make the playoffs for the first time since 2005. It's a statement deal that has the added benefit of not mortgaging the future. That's money. —J.P. Breen
Named A.J. Hinch manager. [9/29/14]
His communication skills receive constant praise. He carries himself with confidence, yet maintains a growth mindset. He once said, among other bright insights, "Sometimes managers don't shift because they don't want to give up a portion of the field. But why not give up a portion of the field if the probability of the ball being hit there is one percent?" He is, by seemingly every measure, the perfect manager for a franchise whose philosophy has been summed as "Extreme Moneyball". He is Bo Porter.
All right, so that gives you an idea how treacherous these first takes can get on a manager's hiring. The truth is, the most important parts go unseen. Hinch is a strong candidate on paper. He's played in the majors, he's worked in front offices and understands the numbers side of the game, he's even spent time on the bench before, back in the day with the Diamondbacks. If we did managerial prospect lists, he would have ranked near or at the top. But given all the Astros PR blunders—P in this case standing for public and players—you can't help to worry about whether Hinch will determine his own fate.
Consider the events of Sunday, the day before Hinch's introduction, an ominous sign. The Astros incited a social-media riot—yes, again—when news broke that Jose Altuve had been benched against his will, so as to protect his batting title. (Extreme Moneyball, indeed.) The decision was soon overturned, and Altuve went on to play and win the title anyway. In a week the entire scene will be forgiven and forgotten, except for one thing: communication failures have been a constant during Jeff Luhnow's tenure as GM. Look at the big blemishes—be it Porter's dismissal, the Brady Aiken fiasco, the Mark Appel bullpen session—they all boil down to management not getting its message through.
Perhaps Hinch is the man to change that. Maybe he gives the Astros a more legitimate face of the franchise, a better talker and manager than Porter; a better fit for the front office, who can jell with Luhnow in ways that Porter clearly couldn't. It would appear all the ingredients for a happy partnership and strong manager are here. The question is whether management will let him cook. —R.J. Anderson
Re-signed 2B-R Jose Altuve to a four-year extension worth $12.5 million with two club options worth a combined $12.5 million. [7/13]
Despite Altuve's age—he turned 23 in May—he's not the kind of player normally associated with these deals. His upside is limited due to a thin skill set. Altuve excels at putting the ball in play and hitting for average. Beyond this ability his only other value-add comes from stolen bases. His small frame restricts his power potential, and though his strike zone is small, he rarely walks—in fact, Jeff Francoeur has a better walk rate since 2011. Defensively Altuve is fastened to second base. He falls short of being a legitimate Gold Glove contender there, and heading forward he may become a negative if his body gets out of control. The ideal Altuve season sees him hit somewhere in the .290-to-.300 range while making up for his deficiencies elsewhere. Even then he'd be around a league-average hitter.
Houston's real motivation for the deal probably has less to do with Altuve's upside or on-the-field performance and more with symbolism. Altuve is one of the Astros' better players now, and he's showcased the qualitative traits a team wants to see before committing to an eight-figured contract. The money is a pittance compared to what the little second baseman can stand for within the organization. When Luhnow says Altuve is the face of the franchise he means it in two ways: The positive, role-model sense, and the less positive, this-is-the-state-of-the-big-league-roster sense. —R.J. Anderson
Selected SS-R Carlos Correa with first overall pick in Rule 4 Draft [6/4/12]
There were some rumblings on Sunday that the Astros had backed off a bit on Appel after making some initial feelers as to his signability. That seemed to make Buxton the obvious pick by default, but Correa was always in play here after his lights-out private workout. A surprise, but a pleasant one, as the Astros selected who I had as the No. 1 talent in the draft. The question remains as to whether the Astros genuinely preferred Correa, or if they think they can shave a little cash off the $7.2 million suggested slot, a theory that received a boost when Houston selected hard-to-sign Lance McCullers with the 41stoverall selection. —Kevin Goldstein
Signed LHP Andrew Miller to a four-year deal worth $36 million. [12/5/14]
Even if you aren't a Yankees fan or a believer in paying a reliever $9 million per season, there are a few reasons to appreciate this deal—not the least of which is that it'll force Miller to acquire a razor.
Let's start with the obvious: It means Miller, once the no. 6 pick in the draft, has officially turned his career around. A shutdown reliever isn't what the Tigers had in mind when they drafted him, nor the Marlins when they traded for him, but it beats where he was headed a few years ago. These days Miller uses his limbs, longer than a stay at Hotel California, and a closed stride to create sharp angles. From there his explosive fastball and slider do the work. Whatever his role is—and it should be something in the final few innings—he has the stuff to perform it well.
Another thing to appreciate here is Brian Cashman's work with the bullpen. He's now added two power southpaws, in Justin Wilson and Miller, to go with Dellin Betances. What's more is Cashman holds all the leverage on the David Robertson talks. If Cashman feels the price is right, he can retain his closer and strengthen an already healthy-looking 'pen; if he feels the cost is absurd, he can pass and recoup a draft pick. Cashman has work to do on other parts of his roster, namely the rotation, but so far so good on this front. —R.J. Anderson
Acquired SS-L Didi Gregorius as part of a three-way trade with the Tigers and Diamondbacks; sent RHP Shane Greene to the Tigers. [12/5/14]
Gregorius arrives in New York as their new starting shortstop, a mild upgrade over Brendan Ryan and major upgrade over Derek Jeter. Barely 25 in April, Gregorius inheriting the mantle from Jeter will rank among the largest age differences in transferring the team position from baseball elder to youngster:
| | | | | | | | | |
| --- | --- | --- | --- | --- | --- | --- | --- | --- |
| Team | Pos. | Year | Elder | Age | Next Year | Youngster | Age | Difference |
| WAS | 3B | 2005 | | 37 | 2006 | | 21 | 16 |
| MIN | CF | 1998 | | 39 | 1999 | | 23 | 16 |
| PHI | 2B | 1983 | | 39 | 1984 | | 23 | 16 |
| CAL | RF | 1991 | | 39 | 1992 | | 23 | 16 |
| FLO | LF | 2004 | | 38 | 2005 | | 22 | 16 |
| OAK | LF | 1998 | | 39 | 1999 | | 23 | 16 |
| OAK | 2B | 1984 | Joe Morgan | 40 | 1985 | | 24 | 16 |
| CIN | RF | 2007 | | 37 | 2008 | | 21 | 16 |
| SEA | LF | 2013 | | 41 | 2014 | | 26 | 15 |
| WAS | C | 2010 | | 38 | 2011 | | 23 | 15 |
| SFN | LF | 2007 | | 42 | 2008 | | 27 | 15 |
| CAL | 1B | 1985 | | 39 | 1986 | | 24 | 15 |
| KCA | C | 1989 | | 41 | 1990 | | 26 | 15 |
| NYA | SS | 2014 | Derek Jeter | 40 | 2015 | Didi Gregorius* | 25 | 15 |
(Minimum 400 PA each season, since 1974)
In the first half of 2013, Gregorius, then a rookie, lit the big-leagues on fire, but has since shown his true, colder colors, losing the starting job to Chris Owings in spring training last year. Pitchers contently challenged Gregorius with hard stuff in the zone and they were right to; his soft contact rarely resulted in severe damage. He skews as a fly-ball type, so the right-field porch will be available to him during the rare displays of power. The Diamondbacks hid him against lefties as much as they could, against whom he sports a career .200 TAv in 180 plate appearances.
If insurance isn't on its way—or at least a platoon partner—the Yankees carry the risk of Gregorius as an offensive liability at the bottom of their lineup, in an offseason where division mates Boston and Toronto have made tremendous upgrades to theirs. Initial PECOTA runs peg him as a slightly below-average hitter in 2015, though a move to the AL East might lower that, depending on your perception of the pitching there versus the NL West. Regardless, it's a better offensive projection than that of Ryan or the ghost of Jeter. Add in his stellar arm and the Yankees have a reasonable starter at short.
Along with Ryan, the Yankees now carry two solid-to-elite defensive shortstops, and their combined cost sits around a mere $2.5 million. Ryan will likely rove around the infield in the late innings, whether that's spelling Gregorius, Martin Prado, Alex Rodriguez, Mark Teixeira, or whoever Joe Girardi starts at second—possibly Ryan himself, if one of the above sees DH time.
The departure of Shane Greene leaves the Yankees in need for starting pitching behind the confirmed trio of C.C. Sabathia, Masahiro Tanaka, Michael Pineda, each of whom comes with injury concerns. With Ivan Nova in Tommy John recovery and just a middling David Phelps healthy, expect more from Brian Cashman on this front. –Andrew Koo
Acquired RHP Michael Pineda and RHP Jose Campos from the Mariners for Hitter-R Jesus Montero and RHP Hector Noesi. [1/13/12]
Is it fair to write that Brian Cashman's abstinence from the free-agent market looks worthwhile? When you consider that Pineda's stuff is reported to serves as an aphrodisiac, it might be. A mid-to-upper 90s fastball and biting slider led to more than a strikeout per inning and a 3.15 strikeout-to-walk ratio, leading to an All-Star appearance as a 22-year-old.
Still, Pineda will turn 23 within the week and there are some warts on him. The most obvious blemish is the lack of a changeup, as Pineda spent last season as a fastball-slider pitcher. Next up is how Pineda will take to the Bronx as a fly-ball pitcher. There should be some relief in knowing that Pineda's second-half woes were not evident in his component-based measures, although his earned run average did jump as he allowed more hits on balls in play.
Can earned run average underrate a pitcher whose home park and defense were pitcher-friendly? Pineda racked up 3.1 Win Above Replacement Player due to strong peripherals despite an average-looking 103-adjusted earned run average. Under team control for the next five seasons, Pineda will have to adapt to the Bronx and further develop his tertiary pitch. Should he do those things, he could form arguably the nastiest one-two punch in the majors with C.C. Sabathia.
Ostensibly, the Yankees will open the season with Sabathia, Pineda, and Kuroda as their top-three. Ivan Nova is the most desirable of the other four starters—a group that includes Freddy Garcia, A.J. Burnett, and Phil Hughes—which should lead the Yankees to keep Nova in the rotation, thus jettisoning two of Burnett, Hughes, and Garcia out of New York or to the bullpen. None of them should feel too comfortable right now, nor should the rest of the AL. —R.J. Anderson
Acquired 1B/OF-L Garrett Jones and RHPs Nathan Eovaldi and Domingo German from the Marlins in exchange for 3B-R Martin Prado, RHP David Phelps, and cash considerations. [12/19/14]
Eovaldi isn't the power arm Yankees fans hoped the team would acquire this winter, but he could be a productive member of New York's staff anyway. Eovaldi, 25 in February, is cheap and under team control for an additional three seasons. It might take that long for pitching coach Larry Rothschild to milk all the upside from Eovaldi and his impressive power arsenal—mostly an upper-90s fastball that he controls well and an upper-80s slider. Unfortunately, hopes about him curbing his platoon issues proved premature last season, thus fueling further skepticism about his future role. Perhaps Eovaldi does shift to the pen in time, but for now he ought to take a spot near the back of the Yankees' rotation.
–R.J. Anderson
Signed C-L Brian McCann to a five-year, $85 million contract with a vesting option for 2019. [11/23/13]
When Sam Miller asked me a few weeks ago how the Yankees—who were old, injured, and outscored by their opponents in 2013—could put themselves in a position to compete next season, I offered a simple solution: "Sign all the good players." This is a start.
McCann is the best catcher to make it to free agency since Ivan Rodriguez signed with Detroit a decade ago. In part, that's because teams tend to lock up potential stars at the position, like Joe Mauer, Buster Posey, Sal Perez, Jonathan Lucroy, and Carlos Santana—not to mention McCann himself, who signed a six-year extension in 2007. In part, it's because catchers tend to come up late and get old early, putting them past their expiration date by the time their team control years are over. And in part, it's because there simply haven't been many post-Pudge catchers as good as the one the Yankees just added.
There's a big gap between McCann and the next-best free agent backstop, Jarrod Saltalamacchia. And next year's prospective catching class—a 32-year-old Russell Martin and a bunch of backups—won't be any better. Signing McCann may have been the last chance for a team to make a major upgrade behind the plate without trading talent until the winter of 2015, when Matt Wieters and Alex Avila could become available. And none of McCann's other suitors stood to benefit by as much as New York.
Yankees catchers last season (Chris Stewart, Austin Romine, Francisco Cervelli, and J.R. Murphy) produced a .214 TAv. Only Blue Jays, White Sox, and Marlins backstops hit worse. Our preliminary PECOTAs project McCann to be worth 3.2 WARP next year, which would give the Yankees a few wins more than the 0.3 they got out of the position in 2013. And because the Yankees are likely to find themselves in the thick of a playoff race—but have too many weaknesses to secure a spot by a wide margin, as they have in some seasons—those wins are worth more to them than they would be to the typical team.
The concern with McCann, who'll turn 30 the week after pitchers and catchers report, is that he won't be a catcher in the latter part of the contract. It's easy to look at Nate Silver's catcher aging curve…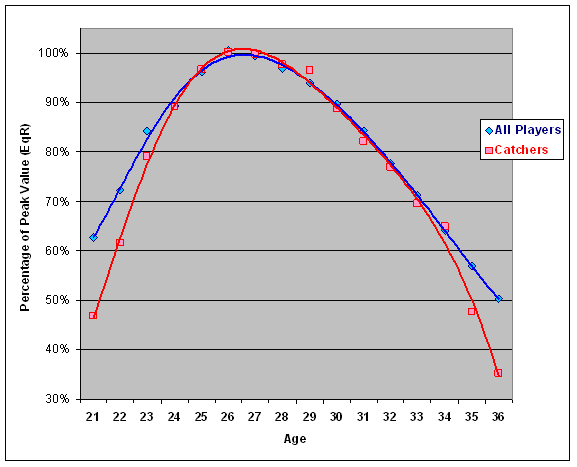 …note the divergence from the standard curve starting around age 33, and conclude that McCann will have to move off the position a few years from now, hurting his positional value.
He might. McCann is big for a backstop, and he has a lot of mileage on his legs. His playing time has decreased for three straight seasons, falling to a career-low 102 games last season after undergoing shoulder surgery in October of 2012. Baseball-Reference's list of players most similar to McCann is made up largely of men—Lance Parrish, Gary Carter, Del Crandall, Bill Freehan, Tim McCarver—whose productivity and/or playing time behind the plate decreased sharply shortly after age 30, some of whom retired when they were younger than McCann will be at the end of this deal. (Freehan, Victor Martinez, and Carter are his top PECOTA comps.) And if you really try, you can talk yourself into fearing other indicators that the Yankees, who can consult HITf/x info, are better equipped to assess—diminishing returns when putting hard pitches in play, recent struggles against southpaws, and a late-season swoon, which one could blame on McCann's inability to follow his usual offseason exercise routine last winter.
But there are a couple of reasons to think that McCann's age doesn't doom the Yankees to regretting this deal. The first is the defensive contribution McCann makes that isn't currently captured by WARP. Since Jorge Posada stopped hitting enough to make his spastic receiving tolerable, the Yankees have had promoted or signed a string of strong framers, from Jose Molina to Russell Martin to last year's crop of no-hit, good-glove guys. We know that's not a coincidence. McCann has a below-average arm, but he's consistently rated as one of baseball's best receivers; despite being behind the plate for only a little over 800 innings last season, he ranked fifth in framing with 22 runs saved.
According to Max Marchi's research, framing skill declines very slowly:
That explains why the Tampa Bay Rays are reportedly talking to Jose Molina, baseball's best pitch-per-pitch receiver, about a two-year deal. And if one AL East contender believes that framing talent can keep a portly catcher who can't hit or block, and who would be far below replacement at any other position, behind the plate from age 39-40, it's not so hard to imagine another thinking McCann can keep catching into his mid-30s. Between improved conditioning and medical treatment and the increased attention paid to framing, it's hard to know how applicable the examples of aging catchers of 30 years ago—like Parrish and Carter—are to today's backstops.
The deal does include a full no-trade clause and a vesting option for a sixth season, the terms of which have not been announced. And because McCann received a qualifying offer from the Braves, the Yankees will forfeit the 18th overall pick in next year's draft (though they could recoup picks if their own qualifying free agents sign elsewhere). But despite the cost and the risk inherent in any long-term deal for an aging catcher, this isn't an overpay. Adding McCann makes the Yankees better than any other single signing could have, aside from bringing back Robinson Cano (and it doesn't hurt that by locking up McCann, they made sure the the Red Sox and Rangers couldn't). The question now is whether the market's top catcher is just the first free agent to fall in an old-fashioned Yankees spending spree—and if so, whether the team can keep cramming in high-priced veterans without blowing by the luxury tax threshold. —Ben Lindbergh
Acquired RHP Pedro Strop and RHP Jake Arrieta plus International Bonus Slots 3 and 4 from Baltimore Orioles in exchange for RHP Scott Feldman and PH/C-R Steve Clevenger; assigned Arrieta to Triple-A Iowa. [7/2/14]
Acquired RHP Matt Guerrier from Los Angeles Dodgers in exchange for RHP Carlos Marmol and International Bonus Slot 4 [7/2/]
To all those wondering why the Cubs this winter were signing free agent pitchers in anticipation of what seemed like a lost season—and one in which they were relatively deep in the rotation, to boot—we get an answer. For half of Feldman's $7 million salary, the Cubs got 1.2 WARP (which they didn't have much use for) and an unorthodox package (which they very well might).
In Guerrier and Strop, the Cubs get two lackluster relievers who have figured out at various points in their careers how to get outs without getting strike threes—the opposite, then, of the former closer they just sent away. Strop in particular is a Scared Straight video for people who don't think that fluky relief performances can happen to them. His ERA was in the high-1s in early September 2012. Despite throwing hard and killing worms, he didn't have the peripherals to support his sudden stardom, and since then he has allowed 25 runs in 30 innings.
Arrieta is perhaps the acquired player most likely to ultimately help the Cubs' bullpen. He's got a big fastball and was a top 100 prospect at 23, but he hasn't shown the pitchability to get batters out a third time through the order, or the changeup to handle lefties. He's 27, past the age at which he can ask for patience. That all makes him a potential bullpen reclamation. A scout told MASN's Roch Kubatko last month:
Arrieta maybe needs to be out of there. Maybe he could do something someplace else. I don't know what the deal is with him, but it's certainly not working. With his stuff … He reminds me a lot of Phil Hughes. He throws so many pitches right down the middle and he gives up a zillion home runs. He's got good stuff, but his fastball is pretty straight, like Arrieta, and he gets too much of the plate and gets hammered.

The thing about pitching, and what he's got to learn about pitching, is that when you get in trouble, go softer, not harder. Arrieta goes harder. I think Arrieta, when he gets in trouble, goes a little too hard and it snowballs on him. He doesn't pitch and he loses his composure. He just panics.
Traded RHP Andrew Cashner and OF-L Kyung-Min Na to the San Diego Padres for 1B-L Anthony Rizzo and RHP Zach Cates. [1/6/12]
It almost made too much sense. When the Padres acquired Yonder Alonso from the Reds as part of the package for Mat Latos, it was an indication that the team had soured somewhat on Anthony Rizzo. (But I do have Rizzo ahead of Alonso on the upcoming Top 101 prospect list.) Jed Hoyer had Rizzo in both Boston and San Diego. Now Rizzo joins Hoyer in Chicago, as the Padres dealt the first baseman and righty Zach Cates to the Cubs for promising but oft-injured righty Andrew Cashner and outfielder Kyung-Min Na.
Rizzo's extreme big-league struggles hurt his value, but he's still a player who hit for average in 2009, for power in 2010, and proved he can hit for both in 2011 by putting up some of the biggest numbers in the minors at Triple-A Tucson. Unfortunately, playing in one of the minors' most high-octane environments led to same bad habits. Rizzo's swing got loopy, and he began hunting for power and getting pull-conscious. Big-league pitchers exposed the problem, but it's fixable with adjustments, and playing in the more neutral environment of Triple-A Iowa for half a season could help Rizzo unlock his potential. That's really the only good news for Triple-A masher Bryan LaHair: He'll get some time keeping the position warm until Rizzo is ready.
A third-round pick in 2010 who signed for an over-slot bonus of $765,000, Cates had a 4.73 ERA in his full-season debut at Fort Wayne, but his peripherals were much better than that: He allowed just 107 hits over 118 innings and struck out 111. Cates is a converted catcher, and he still looks like a position player learning how to pitch. However, he has considerable potential based on his low- to mid-90s velocity. His control and command can waiver when he struggles to find consistency in his delivery, and his breaking ball is well behind his surprisingly solid changeup. Some scouts believe his power stuff and delivery are better suited for bullpen work, but he'll remain a starter until such a move is forced by need, injury, or continued inefficiencies. —Kevin Goldstein
Acquired SS-R Addison Russell, OF-L Billy McKinney, RHP Dan Straily, and a player to be named later or cash considerations from the Athletics in exchange for RHPs Jeff Samardzija and Jason Hammel. [7/4/14]
At the plate, Russell displays blazing-quick hands with bat speed proceeding from a simple, low-maintenance swing. He made tweaks to his stance in late 2013, going from upright with high hands to more crouched and open. Russell can pull inside offerings for power, but his ability to drive balls with authority to all parts of the field, especially right-center, is what stands out. At his peak, Russell projects as a plus hitter with plus power potential, though the raw power is still being converted into game power.
Defensively, Russell shows a plus throwing arm that would well even at the hot corner, boasting arm strength and a quick release. His hands are soft and work in unison, but his body actions aren't completely fluid. The footwork can play "catch-up" on the field, so there's still room for improvement. However, the significant improvements he's made defensively indicate that he has the work ethic and ability to stick at the position long term.
In acquiring Russell, the Cubs have added to an already impressive prospect stockpile of offensive talent, including multiple shortstops in addition to the former Oakland top prospect. Javier Baez continues to play short in Triple-A, with shortstop-turned-second baseman Arismendy Alcantara on the other side of second base. Then there's big-league shortstop Starlin Castro, who remains one of Chicago's top talents at the major-league level. Of all the aforementioned names, Russell figures to provide the team with the surest glove work at the position. That doesn't mean that Castro or Baez will need to move positions, however, as the Cubs view both as assets—as would other teams, if Hoyer and Epstein decide to pursue another swap. –Ron Shah
Signed RHE (right-handed executive) Theo Epstein to a five-year contract. [10/25/11]
When the Nationals signed Jayson Werth to a seven-year contract last winter, we were told that what they'd really done, in addition to the more mundane achievement of finding a right fielder, was "change the culture." The most important byproduct of the move wouldn't necessarily be Werth's value on the field (two wins and counting!), but the allegedly legitimizing effect his arrival would have on the organization. With Werth in town, free agents would come flocking to Nationals Park, secure in the knowledge that the Nationals A) wanted to win, and B) were willing to spend (unreasonably) large sums in pursuit of a pennant.
If you thought Werth's first season in Washington was a disappointment, just wait till you see Theo Epstein's. Removed from the friendly confines of Citizens Bank Park, Werth hit only 20 home runs. Having bid farewell to Fenway, Epstein won't hit any. Someone in a suit can do plenty for a team's on-field fortunes, but not directly; Epstein's arrival doesn't bolster a bullpen beset by shaky performances, strengthen the NL's second-most-porous defense, or up the on-base percentage of a chronically walk-averse offense. Chances are he can't even channel Alex Anthopoulos and find a GM gullible enough to take Alfonso Soriano's contract (or even Carlos Zambrano's) off the Cubs' hands. As such, the immediate payoff of this protracted tug-of-war for one of baseball's brightest executives, which resulted in Epstein being appointed as Chicago's new president of baseball operations, could prove disappointing to any observers unreasonably expecting an overnight improvement.
As Epstein noted in some of his introductory remarks, while the similarities between the Boston organization he took over in 2003 and the Cubs organization he inherits now are obvious—the interminable title drought, the ancient park, the loyal, if long-suffering fanbase—the differences are almost as difficult to miss. In November of 2002, Epstein was hired to oversee a team fresh off a 93-win season, with one of the best pitchers ever (Pedro Martinez) and one of the best hitters ever (Manny Ramirez, not to mention a still-productive Nomar Garciaparra) already on the roster. By contrast, the Cubs are coming off a 71-win, second-to-last-place finish, and while the team does boast its bright spots (Starlin Castro chief among them), competitiveness isn't just around the corner. Epstein's last first season led to a seventh-game ALCS loss, with a World Series victory for a sequel; don't expect a similarly rapid rise to success the second time around.
Those caveats and obstacles aside, the Cubs are better bets to end all talk of billy goats by, say, 2015 than they were with Jim Hendry in charge. In his first press conference as a Cub, Epstein made mention of the pitfalls of paying for past performance, most likely with players like Mike Lowell and John Lackey in mind. The same principle applies to executives. If the Cubs were simply paying Epstein for the pennants in his past, bringing him on would be a bad idea, and were he a player introduced to great fanfare at age 37, even a particularly well-preserved one, we'd note that his best days were almost certainly behind him. Fortunately, the aging curve for GMs (and presidents of baseball operations) is a good deal more forgiving, and Epstein is still very much on the young side for a man tasked with running a team. That doesn't mean that his second act will be as successful as his first, but there's no obvious reason why the Epstein approach to team-building can't translate to another big market, especially if he's re-energized by a change of scenery and a new challenge, aside from the fact that the competition hasn't been idle and rival teams are smarter than they were in 2002 or even 2007 (in part because Epstein's acolytes have found homes in other front offices).
Epstein has earned enough accolades that I needn't recount his qualifications here; hell, we already wrote a book about them. Suffice it to say that Theo is a top-tier talent both in his ability to evaluate and acquire talent and in his skill at instituting a self-sustaining program of player development; he's also among the best at dealing with the media, and he'll be sure to move quickly to get the late-adopting Cubs an equivalent to Carmine, the information management system whose development he oversaw in Boston. What's more, if Werth was valued by Washington for his potential as a tool for recruiting player talent, then Epstein has the same significance to Chicago. His recruiting powers are paying even more immediate dividends, as Padres GM Jed Hoyer and AGM Jared McLeod will be getting the gang back together under Epstein in Chicago, with Hoyer serving as GM. The round-the-clock business of running a baseball operations department has become too demanding for any one man, so one of the most important measures of a modern GM is the quality of the co-workers with whom he chooses to work. As Epstein plays Mark Shapiro to Hoyer's Chris Antonetti, the two will continue to add to an assortment of experienced and innovative assistants, giving the Cubs a braintrust that one day might make Epstein himself dispensable.
What is an executive worth? Compare Epstein's salary (reportedly $15 million over five years, plus a $3.5 million transfer bonus) to similar amounts made by players: the Cubs are on the hook for roughly equal amounts to Epstein and Sean Marshall, a roughly one-to-two win player, in 2012. On the free-agent market, a win goes for far more. What that pay scale tells us is either that teams place far more importance on their players than they do on the masterminds who assemble them, or—maybe more likely—that the supply of potential GMs outstrips the limited demand by a much wider margin than is the case with players, leading to a higher replacement level.
That jibes with something we've heard over and over—that once a process is in place, the executive who put it into place becomes inessential, if not quite interchangeable or disposable. Since the Red Sox have already turned Epstein's vision into a reproducible reality and lined up his capable understudy, Ben Cherington, to replace him, his value is far higher to the Cubs, who have much more to gain from his presence. In light of that calculus, it's not surprising that this complicated deal got done, even independent of any allure Chicago might have for Epstein as he seeks to cement a legacy as the most memorable Cubs GM and the man who brought titles to two towns where so many had failed before him.
It may take some time for the Cubs and Red Sox to sort out the matter of player or cash compensation for Epstein's old club, a process in which the Commissioner is likely to become involved, but the prospects changing uniforms are unlikely to be big names (especially since Cubs prospects with big names are somewhat scarce these days). As Kevin and Jason discussed on Episode 69 of the Up and In podcast, a baseball team's winter work doesn't wait until after the World Series; most teams have already had their organizational meetings to determine off-season strategy. With the Winter Meetings less than two months away, Epstein, Hoyer, Josh Byrnes (who ascends to the top job in San Diego) and all the other front office dominoes falling as a result of this game of general managerial musical chairs are already behind the curve; both the Cubs and the Red Sox need to decide who'll be managing their teams come spring, but that could be the least pressing of their problems, given that arbitration and other signing decisions are just around the corner. The coming weeks and months will bring further developments as the execs of the hour take a break from posing for photos fit for GQ and furiously familiarize themselves with their new players and the gigabytes of proprietary data now at their disposal, but meaningful changes are already afoot. If there's any team in need of a fresh start, what Epstein called a "Cubs Way," it's the Lovable Losers, who now have a better reason than usual to wait 'til next year. —Ben Lindbergh
Acquired C-R Francisco Cervelli from the Yankees in exchange for LHP Justin Wilson. [11/12/14]
Give Neal Huntington credit for consistency, as he's acquired an ex-Yankees catcher in three consecutive offseasons. Cervelli splits the uprights between the previous two (Russell Martin and Chris Stewart) as a good defensive backstop equipped with some offensive skills.
The Pirates value receiving as much as any franchise these days, and Cervelli fits the mold. He's a talented receiver whose prorated numbers put him among the best in the majors (provided, of course, you put faith in those metrics' degree of accuracy). Cervelli's other strengths as a catcher—game-calling and staff-handling—also rely on evidence found in the human experience rather than through demonstrable facts. His arm is functional as well, though no one will confuse him for a human red light anytime soon. Overall, he's an above-average defender whose exact value is tough to pin down.
Ditto for Cervelli's offensive production, which is hard to suss out because of his status as an oft-injured backup—he's spent time on the 60-day disabled list in each of the past two seasons. You have to go back through the 2010 season to grab a sample size larger than 600 plate appearances. Do that, and you'll discover that Cervelli has been a hair better than the average hitter. Whether he maintains that level of production as he moves into an expanded role is anyone's guess. His skill set does offer some basis for pessimism, however, because he's a low-wattage hitter without a good hit tool who relies on walks and singles to buoy his numbers. As such, there's always the threat that, no matter how patient and disciplined he is, pitchers will pound the zone and keep him from walking as much as he needs to.
In addition to complicating the evaluation process, the unreliability of Cervelli's bat and body has impacted his value in another way: the time spent on the big-league DL has him on schedule to become a free agent after the 2016 season. You can understand why the Pirates took him on anyway—they need an upgrade over Stewart; the free-agent market is short on backstops; and pop-up prospect Elias Diaz could be ready for starting duty before long—but this is far from a given to work. If it does, the Pirates will look pretty smart. If not, expect fans to continue clamoring for Martin until long after he's gone. —R.J. Anderson
Acquired RHPs Kevin Hart and Jose Ascanio and INF-R Josh Harrison from the Cubs for LHPs John Grabow and Tom Gorzelanny. [7/30/09]

The usual rule of thumb on trades is that the team that got the best player wins. In this trade, though, that sort of reductionism isn't quite so easily achieved, because there's a case to be made that any one of the four pitchers could be 'best,' either transiently in the present or at some point in the future. Hart and Ascanio both have their uses and might both shine in a Pirates pen of the future, while Gorzo still has his upside, and Grabow's a utility lefty who isn't really a wow-you southpaw. Hart might yet pan out as a starter, but he's seen as a better and more likely relief prospect, so we'll see how this goes. As an exchange of the opposite-handed sources of utility and frustation, to some extent this is more a challenge trade than anything else. The exception to that is Harrison, a position-less bat who could land at second base or the outfield, but someone without game-breaking power; he's 22 years old, makes good contact, and runs aggressively, but that can be said for a lot of people, and if Harrison's the next Chris Stynes, he'll have met the best possible expectations. —Christina Kahrl
Acquired RHP Mark Melancon, OF-R Jerry Sands, RHP Stolmy Pimentel, and INF-R Ivan De Jesus Jr. from the Red Sox for Joel Hanrahan and INF-L Brock Holt. [12/16/12]
The Pirates get quantity but perhaps not quality in exchange for Hanrahan.
Melancon is the prize. His short-lived tenure with Boston got off to a disastrous start, as he allowed 11 runs and five home runs over his first four appearances. Boston sentenced him to Pawtucket to work out his mechanical issues—either overthrowing or showing too much of the ball during his delivery—under the not-as-bright-as-Fenway lights. Melancon returned after 20-odd innings for the P-Sox and pitched better. In his final 43 innings, he allowed three home runs, struck out four batters per walk, and held opponents to a .217/.274/.323 line. (Hanrahan, for comparison, allowed a line against of .187/.307/.341 last season.)
Of course, you can't go around erasing the worst instances from a sample all willy-nilly. What you can do is acknowledge those outings occurred while also asserting that Melancon is likely to pitch closer to his 2011 numbers than his 2012 numbers heading forward. If Pittsburgh can help Melancon—blessed with a bowling bowl low-to-mid-90s sinker, a curveball, and a cutter—iron out his platoon issues then it's not hard to envision him closing out games again. He is not a free agent until after the 2016 season.
The rest of the package is underwhelming. —R.J. Anderson
Signed LHP Francisco Liriano to a two-year, $12.75 million deal. [12/21/12]
A couple weeks ago, while taking the Twins to task for signing Kevin Correia to a two-year, $10 million contract, I mentioned that the Pirates had tried to trade Correia at last year's deadline, despite their interest in adding pitching. Now they've signed Liriano to a more lucrative contract that lasts just as long. Here's one comparison of Correia and Liriano over the last two seasons that makes it look like the Pirates picked the wrong pitcher:
Kevin Correia: 325 IP, 4.49 ERA, 2.4 BB/9, 48.5 GB%, 43 days injured (oblique)
Francisco Liriano: 291 IP, 5.23 ERA, 5.0 BB/9, 46.1 GB%, 47 days injured (shoulder)
From 2011-12, Correia pitched more innings, allowed fewer runs per inning, walked fewer batters, got more grounders, and suffered less serious injuries. And yet the Pirates preferred Liriano. No wonder they're always under .500!
Okay, I left a few statistics out:
Kevin Correia: 4.6 K/9, 90.3 mph avg. FB velo, 32 years old, right-handed
Francisco Liriano: 8.6 K/9, 92.2 mph avg. FB velo, 29 years old, left-handed
From 2011-12, Liriano struck out batters nearly twice as often as Correia and threw roughly two miles per hour harder, despite being left-handed. He's also over three years younger. It's obvious why the Pirates would prefer Liriano!
All right, enough selective use of statistics. Here's what the comparison looks like if we stop cherry-picking peripherals and look at overall defense-independent performance:
Kevin Correia: 4.64 FIP
Francisco Liriano: 4.43 FIP
From a defense-independent standpoint, Liriano has been a bit better overall recently. He's also been much more dominant in the past, has superior stuff, and is significantly younger. If Kevin Correia is worth two years and $10 million on today's market, then Francisco Liriano has to be worth $2-3 million more. Right?
Right. There's just one catch: to believe Liriano is a bargain at two years and $12.75 million, you have to believe he's the pitcher his FIP says he is, not the pitcher his ERA says he is. After 840 career innings, Liriano has a 4.40 ERA and a 3.75 FIP. Why the dramatic difference? With the bases empty, Liriano has held opponents to a .230/.312/.353 line, striking out 26 percent of the batters he's faced. With men on, opponents have hit him to the tune of a .271/.347/.424 line and struck out in only 21 percent of their plate appearances. Whether the problem is primarily mental or primarily mechanical, Liriano simply hasn't pitched as well out of the stretch as he has with a full wind-up. As a result, he strands fewer runners than he otherwise would.
Liriano is a better pickup for Pittsburgh than Correia was for the Twins, but unless the Pirates can fix his persistent sequencing issues—and remind him where the strike zone is—he'll continue to be a disappointing pitcher whose stat line doesn't match his stuff. —Ben Lindbergh
Signed RHP A.J. Burnett to a one-year deal worth $8.5 million. [11/14/14]
Would you trade $4.25 million to pitch for a contender? Burnett did, declining his player option with the Phillies to stroll across Pennsylvania and rejoin the Pirates, thereby putting all the negative feelings from his original departure— the Game Five snub, the dislike of the shifts, and so on—under the Clemente Bridge.
In an amusing twist, Burnett is now in line to succeed Edinson Volquez (and/or Francisco Liriano, depending on Pittsburgh's other offseason plans) a year after Volquez helped replace Burnett. In an even more amusing twist, Burnett might be the less reliable of the two. After all, he's a 38-year-old coming off a miserable season in which he dealt with injury and control issues. There's something to be said about Burnett starting 30 games for the sixth consecutive season, but it might be that his unwillingness to rest made his numbers look worse than they should be.
Perhaps that's partially why Neal Huntington said, "There are some indicators that (make) us think there's still a good pitcher here who can still win big games and eat innings." What might some of those other indicators be? Burnett still generated groundballs, missed bats, and tempted batters to expand the zone about as often as he did during his Pittsburgh days—he even threw about as many pitches in the zone. (That last point is notable because Burnett's wildness is part of the reason to be concerned.)
Then there's also the best indicator of all: that Ray Searage (presumably) signed off on adding Burnett. Given the price, the Pirates don't need Burnett to be a top-of-the-rotation starter to justify the signing. He just has to fill in one of the vacant spots in the middle and give them some reliable innings. Seeing as how all indications are Burnett will retire after the year, let's see just how good of a farewell tour he's able to author. —R.J. Anderson
Thank you for reading
This is a free article. If you enjoyed it, consider subscribing to Baseball Prospectus. Subscriptions support ongoing public baseball research and analysis in an increasingly proprietary environment.
Subscribe now