The Tuesday Takeaway
Another start, another double-digit strikeout collection for Chris Sale.
The White Sox lefty continued his march into the punch-out history books by fanning 12 Cardinals in eight fantastic innings last night. Sale allowed only one run—a Randal Grichuk solo shot—while limiting the Redbirds to just five other hits and one walk.
Cardinals manager Mike Matheny stacked his lineup with right-handed hitters Tuesday, the only hope any skipper has when taking on Chicago's ace these days, because left-handed swingers came in batting a collective .188/.278/.208 on the year. Sale saw that St. Louis order and raised it a one-sided approach: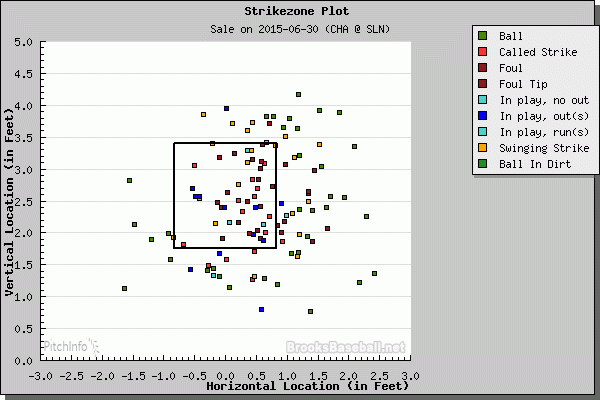 With few exceptions, Sale pounded his arm-side portion of the plate, daring the Cardinals' righties—led by Grichuk and Jhonny Peralta in the absence of Matt Holliday—to beat him on pitches over or beyond the outer half. Like most of his teammates, Peralta caught nothing but air reaching for 95 mph gas off the edge:
The 26-year-old Sale's fastball and slider take turns mystifying opponents from outing to outing, and on Tuesday, it was the hard stuff that reigned supreme. Sale fired 72 two-seamers at the Cardinals, 55 of them for strikes, and only six of them of the called variety. Of the other 49, 17 were swings and misses, as the Cardinals found the 96 mph cheddar too sharp for their tastes. He blew the fastball by them in the zone, got them to flail past the right-side corner, and tempted them to climb the ladder a half-dozen times. And, as dominant as Sale was yesterday, it was merely the sort of mastery the White Sox have come to expect each time he toes the rubber.
After all, this was the eighth-straight start in which Sale K'd 10 or more batters, and the sixth start in that streak in which he walked no more than one. The Florida Gulf Coast University product's K:BB ratio in 60 innings since May 23rd stands at 97-to-9.
According to the Baseball Reference Play Index, Sale is just the second pitcher in at least a century to book double-digit Ks in eight consecutive outings, joining Pedro Martinez, who did it in the summer of '99. With the longest such streak by a left-hander already in hand, when Sale next toes the rubber, he'll have a chance to secure the major-league record outright.
The trouble for the White Sox on Tuesday was that the Cardinals, steered by starter Lance Lynn, matched Sale's effort in the runs column. Lynn pitched six innings of one-run ball—despite surrendering Sale's first career hit—before handing it over to Randy Choate and Kevin Siegrist, who preserved the 1–1 tie going into the ninth.
That ensured Sale's brilliance would go unrewarded in the "W" column, the fifth time that's happened during the ongoing streak. And after Trevor Rosenthal and two Chicago relievers combined on a 0–0 ninth, extra innings were on tap at Busch Stadium.
The sides required a pair of bonus frames to decide game one of two. Tyler Flowers ensured that they'd need no more:
Flowers' bomb off Miguel Socolovich put the White Sox up 2–1, and David Robertson slammed the door in the last of the 11th.
Quick Hits From Tuesday
With Giancarlo Stanton on the shelf recovering from a broken hamate bone in his wrist, the Marlins are low on power sources. The right fielder has as many homers in Miami (13) as the rest of his teammates combined entering play on Tuesday. So, to compensate for Stanton's absence, leadoff man Dee Gordon, who was homer-less on the year, got creative:
A round-tripper with two aboard is a three-run round-tripper whether it clears the fence or not, and when Giants right fielder Gregor Blanco scooped the ball away from himself and center fielder Angel Pagan, Gordon was ready to run for days. He came away with the first inside-the-park homer in the history of Marlins Park, and the first by a Fish since Cameron Maybin hit one on May 31, 2010.
The Giants answered with an over-the-fence blast in the next half-inning, as Buster Posey demolished a Mat Latos fastball into the Clevelander. But the visiting first baseman's yard work only inspired his Miami counterpart to follow suit:
Justin Bour's second-decker accounted for what would be the winning run in the 5–3 Marlins victory.
***
Tuesday's battle between the Nationals and Braves featured two starters of whom cFIP is deeply skeptical.
Our newest pitching statistic wasn't swayed by Miller rocking a 1.94 ERA when he ascended the Turner Field bump last night, pegging him as a league-average (100) starter. And it was no kinder to Jordan Zimmermann, whose 3.42 ERA was subpar by the soon-to-be-free-agent right-hander's lofty standards, yet still far better than cFIP's substandard 108 mark.
Zimmermann was able to ward off any looming regression for at least another five days, looking as good as ever over 7 2/3 scoreless innings. He fired strike after strike, 85 of them in 109 tries all told, while scattering six hits and keeping the Braves without a free pass.
As for Miller, well, Tuesday's outing was entirely unlike what Braves fans have come to know and love about their de facto first-half ace. Miller had served up just four homers in 97 1/3 innings coming into this contest, so Clint Robinson's first-inning dinger
must've come as something of a shock to the crowd in Atlanta, and not solely because of the righty's stinginess in the gopher ball department. That home run brought across the Nats' third and fourth tallies of the first inning, noteworthy because Miller hadn't surrendered more than four runs in any start this year. Two innings later, an A.J. Pierzynski error got Danny Espinosa out of a pickle and slapped Miller with run no. 5:
What's odd about all this is that Miller, who ended up pitching five innings, didn't just set a season high in runs allowed Tuesday; he also notched a season-high 10 strikeouts and equaled a 2015 best by eliciting 17 whiffs.
Instead of missing barrels and ending up on the ground, Miller's fastball and sinker missed a slew of bats altogether Tuesday, in part because he frequently found the upper parts of the strike zone:
By deviating from the groundball recipe that carried him into the early National League Cy Young Award discussion, Miller enjoyed a rare boost in the K department at the cost of a 26-point bump to his ERA.
The latter was bad news for the Braves, given their inability to solve Zimmermann. Rookie Jake Brigham enjoyed a fine major-league debut in relief of Miller, tossing three scoreless innings and striking out four, but the home fans had little else to cheer at Turner Field on Tuesday night. Juan Uribe's solo shot in the ninth got the Braves on the board, but the Nats cruised to a 6–1 win.
***
Comerica Park played host to Tuesday's longest game, by time and by innings, as the Pirates and Tigers went the customary nine and then five more.
Gerrit Cole was knocked around for nine hits in 6 2/3 innings, but he limited the damage to two runs, and in so doing put himself on track to out-duel Justin Verlander. The Tigers righty navigated five walks and two hit batters in six frames to keep the Bucs to two earned runs, except a Miguel Cabrera error helped them plate a third, leaving Verlander in line for the loss. An insurance run ceded by Al Alburquerque made it 4–2 Pittsburgh heading in the eighth.
But J.D. Martinez didn't want the night to end, so he bopped a game-tying, two-run jack off Tony Watson to ensure that it wouldn't for a while:
Martinez's 20th homer of the season would ultimately keep the lights on at Comerica well past midnight, as the game stretched five-and-a-half hours before Tom Gorzelanny wilted in the 14th.
The long-ago Pirate, who began his big-league career in Pittsburgh after being taken in the second round of the 2003 draft, Gorzelanny came on to face Gregory Polanco with a runner on first and one away. Unfortunately for Tigers skipper Brad Ausmus, Clint Hurdle didn't leave Polanco in the game for the lefty-lefty matchup, and instead pinch-hit Josh Harrison, who doubled. Gorkys Hernandez did his best to bail Ausmus and the Tigers out of that mess with an epic baserunning boner, taking an illegal shortcut to third base when the ball got by Rajai Davis:
But even that couldn't save Gorzelanny and the Tigers. Neil Walker rescued Hernandez with a double that scored Harrison
with the eventual winning run.
Deolis Guerra, known best for his inclusion in the blockbuster trade that shipped Johan Santana from the Twins to the Mets, fired three scoreless innings to earn his first major-league win.
***
Mike Montgomery, the long-ago top Royals prospect who finally surfaced with the Mariners, treated his former employer to a five-hit, 10-strikeout shutout in his fifth big-league start. The left-hander had no such professional history with the Padres, no ex-'mates to impress and no known bones to pick. But, just for good measure, he made his sixth major-league outing a shutout, too.
As he celebrates his 26th birthday, Montgomery will look back on yet another dominant showing, in which he carried a no-no into the seventh inning. Yangervis Solarte bashed a ground-rule double to spoil the fun, but that two-bagger would stand as the Padres' lone knock off the lefty when all was said and done.
Montgomery wasn't spotless Tuesday, issuing four walks and drilling Clint Barmes, but he flummoxed a righty-loaded Friars order with aplomb. He struck out seven and got 11 more outs on the ground, generating the bulk of his balls in play on pitches in the bottom half of the zone or below.
Two homers, one each by Mike Zunino and Brad Miller, gave Montgomery all the help he needed to down Ian Kennedy and the Padres in the 5–0 decision. With it, the rookie became the first Mariners pitcher to turn in back-to-back shutouts since Freddy Garcia in 2001.
The Defensive Play of the Day
There's a two-for-one deal in the Defensive Play of the Day aisle today, as it took the best efforts of both Miguel Rojas and Justin Bour to deny Andrew Susac a ninth-inning hit:
What to Watch on Wednesday
A 4.24 ERA is not quite what the Padres envisioned out of James Shields when they handed him a $75 million contract in February, but it's what they've gotten through three rocky months. Shields resolved the home run woes that plagued him in May, when he served up 11 jacks in 37 2/3 innings, but he's now being shelled in the park, and that's only an incremental improvement.
The 33-year-old was tagged for 35 hits in 29 1/3 frames last month, and while only one of those knocks cleared the fence, 10 went for doubles and four became triples. A 35 percent line-drive rate yielded a .310/.386/.496 line for Shields' opponents, and the Giants shot his June ERA up to 5.52 with seven runs on three triples in four-plus innings last week.
After winning seven straight behind their new ace, the Friars have now dropped four in a row with Shields on the bump. He'll try to get back on track this afternoon against a Mariners lineup that he held to one run in six innings on May 13th.
Meanwhile, Taijuan Walker, a tough-luck loser with six innings of two-run work that day in Seattle, will try to exact his revenge at Petco and extend his personal winning stretch to five starts. The righty has showed outstanding command and control in his last seven trips to the bump, compiling a 44-to-3 K:BB ratio en route to a 1.91 ERA in 42 1/3 innings. The soon-to-be 23-year-old will seek his fourth straight walk-free outing, something only two Mariners—Cliff Lee in 2010 and Hisashi Iwakuma last year—have ever done before (3:40 p.m. ET).
***
The calendar has flipped to July, putting us 30 days shy of the trading deadline, and less than that in baseball terms because of the All-Star break. As teams begin to figure out whether they're contenders or pretenders—and, beyond that, whether they're buyers or sellers—remaining schedules may creep into their thinking. Here's the Mets' July docket, via our own Mike Gianella:
July is a brutal month for the Mets. CHC 2, @LAD 3, @SF 3, ARI 3, @STL 3, @WSH 3, LAD 4, SD 3, WSH
— Mike Gianella (@MikeGianella) June 29, 2015
Woof, that's a gauntlet.
Terry Collins' club has continued to hover within striking distance of the Nationals, and it's also not far shy of the Giants and Pirates, who'd hold the two Wild Card berths if the season ended today. Head-to-head meetings with San Francisco and Washington are on tap, and how the Mets perform in those could determine whether they wade through the sea of contenders awaiting them or begin to sink before July 31st.
Bartolo Colon gets the ball in the July opener, taking on Jon Lester in the middle match of the three-game set with the Cubs (7:10 p.m. ET).
***
Pressed into duty mainly by the injuries to Matt Cain and Jake Peavy, Chris Heston has outperformed any realistic expectations over his first 15 starts of the 2015 season. Now, with Cain and Peavy set to return, Heston appears likely to retain his spot in the Giants rotation, and not just because he pitched the first no-hitter in the majors this year.
The 27-year-old Heston sports a 3.83 DRA to go with his 3.73 ERA, suggesting that he's earned every bit of his solid performance to date, and his 99 cFIP indicates that the Giants might bank on league-average performance going forward. Heston is generating groundballs at a 54 percent clip, good for 12th among qualifying starters, right between Francisco Liriano and Sonny Gray. With the exception of his slider, all of Heston's pitches are burning worms more than 50 percent of the time they're hit into play.
His curveball is doing a lot more than that. The yakker has emerged as a legitimate weapon for Heston, who's thrown 200 of them to date and seen 44 at-bats decided on the pitch. In those 44, opponents have just five hits—three singles and two doubles—to go with 22 strikeouts. Heston's command of the curve is a big reason why:
He's consistently buried the pitch down and away to righties and back-footed it to lefties, rarely missing out over the plate. Nearly half of those that stayed belt-high and down the middle were get-me-over offerings on the first pitch. Two-strike mistakes have been few and far between.
Now, Heston will bring his sinker- and curve-led act to Marlins Park for a battle with the Giancarlo Stanton–less Fish. He's due to face Dan Haren in game two of three in Miami (7:10 p.m. ET).
Thank you for reading
This is a free article. If you enjoyed it, consider subscribing to Baseball Prospectus. Subscriptions support ongoing public baseball research and analysis in an increasingly proprietary environment.
Subscribe now