The Weekend Takeaway
Max Scherzer finally got his no-hitter. After being a Carlos Gomez duck snort away from getting one against the Brewers last week, Scherzer held the Pirates hitless on Saturday at Nationals Park. In fact, he was an out away from a perfect game, but then
Scherzer got Josh Harrison out to end the game and complete the no-hitter and celebrated in true Dothraki style by jumping inside a freshly slaughtered horse carcass.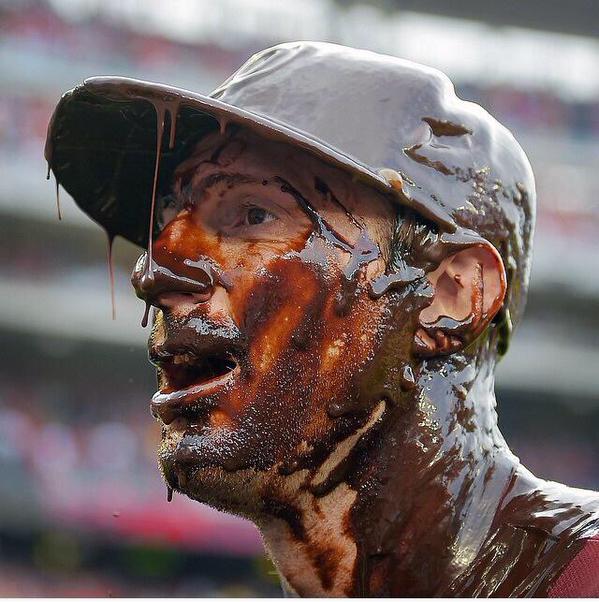 (by John McDonnell, The Washington Post)
I'm not even going to try to write about that HBP, because it's the sort of thing that inspires lots of strong emotions and #hot #takes from people on both sides of the issue, and I'm just not confident I have something to say that hasn't been said. Instead, you can read this piece by Henry Druschel of Beyond the Box Score, which sums up the outrage of both sides quite nicely, while never rising above lukewarm in its own intensity.
Seriously, though, Scherzer has been astoundingly good in his past two starts. How has he done it? When does it stop? Well, to whet your appetite for trivia and fun facts, here's a piece by Paul Casella of MLB.com, who really put in the legwork.
I, on the other hand, took the Information Age approach to things, starting by prowling around Brooks Baseball for clues from Scherzer's pitches. As far as wild variances in velocity, movement, and release point from early in the season to Scherzer's last two starts, there are none! Maybe he's locating stuff differently?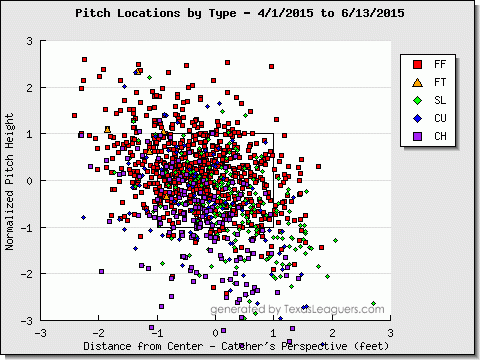 I don't know about you, but I don't see anything new or particularly illuminating there. Scherzer throws his fastball, hard and lively, up and inside, and once he's backed dudes off he hits 'em with the hammer off the plate. We knew that. He's had success, and once you have success, the scouting report is pretty clear. The one thing that truly stands out about these past starts is Scherzer's control. In the course of his career, the righty has undergone a truly stunning transformation, from a guy with dynamite stuff who couldn't really throw strikes to a guy with even more dynamite stuff who throws a lot of strikes. This is especially true over his past two starts. By percentage of overall pitches that are strikes, Scherzer's last two starts have been two of the best three of this season. Saturday's no-no was the best.
Sharpening command while maintaining velocity and bite on pitches is truly the most significant change a pitcher can make. The change is far more detectable and significant than the granular ratios and percentages that go up or down on the stat sheet. Improving command may account for one less walk per game, and that's just one batter on the scoresheet, but the true impact is more like a ripple effect. When a pitcher starts locating better, he doesn't just get outs where he normally would have walks, he gets out where he normally would have allowed hits. A 2–1 fastball to Anthony Rizzo that misses results in a 3–1 count, and then Rizzo relaxes and gets to do his leg kick. If that 2–1 pitch nips the outside corner instead, Rizzo is forced to adopt his two-strike stride, with which he's still a good hitter, but a less powerful one. Counts change pitches. The concept of leverage exists within the scope of a single at-bat.
By improving his command, Scherzer went from a player with huge potential but an inconsistent track record to arguably the best right-hander in the game. Here's another illustration: A.J. Puk is a tall, lean, hard-throwing left-hander at the University of Florida, and his performance late this season has generated legitimate top-five pick hype. (He's a sophomore, so he'll be eligible next year.) But early this season, around the start of SEC play, Puk was struggling hard. In a start against Ole Miss, he walked four, gave up three hits, and left after 2 1/3 innings having allowed five runs. Puk lost his start the next series, and when he got it back the following weekend, against Missouri, he looked absolutely awful. I was at that game; he simply wasn't locating pitches when he needed to, and the Tigers destroyed him. Puk had three walks in 5 1/3 innings, but he gave up nine hits, including three dingers, and nine runs. He struck out just three hitters. He was never at a comfortable position in the count, and only someone with stuff like Aroldis Chapman can work his way out by brute force.
Late-season Puk is an entirely different beast. He's throwing strikes and controlling counts. He allowed two hits and struck out 11 against Georgia in six scoreless innings on May 2nd. In Puk's next start, against Vanderbilt, he struck out 12 in seven innings. The Bulldogs were bad this season. The Commodores, on the other hand, were the deepest offensive squad in the country and are about to play for a national championship.
Puk, like Scherzer, went from disappointing to terrifyingly good. When you have electric stuff, adding command isn't just another piece to a pitcher's puzzle, equal to attributes like velocity and movement; command amplifies a pitcher's strengths. Pitching functions exponentially, basically. Movement is good. Velocity is also good, and when you have the two together, they accentuate each other. And when you add command into the mix, it all comes together. Rawness turns into promise, and promise turns into true excellence.
A Quick Hit from the Weekend
The Braves had just about the best weekend a 35–35 team could possibly have, short of a technicality disqualifying MLB's 29 other teams for the season and awarding Atlanta the World Series title.
The principal reason for celebration, albeit a celebration that's surely being kept under the guise of "just business," is the trade that snagged them crack prospect Touki Touissant from the Diamondbacks for infielder Phil Gosselin, who was having a solid season, but not to the degree that he was supplanting Jace Peterson at second. Also, he's hurt! Yeah, this already is shaping up strangely.
I guess I should also mention that the Braves got Bronson Arroyo and eating his contract while he recuperates from Tommy John surgery. Arroyo also has a $4.5 million buyout on his contract for 2016. But that's beside the point; with this trade, the Diamondbacks are saving around $13 million and have signaled that they prioritize that savings over Touissant's future production. It's a bizarre valuation, because Touissant is tall, projectable, can touch 97 mph, and has a curveball the BP prospect team described as "guillotine-like in trajectory, a lethality." (You can see more on the trade at our Transaction Analysis.)
And speaking of Braves prospects, Matt Wisler, most recently rated as the Padres' no. 3 prospect before moving to Atlanta in the Craig Kimbrel trade, made his MLB debut on Friday. Wisler threw eight innings, allowing six hits and a run against the Mets. He had just two strikeouts, which doesn't exactly fit the profile he established in the minors, but you know, small sample and all. Wisler topped out near 96 mph with his fastball early in the game and averaged about 81 mph with his slider and 77 mph with the curveball.
The Braves, meanwhile, swept the Mets. Wisler's strong start kicked the series off, a strong bullpen combo performance by Luis Avilan, Jim Johnson, and Jason Grilli resulted in a game two win, and Julio Teheran allowed one hit in seven innings on Sunday to boost the Braves to a 1–0 win on Sunday. Atlanta is just two games back in the N.L. East, which is some kind of weird division.
Defensive Play of the Weekend
For all the criticism and skepticism Ian Desmond has fielded for his inconsistency and yippiness as shortstop this season, he can be a dazzling player to watch at the position. Like in this play, where he extends fully to snare Pedro Alvarez's hard grounder, then quickly rises, turns, and fires a bullet to first.
What to Watch On Monday
Monday is pretty light on the ol' baseballin'. We have just seven games, with none in the afternoon. (But make sure to tune in for game one of the College World Series championship between Virginia and Vanderbilt, featuring no. 1 overall pick Dansby Swanson.) One of the day's earlier games sees the Blue Jays and the Rays face off in St. Petersburg. When I last wrote about the Blue Jays, they had won 11 straight games by basically slugging every baseball in their immediate vicinity, which resulted in some unfortunate injuries when kids held out balls for the players to sign during batting practice. But Toronto has lost four of its last seven games, and, oddly enough, they've actually been getting shushed on offense. Only one of those losses—13–9 to the Orioles on Sunday—has been a slugfest that went the wrong way. The others—4–3 to the Mets, 3–2 to the Mets, 5–3 to the Orioles—have just seen the Blue Jays stymied. Not a problem, necessarily; now they'll just need the pitchers to pick it up.
On Monday, Drew Hutchison gets the ball. He started the season by being great, but by his second game he had become really terrible, and he hasn't rebounded to be anything other than kind of bad. Hutchison's control hasn't been horrible, nor has he stopped striking guys out; he's just getting walloped. Allowing opponents to hit .279 is bad! But it's not a peerless sort of bad; Phil Hughes, Jeff Samardzija, Jordan Zimmermann, and others have been worse than Hutchison in that respect. But still: Bad.
Hutchison has never thrown harder than he has been doing in 2015. Every pitch except the slider, according to Brooks Baseball, has achieved an average velocity above any other year of Hutchison's career. But once, I had a scout tell me that he thought a particular pitcher's fastball was better at 92–93 mph than 94–95. At that lower velocity, the scout said, the pitch moved more. That seems to be happening with Hutchison: His fastball has more than three-quarters of an inch less run than it did in 2014. His sinker is sinking and running less. His changeup is running less. His slider, by contrast, also has less break, but only .12 of an inch less.
Perhaps coincidental, perhaps not: Hutchison's vertical release point is higher than ever, as pictured below.
A higher (more "over-the-top") release point is typically associated with less horizontal movement on pitches. Think of a pitcher with absurd amounts of run on his pitches—Chris Sale, peak-era Daniel Bard, Brewers prospect Kodi Medeiros—and he'll likely have a low-three-quarters to sidearm arm slot.
***
Fans attending the Royals-Mariners game will be ecstatic with who's scheduled to get the start. It's Joe Blanton [excited-face emoji]
Oh, and also Felix Hernandez. While Max Scherzer has made waves for having one of the greatest two-game stretches in history, Felix might have just had the most disparate. On June 12th, he gave up eight runs on five hits to the Astros and got just one out. On June 17th, against the Giants, he threw eight innings and allowed just four hits. The Felix we see on Monday will most likely be somewhere between those two Felices.
***
Likely the night's best matchup, in terms of cumulative talent involved, is the Cubs-Dodgers showdown in Chicago. Tsuyoshi Wada will pitch for the Cubs, and it has not yet been announced who will start for the Dodgers. The sheer hitting talent available on both rosters makes the name of the pitcher moot, though, for purposes of deciding how to allot your baseball-viewing time tonight.
For instance, Kyle Schwarber. The fourth pick in the 2013 draft has been hitting quite well since making his debut on June 16th. Having only played in six games, Schwarber has yet to do a number of things as a major leaguer: He has not drawn an unintentional walk; he has not doubled (though he has tripled); he has not stolen a base, nor been caught stealing; and he has neither a sacrifice fly nor a sacrifice bunt to his name. So come out to see the Cubs play the Dodgers and you have a chance to snag Schwarber's first career caught stealing. This is what baseball is all about.
Thank you for reading
This is a free article. If you enjoyed it, consider subscribing to Baseball Prospectus. Subscriptions support ongoing public baseball research and analysis in an increasingly proprietary environment.
Subscribe now