Wednesday's Takeaway
Masahiro Tanaka returned from his forearm injury, making his first start for the Yankees since April 23rd. Easing him back into facing major league hitting, New York tabbed Tanaka with an 80-85 pitch-count limit.
All he did with those constraints was this:
Tanaka stretched out to seven innings, requiring only 78 pitches to strike out nine Mariners while only allowing one run and walking none. It's something of a dubious accomplishment, as the Mariners are the fifth-easiest team in baseball to strike out and have the third fewest runs. Still, the Mariners are solid in TAv, ranking 10th in baseball, so they're not totally hapless.
And regardless of who Tanaka was facing, his start was extremely encouraging. He looked like the 2014 version of himself. All of his pitches (except for the splitter, which was about the same) were faster than they were before hitting the DL this season. Most have regained their movement as well.
The Yankees' offense came from a Mark Teixeira solo home run and a Garrett Jones two-run shot, his second in as many games, enough to give New York the 3–1 victory.
Taijuan Walker took another loss for the Mariners in what has proved to be a tough season for the 22-year-old righty. However, the game was encouraging, just as his eight-inning, no-run start against Cleveland on May 29th was. True to his name, the walk has been a problem, as he had allowed over four free passes per nine innings over the past two seasons entering Wednesday's game. However, Walker issued only one walk—to Alex Rodriguez, the 24th-most patient hitter in baseball—and threw about 70 percent of his pitches for strikes, an improvement over his 63 percent strike percentage for the season.
Additionally, Walker's splitter, his second-most relied-upon pitch, dropped in a good way. The pitch got 4.94 inches of vertical movement on average in his first ten starts, but that jumped—or dipped—to 8.56 yesterday, according to BrooksBaseball.com.
Also, Brian McCann hurt his foot, putting a damper on the offensive surge he'd been experiencing since late May. He'll get an MRI.
Quick Hits from Wednesday
Eduardo Rodriguez appeared in control from the moment he stepped on the mound in the first inning of game one of Wednesday's Twins–Red Sox doubleheader, striking out Brian Dozier and Trevor Plouffe and fielding a Torii Hunter come-backer, retiring the Twins' three best hitters in the first frame of his second game. Besides a Dozier solo home run, Rodriguez sailed smoothly for seven innings, striking out seven, walking two, and allowing two hits.
Rodriguez entered the season ranked no. 4 in the Sox's system and projected to be a middle-of-the-rotation or back-end starter, but his stock has risen this year after adding some velocity. Rodriguez has averaged 94.7 mph with his heater over his two major league starts, topping out at 98 in his 7 2/3-inning, no-run performance against Texas on May 28th. Rodriguez's stuff was a little better in that game, but some of that can probably be accounted for by the 50-degree weather Boston experienced yesterday.
The Sox offense was led by Dustin Pedroia, who went 4-for-5, Xander Bogaerts, who went 3-for-4, and Hanley Ramirez, who collected two knocks. In total, the Red Sox amassed 13 hits, 10 of which were singles. Forty percent of their batted balls landed for hits, in stark contrast to their MLB-worst .269 team BABIP.
A season after his record-breaking season, Phil Hughes couldn't even get out of the fifth against baseball's sixth-worst offense, getting knocked out after surrendering 11 hits and five runs and even—gasp!—walking a batter before being pulled after just 4 1/3 innings. Hughes has still been throwing tons of strikes, but he's not striking out nearly as many batters and he's giving up about one hit more per nine innings on average compared to last season. Hughes' velocity has declined slightly—from 93.2 to 92.0 mph on average—and it was below even that on Wednesday, just under 91. He's begun to lean on his sinker more this season, but if he's trying to produce more groundballs, it isn't working, as his grounder rate is lower than it was last season.
***
The Pirates bested the Giants for the third time in a row, sweeping San Francisco in AT&T Park for the first time since 2007, actually bringing them into a tie with the Giants (and Washington and the Mets) for the Wild Card spots.
It would be the Pirates' shortstops who drove the day's offense, as Jordy Mercer smacked a home run in the fifth and hit an RBI single in the ninth. Perhaps some feared that Jung Ho Kang was letting the girls and steak get to him a little too much, as he was two for his previous 19 when manager Clint Hurdle put him in to pinch-hit for Jared Hughes in the top of the ninth inning. However, he quelled those fears by belting a two-run double off Hunter Strickland to give the Pirates three runs of breathing room, which would be all they would need.
Instrumental to the Pirates' win was Francisco Liriano, who continued his Jekyll and Hyde act on the road and at home by tossing seven innings of one-run ball while striking out six in San Francisco. Liriano's had a tough time limiting runs at home, putting up a 6.04 ERA in 25 Pittsburgh innings versus a 1.52 ERA in his 41 innings on the road. Curiously, his K/BB ratio of 5.0 at home is much better than his 2.4 mark on the road. Severe differences in BABIP account for much of the disparity in runs allowed, as Liriano has been unlucky at home and lucky on the road.
Tim Hudson suffered a hard-luck loss despite tossing seven innings of two-run ball.
***
This week should be declared Maikel Franco week– not just because of his offense in the past two games, but also because of this fantastic photo: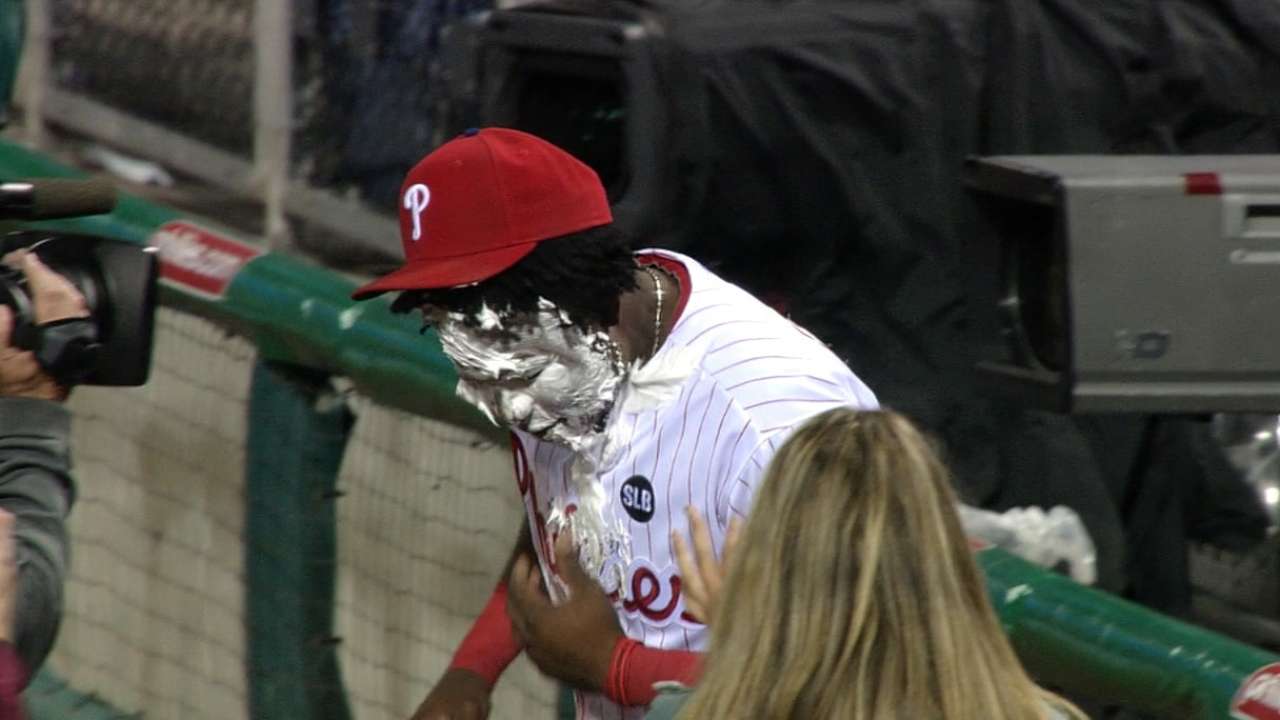 A night after hitting the game-tying home run in the Phillies' 5–4 come-from-behind victory, Franco contributed to yet another 5–4 Phillies victory by breaking up Mike Leake's no-hitter with two outs in the seventh inning and then smashing a home run off Aroldis Chapman (who even does that? Nobody since Chase Headley on May 13, 2014)
which eventually caused the afore-embedded image once the Phillies won it in the 11th. That's the face of a man who's got the Eye of the Tiger needed to go deep on a 98 mph Aroldis Chapman fastball. Or maybe just one who's hungry for some actual pie.
Defensive Play of the Day
What to Watch For on Thursday
After two rough starts in early May, Trevor Bauer has made four straight starts in which he went seven innings without giving up more than two runs. He's held batters to a .527 OPS on his way to a 1.53 ERA over that span. The teams he faced in those four games were the Cardinals, White Sox, Reds, and Mariners, but he'll face a tougher test on Thursday when he goes up against the Royals, who have the sixth-best TAv in baseball. (8:10 p.m. ET)
After not seeing each other since last October, it seems like all the Dodgers and Cardinals do now is play each other. The National League's two best teams will face each other this time in Los Angeles, and on the hill will be a rematch of last Saturday's game: Michael Wacha vs. Carlos Frias. Wacha, who has put up a 2.27 ERA this year, was dealt his first loss after a lackluster start against the Dodgers on Saturday. Frias followed up a five-inning, 10-run blowup by outdueling Wacha to give the Dodgers the win. Tune in to see if Wacha can beat the Dodgers for the first time since he did so, memorably, in the 2013 NLCS. (10:10 p.m. ET)
Thank you for reading
This is a free article. If you enjoyed it, consider subscribing to Baseball Prospectus. Subscriptions support ongoing public baseball research and analysis in an increasingly proprietary environment.
Subscribe now