It's no big secret that I am a huge supporter of Kyle Hendricks. Though I have a very strong hold on my affinity for him and his pitching style, others remain quite vigilant when it comes to Hendricks. This is completely understandable, given the fact that he has been said to not have anything more than fringe-average stuff to bring to the table every five days, but it's been working for him. And though he has a few wrinkles to iron out, his wrinkles aren't any more serious or damaging than previous pitchers' wrinkles have been—he's managed to hold onto his roster spot longer than the likes of Travis Wood and Edwin Jackson.
Hendricks finished his 2014 season on an absolute tear, with a 2.46 ERA in 13 games over 80 innings pitched. He had just a 1.08 WHIP on the season and an impressive 3.32 FIP. This left fans and critics alike wondering if he would be able to repeat this type of performance in 2015, his first full season with a permanent spot in the rotation.
I won't to lie to you, and neither will the numbers—Hendricks had a rough April to start off his season, allowing 12 earned runs with two home runs in just four starts. I was beginning to wonder if it was time to put my Kyle Hendricks flag away.
But then low and behold, May came around. Things changed for Hendricks in May, but more specifically the later half of May. Hendricks had two more outings in which he was shelled, on May 5 against the Cardinals and May 15 against the Pirates. So playing detective over here, I decided to see what these starts had in common with his earlier April starts, and what differentiated them from his last two incredible starts, which included his career first complete game shutout.
It's obviously been noted that Hendricks has begun to incorporate an inordinate amount of sinkers into his repertoire lately, as shown below.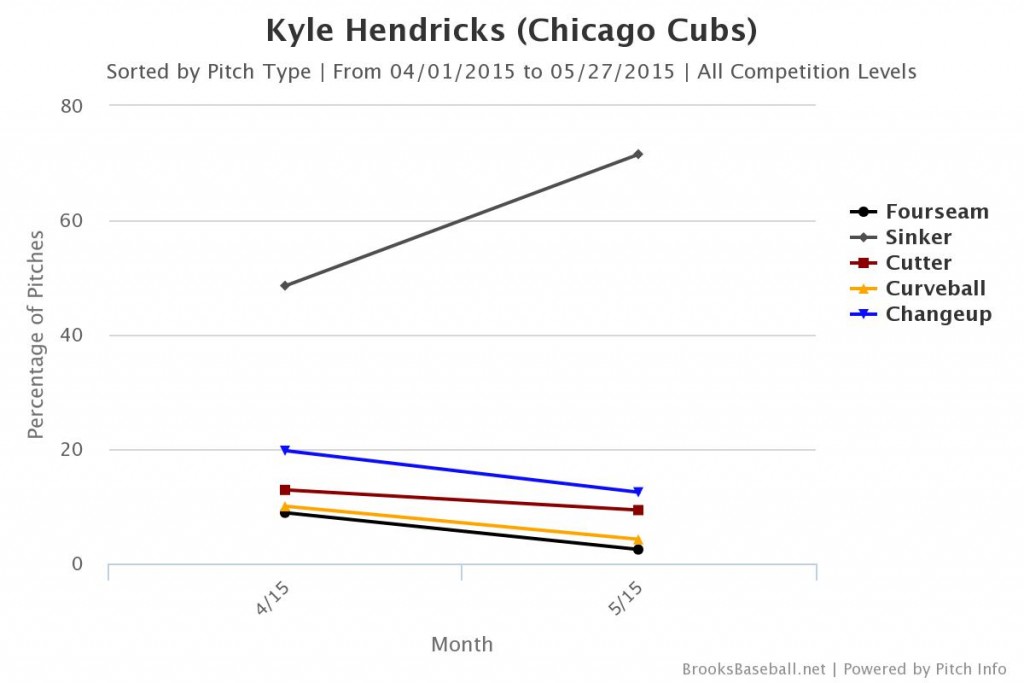 Hendricks stated in a post game interview from his May 26 outing that his mechanics have just clicked on the pitch, his movement has become better, and that he's hitting his spots lower in the zone. This is true, as illustrated by the maps below, as he's clearly pounding the ball low and what would be away to righties much more of late.
Hendricks' batting average against on his sinker is down significantly from what it was in the first half of May as well. Primarily, one would assume, because he's keeping it down in the zone. Thus, he's inducing groundballs and allowing his defense to do it's job—and they've been brilliant of late when he's been on the mound—instead of allowing hard contact on hittable balls up in the zone.
Another change to note, is that in April, the time of the season when Hendricks was throwing significantly less sinkers and mixing his pitches a bit more, he was mixing in his cutter quite often. Hendricks' cutter command does not appear to be one of his strong points.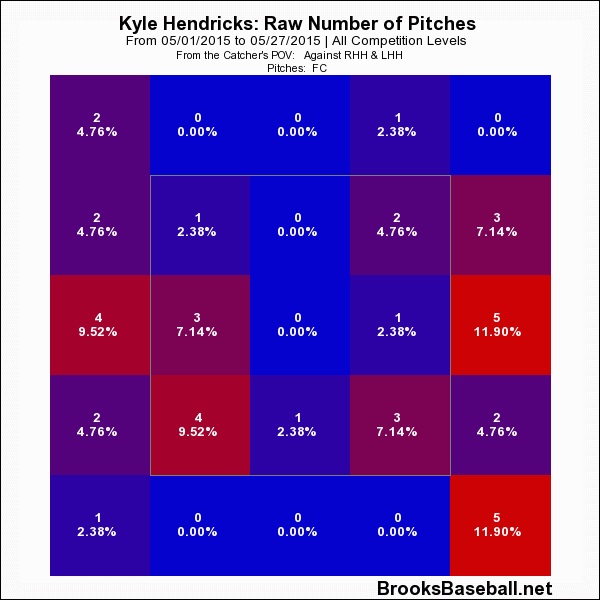 Hardly any batters are swinging at his cutters outside of the zone, either, but when they are they were making some contact. Looking at his batting average, slugging, and line-drive maps on the pitch, you can see that though he wasn't absolutely pounded when it was outside the zone, it did cause him problems, and hitters slowly chipped away at him.
So what's a kid to do? Cut down on the cutter, if I'm not being too punny. Remember those two random bad outings Hendricks had from the first half of May? He threw the most amount of cutters he has in the month of May in those two starts (May 5 and 15).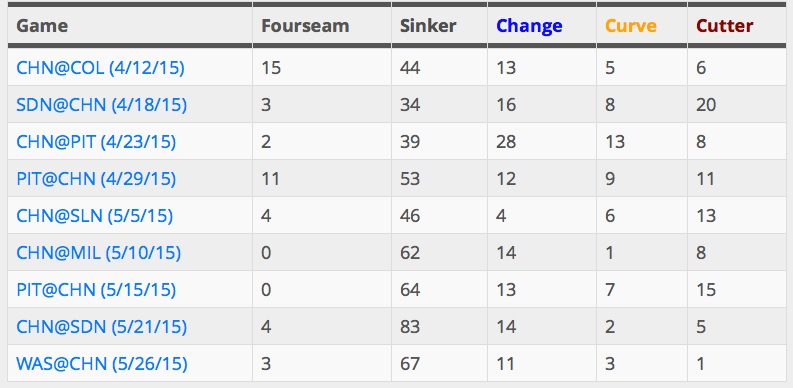 What we're seeing in Hendricks' May success is that he's using mainly his sinker, mixed in with a significant helping of his changeup. Hendricks' game plan is to get batters into a two-strike count, and then hit them with the low changeup that they will inevitably whiff on.
Sure, Hendricks was throwing a heavy amount of changeups in April as well, but the interesting fact about that he wasn't specifically using them in two-strike counts as often as he is now, and when he was doing it, he wasn't generating as many whiffs as he has been in the latter half of May. Since May 20, Hendricks has a 36 percent whiff rate on his changeup, up from 22 percent in the first half of May.
Hendricks also stated in his post game press conference after his last outing against the Nationals that he feels that he and Miguel Montero have gotten into a grove lately, and that they are often on the same page now, something that will contribute greatly to a pitchers flow.
Hendricks future may hang in the balances with the rumors swirling that the Cubs could be looking to pick up a new starter at the trade deadline, but if Hendricks keeps up his ability to be able to eat innings effectively as he has in his last two starts, keep his pitch count low, and get guys out, I would give him my solid vote to stay at the back end of this Cubs rotation.
Thank you for reading
This is a free article. If you enjoyed it, consider subscribing to Baseball Prospectus. Subscriptions support ongoing public baseball research and analysis in an increasingly proprietary environment.
Subscribe now