Coming into his 13th year in the major leagues there were exactly two things it was reasonable to expect from Mark Teixeira: a strong walk rate and his fair share of home runs.
Normally a player that combines power and discipline is more or less guaranteed to be an excellent hitter, but Teixeira is a little different. Despite recording 22 home runs and an 11.4% walk rate last year the Yankees first baseman managed only a 100 wRC+. Due to a chronically low BABIP that hasn't exceeded .270 since 2009, he still needs to avoid strikeouts to make the most of his other skills because he consistently gets less out of balls in play his peers.
This season that has not been a problem. Teixeira's strikeout rate has fallen to a career-low 13.0% percent and despite a meager .208 BABIP he's managed an impressive .252/.377/.588 line. By cutting down the whiffs the 35-year-old has allowed his underlying strengths to play up, making him one of those most productive hitters in baseball.
When players show improvements in their strikeout or walk rates that tends to be taken more seriously this time of year than spikes in BABIP or HR/FB that seem less likely to be sustainable. However, it remains worth asking whether these seemingly fundamental changes to a hitter's approach are likely to continue. In Teixeira's case it's unclear.
The first baseman's contact numbers (shown below) are not easy to interpret:
| Time Period | O-Zone Contact% | Zone Contact% | Total Contact% | Swinging Strike% |
| --- | --- | --- | --- | --- |
| 2014 | 65.50% | 87.90% | 79.30% | 8.70% |
| 2015 | 64.20% | 90.40% | 82.80% | 6.70% |
| Career Average | 60.80% | 88.80% | 80.60% | 8.20% |
| Career Best | 75.2% (2012) | 92.3% (2010) | 84.4% (2012) | 6.2% (2012) |
On one hand Teixeira has made tangible strides from last season in terms of making contact with the ball. It makes sense that he's going down on strikes less often.
On the other hand, he is still falling short of his career-best contact numbers from 2012- a year where he posted a 15.8% strikeout rate. It's fair to expect more strikeouts will come considering his history and contact rates, but it's also foolish not to acknowledge that something is going on here.
So far in May, Teixeira has posted a 9.7% strikeout rate. If that were to hold up it would be the first month since September of 2008 where he was below double digits. In order to find where the missing whiffs are, the search needs to be a little bit more specific.
Handedness is an excellent place to start. Because Teixeira is a switch hitter, his platoon splits are a bit more interesting as they represent two entirely different hitting mechanics. Looking at the strikeout numbers by platoon split it becomes more clear where Teixiera's career-best output in this category is coming from.
| Handedness | K% 2015 | K% 2014 | Career Average K% | Career Best % |
| --- | --- | --- | --- | --- |
| Vs. RHP | 17.30% | 23.50% | 18.10% | 14.7% (2008) |
| Vs.LHP | 5.70% | 16.70% | 15.90% | 5.7% (2015) |
As a left-handed batter Teixeira has been better at avoiding strikeouts than he was last year, but is not far from his career averages. From the right side he's peak Marco Scutaro. He's always been a better contact hitter against southpaws, but the disparity so far is extreme.
The sample is admittedly very small-only 53 plate appearances- but the numbers are hard to ignore. Even in a minute sample Teixeira's 4.67 BB/K against southpaws is absolutely extraordinary. Furthermore, his underlying whiff% as a right-hander definitely supports his drop in strikeouts.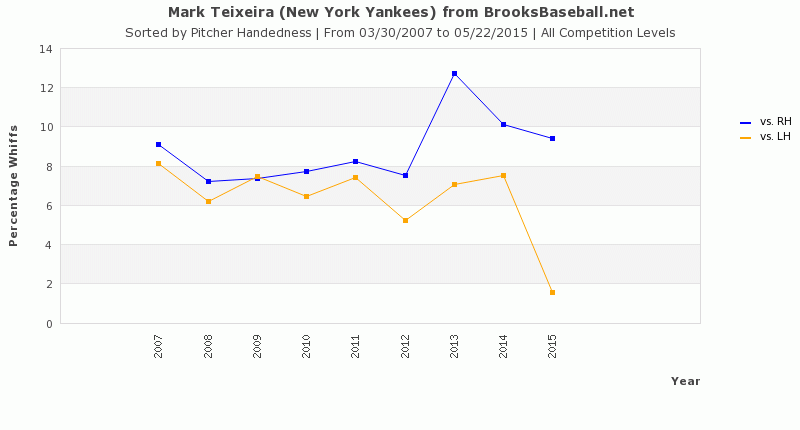 His minuscule whiff rate makes for an absolutely comical zone profile: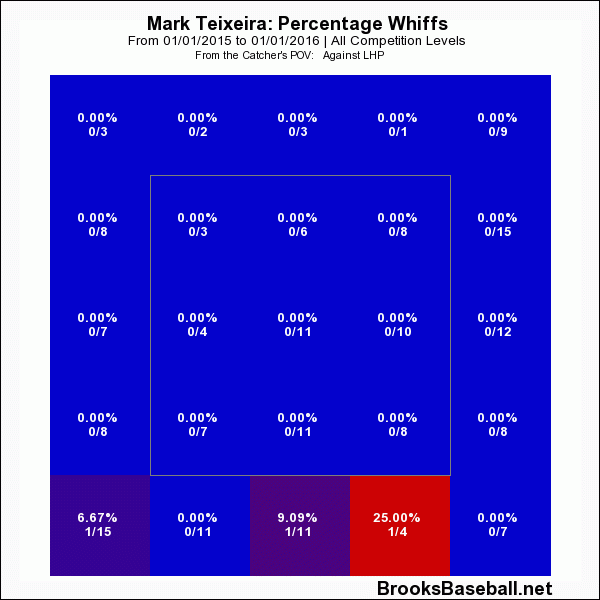 If a lefty has thrown a pitch in the strike zone or above Mark Teixeira hasn't missed it.
It remains difficult to say exactly how he's managed to put his bat to all these balls, but in the most simple terms he's doing something right. More importantly, he's doing something he's never done before.
Thank you for reading
This is a free article. If you enjoyed it, consider subscribing to Baseball Prospectus. Subscriptions support ongoing public baseball research and analysis in an increasingly proprietary environment.
Subscribe now