Earlier today, Matt Trueblood published an article that was, in part, about the Diamondbacks' no-slider rotation. Here, Nick Ashbourne looks at the reverse. This piece originally appeared on BP Bronx, Baseball Prospectus' local site for all your Yankees needs.
So far this season the New York Yankees have enjoyed pleasant surprises up and down the roster. That's what it takes for a team that's projected to play .500 ball to seize an early division lead and post one of the best records in baseball.
It is not shocking that the resurgence of Alex Rodriguez has been the dominant narrative. For better or worse A-Rod is still the biggest name in baseball, a sport that has no shortage of stars but seems to lack star power. Everyone knows who Rodriguez is and he's doing remarkable things for a player his age, especially one who took a year off.
To what degree that continues remains to be seen, but if you are even vaguely aware of baseball or the Yankees you are sure to hear plenty about it.
The reality is what's driving this team right now is its pitching. The bullpen has been outstanding, picking up where it left off last season. While the Yankees lost stalwart David Robertson they gained the so-far untouchable Andrew Miller and the whole unit kept humming along.
A little bit less predictable has been the success of the rotation. Despite losing Tanaka after four starts, the unit currently sits second in the Major Leagues in WAR with 3.6 to date.
Michael Pineda is largely responsible for that number with his absolutely outstanding start, but the team has also gotten some great starts from the likes of Chase Whitley and Nathan Eovaldi as well. Whenever a team enjoys success that goes against the preseason prognostication our first instinct is to question the sustainability of said success.
In the Yankees' case, from a performance point of view there are not very many regression indicators. The teams' starting unit's peripherals have actually outpaced its run prevention. The 3.90 ERA is far from special, but the 3.64 FIP and 3.56 xFIP shows how well this rotation has pitched.
If the Yankees' rotation has looked good so far, and only figures to look better as its ERA matches up with its fielding-independent numbers, then what the concern? For one, more starts from Whitley as opposed to Tanaka are likely to drag the numbers down to some degree.
More importantly, the group is likely leaning too heavily on their sliders. According to FanGraphs Pitch Value numbers the slider is the best pitch in baseball, but research done by Jeff Zimmerman has shown that increased usage of the pitch leads to greater injury risk. Not only are the Yankees throwing more sliders than any other rotation, they are doing so by a significant margin.
Top 5 Rotations by Slider Usage
| Team | Rotation Slider% |
| --- | --- |
| Yankees | 26.1% |
| Brewers | 21.0% |
| Giants | 18.5% |
| Dodgers | 17.5% |
| Astros | 17.3% |
The comparison between teams can be slightly unfair as some teams just have more starters that throw sliders than others. However, 66.1 percent of pitchers who have made a start in the big leagues have thrown a slider this season so it's not as if the Yankees are stockpiling a rare breed of hurler.
Instead, the Yankees are watching their guys throw a scary amount of breaking balls. Injuries are very difficult to predict, but these pitchers are undoubtedly putting their arms in harms way. It is far from shocking that the biggest culprit is Pineda.
Yankees Starters by Slider Usage
| Starter | Slider% | MLB Rank (Starters) |
| --- | --- | --- |
| Michael Pineda | 31.6% | 12th |
| Nathan Eovaldi | 28.7% | 20th |
| Chase Whitley | 24.6% | 37th |
| CC Sabathia | 24.6% | 38th |
| Adam Warren | 22.8% | 45th |
| Masahiro Tanaka | 21.3% | 51st |
Considering that 125 starters have thrown a slider this year it's interesting that all six Yankees here are in the top half of that group. Pineda and Eovaldi are the two in worrying territory here, as Zimmerman identified 30% breaking ball usage as a worrying benchmark in his study.
The issue for the team is that this may be a problem without a solution. Without giving opponents a heavy dose of his slider, Pineda simply isn't the same guy. His slider is one of the best in the game bar none.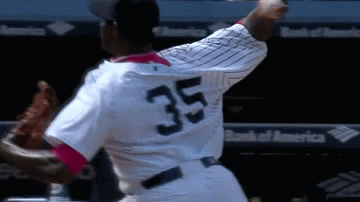 How do you tell a guy who can do that to reign it in? You probably don't. Pineda's injury history is well documented at this point and the team is likely in ride-him-till-he-breaks mode with the big right-hander anyway.
Injuries are never inevitable individually, but they are as a whole. It's easy to say that Pineda will get injured this year, but there's always a chance that he goes well over 200 innings and wins the Cy Young. However, in an overall sense the Yankees are likely to experience rotation injuries if they keep up a slider-heavy approach.
The starters are cruising now, but this rotation is playing with fire.
Thank you for reading
This is a free article. If you enjoyed it, consider subscribing to Baseball Prospectus. Subscriptions support ongoing public baseball research and analysis in an increasingly proprietary environment.
Subscribe now