This piece originally appeared on BP Bronx, Baseball Prospectus' local site for all your Yankees needs. And be sure to visit BP Boston and BP Wrigleyville for Red Sox and Cubs analysis as well.
It's no secret that the New York Yankees have been unhappy with Alex Rodriguez for quite some time now. The club initially rebuffed his offer for a meeting to clear the air this offseason and was somehow caught off guard by his arrival to spring training. A-Rod's employers are on the hook for the remaining $64 million on his contract and prepared to fight him over the four potential $6 million bonuses in said contract as he moves up the all-time home run list.
After hitting a massive home run against the Orioles on Wednesday, Rodriguez is now just four home runs shy of tying Willie Mays for fourth all-time with 660, but earlier in the week the club conveniently left the upcoming milestone out of an official press release. The Yankees likely did this to try to support their argument that the home run milestone bonuses were put in the contract in an effort to market Rodgriguez' ascent to the all-time home run crown in pinstripes, and that they shouldn't have to pay them now that irrevocable damage has been done to Rodriguez' legacy and marketing him won't be nearly as easy as they once imagined. How they expect someone who doesn't have to pay this money to Rodriguez to agree with them, remains an open question. It's not smart to hand out a 10-year contract to any player and the Yankees lost that bet a long time ago–though some columnists are still making bad give back the 2009 World Series trophy jokes–but if the club really believes that they can just hope those bonuses away, they might be in for a surprise. If anything, it might push even more fans to his side because for all his faults, Rodriguez can't be blamed for merely signing a contract that was offered to him.
Another thing pushing fans to support A-Rod is the fact that Alex Rodriguez is the best hitter currently playing in the Bronx. It's only been nine games, but Al from Miami leads the team in RBI (7), AVG (.286), and OBP (.394). At the beginning of spring training new hitting coach Jeff Pentland forged a relationship with Rodriguez right away. Pentland was interviewed recently and noted that despite Alex's strikeouts, he's not getting blown away by fastballs, which would be a main concern given his age. Pentland said Rodriguez believes he can hit and part of that could be from going back to his old swing and leg-kick. Pentland watched film from many Yankees hitters' previous seasons before spring training and showed up to camp with certain things for the players to watch.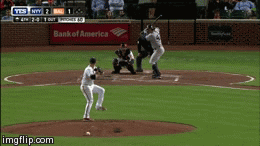 That's from Wednesday night. A Bud Norris fastball that Rodriguez hit the stuffing out of. But it looked awfully familiar.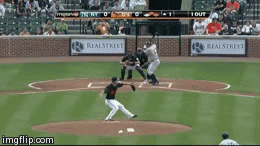 That's the first pitch A-Rod saw in 2009 after returning from offseason hip surgery. He had no spring training and missed all of April, but on that May 8th day he got a fastball from Jeremy Guthrie, cleared his hips, and let it all hang out. He did this for much of that season and through the Yankees eventual World Series run, so it makes plenty of sense for Rodrgiuez to try to replicate his swing from that time in his career.
While nobody should expect Rodriguez to carry the Yankees on his back like he did in 2009, the idea that he can't be a productive hitter at his age and after missing an entire season seems to have been overblown. It's only been nine games, but Rodriguez has already proven that he worked his tail off to get back to this level and as long as he remains healthy I don't anticipate him slowing down too much. On Monday night, an Orioles fan turned his back during each Rodriguez at-bat, but he's actually the player on the Yankees I most look forward to seeing come to the plate now, though I might turn away while he's playing defense at first base if that happens again. I was even slightly disappointed on Tuesday night when he had a day off. I like watching him hit and it's a habit I'm not ready to break yet.
In these last two years since the Yankees have made the playoffs, the club garnered fans' attention out of nostalgia for what is now a bygone era. New York said it's tearful goodbyes gradually to modern legends Mariano Rivera and Derek Jeter and they held fans' interest all season long, right down to their last moments on the diamond in the Bronx. In 2013, Rivera was overcome with emotion when Jeter and Andy Pettitte came out to the mound signifying the end of his career. Last year, Jeter walked off the Orioles as the Core Four, Bernie Williams, Tino Martinez, and Joe Torre were all there to congratulate him. He saluted the fans, and even took a private moment for himself alone on the field as he crouched down on the grass behind where the shortstop plays soaking in the moment. It was very compelling. Even though the Yankees weren't going to the playoffs, you couldn't turn away.
The end of this season doesn't signify an end for Rodriguez and the Yankees. He's signed through 2017. Unless something major changes with the Yankees offense, though, or the bullpen proves to be a weapon that can make up for the team's other deficiencies, the Yankees season will end with the club left out of the playoffs for the third consecutive year. If that day comes, much like in the dispute over A-Rod's home run bonuses, the Yankees will have only themselves to blame for their troubles.
Thank you for reading
This is a free article. If you enjoyed it, consider subscribing to Baseball Prospectus. Subscriptions support ongoing public baseball research and analysis in an increasingly proprietary environment.
Subscribe now