This piece originally appeared on BP Wrigleyville, Baseball Prospectus' local site for all your Cubs needs. And be sure to visit BP Boston and BP Bronx for Red Sox and Yankees analysis as well.
Not many people believe in Chris Coghlan. From everything we know about his history, nobody would blame the non-believers. He's generally considered a poor defender, and that's in left field. He's only played over 100 games twice in his six-plus year career. From 2011-2013, he posted WARPs of 0.5, -0.9, and 0.7, respectively. He's had both a major knee injury and back issues that have taken out large chunks of seasons for him. This is not the type of profile one looks at and says, "Yup, that's the guy I want to rely on to help my team make the playoffs."
But in those two seasons I mentioned above in which Coghlan logged over 100 games? He was actually pretty solid with the bat. In his Rookie of the Year campaign in 2009, he posted a .299 TAv in 128 games. Last season, Coghlan managed to play in 125 games and delivered a .293 TAv. In the four seasons in between, he failed to even once reach the .280 mark.
Including Coghlan, there have been 17 players who have posted a TAv of at least .290, then gone four or more years of a TAv of .280 or below, and then once again reached the .290 mark.
| | | |
| --- | --- | --- |
| PLAYER | LAST YEAR OF .290+ TAv BEFORE DROUGHT | NEXT YEAR OF .290+ TAv |
| | 1951 | 1956 |
| | 1964 | 1969 |
| | 1971 | 1976 |
| | 1975 | 1984 |
| | 1985 | 1990 |
| | 1990 | 1996 |
| | 1988 | 1995 |
| | 1988 | 1996 |
| | 1990 | 1996 |
| | 1993 | 2000 |
| | 1999 | 2005 |
| | 1994 | 2001 |
| | 1995 | 2001 |
| | 1995 | 2002 |
| | 2004 | 2010 |
| | 2005 | 2013 |
| Chris Coghlan | 2009 | 2014 |
That's… an interesting list. First of all, we get to talk about Puddin Head Jones, so this exercise is already a win as far as I'm concerned. Overall this a pretty eclectic group, a mishmash of characters, some who had long histories of success then were derailed by injuries (Eric Davis), some who had a change in environment temper their offensive production (Adrian Beltre), some who were still plenty valuable because of their defensive or base-running prowess (Kenny Lofton, Willie McGee), guys I only remember because of their sweet nicknames (my man, Puddin Head), and plenty of others.
But if we really limit this search and put make that last season of .290+ TAv before their drought their only .290+ season up to that point, we narrow that list down to 13 players. Then, if make that first .290+ TAv season their rookie year, we knock the list down to just two names: Garret Anderson and Coghlan. Coghlan, as mentioned above, won Rookie of the Year, while Anderson finished second in 1995.
Why did Anderson take so long to regain his stroke, one that had many mention his name as one of the better pure hitters during a stretch of time in the early 2000s? I'm really not sure—at least I can't find a quick answer to this question. But with Coghlan, the answer is simple, right? It's injuries.
Well, if you ask Coghlan, that's one explanation for his struggles, but it's not the sole reason. After rehabbing a knee injury in 2011 he suffered in June—his second in as many years—Coghlan didn't get recalled to the majors after he was taken off the DL. Coghlan was slashing .230/.296/.368 at the time of the injury, so the Marlins could reasonably justify leaving Coghlan down to regain his stroke, but the move hit Coghlan mentally. He'd already lost enough time due to injury and now his confidence was shaken—something that had never been an issue for him in the past.
Coghlan was healthy in 2012, but only played 39 games in the bigs and struggled mightily, posting a measly .183 TAv. The next season was better, but not significantly so, and he missed a large chunk of the year to a back injury. During this time, though Coghlan was battling injuries and struggling on the field, he was rebuilding his confidence in himself. Making himself a stronger player mentally, with the belief that once he was 100 percent healthy, he would be able to show what he could really do on the field.
"When injuries happen, that's when you really are able to grow," Coghlan said. "You start to learn and understand how you can get better, what you can do to try and stay healthier. I used to not even have to warm up, I could just grab a bat and go hit. Now you stretch, you do a lot of things differently as you get older. For me, at 29, I feel like I'm just hitting the prime of my career because I haven't played full time and been able to use the things that I've become a equipped with and learned."
Indeed the hardest part wasn't overcoming the injuries, it was getting past the mental hurdles. Coghlan said once he did that, he knew anything was possible, and nothing—outside of injuries—would keep him from excelling on the field.
"A lot of times people want to compare it to my first year," Coghlan said of his strong 2014. "I try to tell people—I don't mean this in a boastful way—I'm such a better player, teammate, person, than I was when I was 23. I don't need numbers to quantify that. I think last year helped media and other outlets to quantify that. But, lord willing, if I stay healthy, I think they're going to be blown away again. It's just going to continue to get better."
Coghlan said he doesn't like being compared to other players—he got plenty of that his rookie year and he realizes now how it set him up for failure. He says his journey, like everyone's, is unique—and as we showed with the table above, he's not wrong about that. It's rare to be a well above-average bat, then go numerous seasons without coming close to those heights, before finally putting it all together once again. Coghlan's grown in many ways, improved as a player, changed his mechanics, but he kept coming back to one area as the key.
"The biggest thing is the mindset," Coghlan said of battling and overcoming both injuries and general struggles at the plate. "The mind has grown, my knowledge has grown—of the league, of the pitchers. What they're trying to do, what I'm trying to do in different situations and not let it overwhelm me."
Cubs hitting coach John Mallee, who was Coghlan's hitting coordinator throughout the minors and his hitting coach his rookie season, said he believes that not only does Coghlan look like the player he was his first season in the majors because he's healthy, but he believes he could be even better now because he's finally had a full, healthy offseason to prepare and improve himself for the first time in years.
"He's a very confident person, he's always believed he can hit and he's always hit where he's been," Mallee said. "But after the injuries it slowed him down so much that he couldn't prepare himself to get ready every day. So he'd have to save his bullets for the game, and you lose your feel for your swing sometimes. He's healthy and this offseason he's worked on his swing path a bit and he's starting to drive the ball again."
Mallee said that starting last season, Coghlan has been working on his swing path (interestingly enough, with another former Marlins instructor, Anthony Iapoce, who is now a Special Assistant in the Cubs organization).
"They were able get Chris back to the feel of what he had when he was younger and the success that he had," Mallee said. "He wanted to be able to get more lift on balls down and try to drive the balls there. He's always handled balls up very well and now he handles the ones that are down too."
Mallee's right, through 2013, Coghlan's slugging was mainly coming in the upper part of the zone.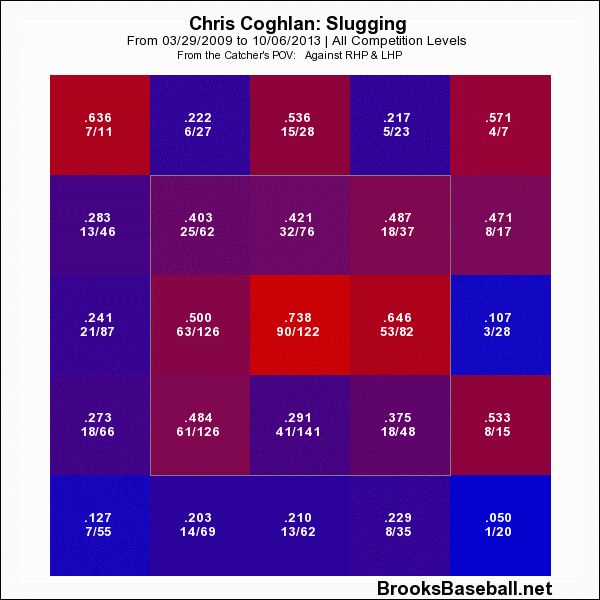 It appears that those adjustments that Mallee was referring to have worked to some extent over the last 12 months.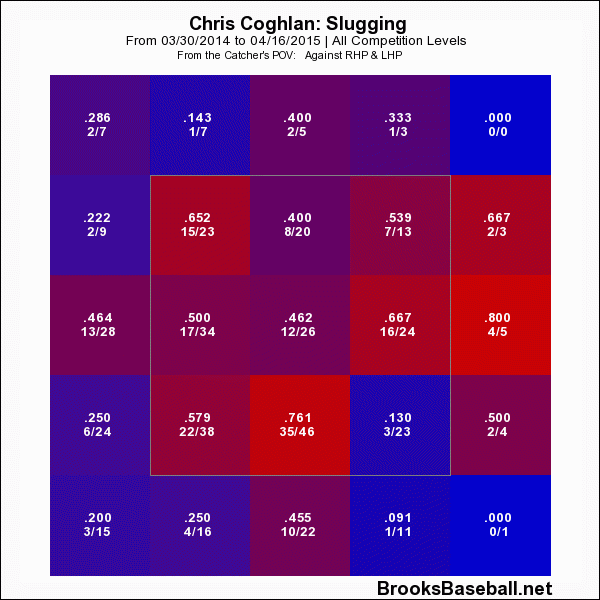 Coghlan has gotten off to a nice start to the 2015 season, slashing .304/.385/.696 through eight games. But the doubters will still remain, Coghlan is well aware of that. One strong season at the plate didn't change that, and another week of games certainly isn't going to sway the non-believers.
"I don't feel like they totally believe me in still," Coghlan said when asked if it feels good to prove the media and fans wrong. "So that doesn't change my grind, my fight. I feel like people doubt me every day. People want to quantify and box me in. They want to tell me what type of player I am because they look at my rookie year or they look at last year. But at no point have I played a full year and gotten a chance to put up 600 plate appearances. They don't understand that. Lord willing, I'll stay healthy and they'll be able to see it."
Before heading out to take swings in the batting cage, Coghlan looked at me and pointed at his head. "You see, I've finally figured it all out up here." As far as he's concerned, that's all he needed to do to become a force at the plate once again.
Thank you for reading
This is a free article. If you enjoyed it, consider subscribing to Baseball Prospectus. Subscriptions support ongoing public baseball research and analysis in an increasingly proprietary environment.
Subscribe now