Signed C-L Brian McCann to a five-year, $85 million contract with a vesting option for 2019. [11/23]
When Sam Miller asked me a few weeks ago how the Yankees—who were old, injured, and outscored by their opponents in 2013—could put themselves in a position to compete next season, I offered a simple solution: "Sign all the good players." This is a start.
McCann is the best catcher to make it to free agency since Ivan Rodriguez signed with Detroit a decade ago. In part, that's because teams tend to lock up potential stars at the position, like Joe Mauer, Buster Posey, Sal Perez, Jonathan Lucroy, and Carlos Santana—not to mention McCann himself, who signed a six-year extension in 2007. In part, it's because catchers tend to come up late and get old early, putting them past their expiration date by the time their team control years are over. And in part, it's because there simply haven't been many post-Pudge catchers as good as the one the Yankees just added.
There's a big gap between McCann and the next-best free agent backstop, Jarrod Saltalamacchia. And next year's prospective catching class—a 32-year-old Russell Martin and a bunch of backups—won't be any better. Signing McCann may have been the last chance for a team to make a major upgrade behind the plate without trading talent until the winter of 2015, when Matt Wieters and Alex Avila could become available. And none of McCann's other suitors stood to benefit by as much as New York.
Yankees catchers last season (Chris Stewart, Austin Romine, Francisco Cervelli, and J.R. Murphy) produced a .214 TAv. Only Blue Jays, White Sox, and Marlins backstops hit worse. Our preliminary PECOTAs project McCann to be worth 3.2 WARP next year, which would give the Yankees a few wins more than the 0.3 they got out of the position in 2013. And because the Yankees are likely to find themselves in the thick of a playoff race—but have too many weaknesses to secure a spot by a wide margin, as they have in some seasons—those wins are worth more to them than they would be to the typical team.
The concern with McCann, who'll turn 30 the week after pitchers and catchers report, is that he won't be a catcher in the latter part of the contract. It's easy to look at Nate Silver's catcher aging curve…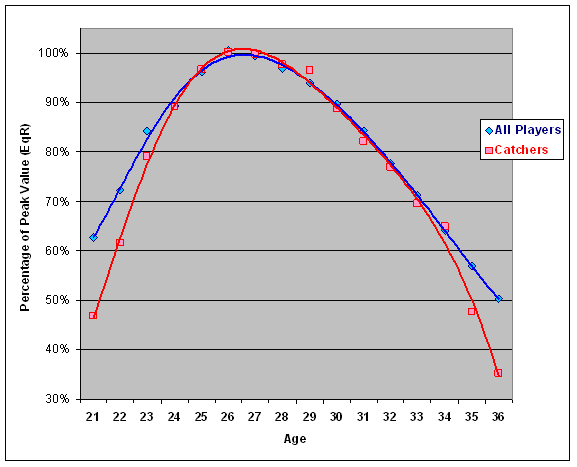 …note the divergence from the standard curve starting around age 33, and conclude that McCann will have to move off the position a few years from now, hurting his positional value.
He might. McCann is big for a backstop, and he has a lot of mileage on his legs. His playing time has decreased for three straight seasons, falling to a career-low 102 games last season after undergoing shoulder surgery in October of 2012. Baseball-Reference's list of players most similar to McCann is made up largely of men—Lance Parrish, Gary Carter, Del Crandall, Bill Freehan, Tim McCarver—whose productivity and/or playing time behind the plate decreased sharply shortly after age 30, some of whom retired when they were younger than McCann will be at the end of this deal. (Freehan, Victor Martinez, and Carter are his top PECOTA comps.) And if you really try, you can talk yourself into fearing other indicators that the Yankees, who can consult HITf/x info, are better equipped to assess—diminishing returns when putting hard pitches in play, recent struggles against southpaws, and a late-season swoon, which one could blame on McCann's inability to follow his usual offseason exercise routine last winter.
But there are a couple of reasons to think that McCann's age doesn't doom the Yankees to regretting this deal. The first is the defensive contribution McCann makes that isn't currently captured by WARP. Since Jorge Posada stopped hitting enough to make his spastic receiving tolerable, the Yankees have had promoted or signed a string of strong framers, from Jose Molina to Russell Martin to last year's crop of no-hit, good-glove guys. We know that's not a coincidence. McCann has a below-average arm, but he's consistently rated as one of baseball's best receivers; despite being behind the plate for only a little over 800 innings last season, he ranked fifth in framing with 22 runs saved.
According to Max Marchi's research, framing skill declines very slowly:
That explains why the Tampa Bay Rays are reportedly talking to Jose Molina, baseball's best pitch-per-pitch receiver, about a two-year deal. And if one AL East contender believes that framing talent can keep a portly catcher who can't hit or block, and who would be far below replacement at any other position, behind the plate from age 39-40, it's not so hard to imagine another thinking McCann can keep catching into his mid-30s. Between improved conditioning and medical treatment and the increased attention paid to framing, it's hard to know how applicable the examples of aging catchers of 30 years ago—like Parrish and Carter—are to today's backstops.
The other reason for optimism is that McCann is the rare catcher who can hit enough to be playable at another position. If his lower body breaks down to the point that he can't keep crouching, he could provide close to average offense at first base or DH. Mark Teixeira's contract expires after 2016, and Alex Rodriguez will be off the books after 2017, assuming he hasn't managed to get himself banned from baseball before then. That means the Yankees will have a place to put McCann as soon as his age-33 season, if necessary. And as a left-handed batter who rarely hits the ball on the ground, he's a perfect fit for Yankee Stadium, which should help offset some age-related offensive decline. He's also a clubhouse leader whose demonstrative guardianship of the unwritten rules endears him to teammates, if not to Twitter.
In the short term, the Yankees can reduce the strain on McCann by giving him days off or at DH when a southpaw is starting. Francisco Cervelli, who's hit well against lefties in a small career sample (.305/.402/.389 in 193 PA), should make for a fine platoon partner. Stewart probably won't be back, but between Romine, Murphy (who looked like a potential starter last season), and Double-A prospect Gary Sanchez, the Yankees have young catching depth to deal if it helps them upgrade elsewhere. Sanchez has drawn comps to Jesus Montero throughout his career, and it wouldn't be a surprise to see him make a similar exit from the organization while Romine and Murphy spend the season in Scranton
The deal does include a full no-trade clause and a vesting option for a sixth season, the terms of which have not been announced. And because McCann received a qualifying offer from the Braves, the Yankees will forfeit the 18th overall pick in next year's draft (though they could recoup picks if their own qualifying free agents sign elsewhere). But despite the cost and the risk inherent in any long-term deal for an aging catcher, this isn't an overpay. Adding McCann makes the Yankees better than any other single signing could have, aside from bringing back Robinson Cano (and it doesn't hurt that by locking up McCann, they made sure the the Red Sox and Rangers couldn't). The question now is whether the market's top catcher is just the first free agent to fall in an old-fashioned Yankees spending spree—and if so, whether the team can keep cramming in high-priced veterans without blowing by the luxury tax threshold. —Ben Lindbergh
Fantasy:
Brian McCann
I've already seen calls that McCann will hit 40 bombs playing in Yankee Stadium, as if that's a given for any left-handed hitter with above-average power. The park factor for left-handed homers at Yankee Stadium is 116, which—while greater than the 101 at Turner Field—isn't enough to turn McCann into one of baseball's best home run hitters. That said, the expected increase in power is just one reason that McCann's fantasy value gets a boost. The other is that a move to the American League could mean appearances at DH, which would boost his playing time. McCann has never hit 25 homers in a season, but his chances to top that in 2014 will be the best they've ever been. He should once again be drafted as a top-five catcher in mixed leagues.
J.R. Murphy
It was never all that likely that the Yankees would go into the 2014 season without addressing their catcher situation, but if it had come to pass, Murphy would have been a nice deep-league sleeper this March. Instead, he's relegated to either backup or Triple-A duty with McCann in town. Barring a trade, he's not worth rostering outside of two-catcher AL-only formats. —Bret Sayre
Thank you for reading
This is a free article. If you enjoyed it, consider subscribing to Baseball Prospectus. Subscriptions support ongoing public baseball research and analysis in an increasingly proprietary environment.
Subscribe now