PECOTA ran a bit more than 1,000 hitter projections for 2013. The worst line it forecast was a .177/.205/.245 line from Elier Hernandez, an 18-year-old who had just hit .208/.256/.280 in short-season ball. The next worst was for Gabriel Rosa, who had just hit .245/.314/.406 in the Arizona instructional league, and who was forecast to hit .171/.200/.251. The average pitcher this year has hit .133/.162/.180, well below either player's forecast.
So let's take PECOTA's word for it, and accept that major-league pitchers are, generally, worse hitters than every hitter in the majors, and every hitter in the high minors, and if not every hitter in the low minors then most. Let's say they're worse than every hitter in Nippon Professional Baseball, and every hitter in the Mexican League. Let's further assume that they're worse than a large number of hitters who have washed out of the minors because, through positional inflexibility and unsexy ages and generally limited upside and utility, are no longer allowed to take up organizational space—all the Eddy Martinez Esteves out there. How many is that? Around 500 big leaguers, around 3,000 minor leaguers, no fewer than 1,000 players scattered around foreign professional leagues, certainly dozens if not more college kids, a handful of extremely advanced high schoolers, and the hundreds, perhaps thousands, of Eddy Martinez-Esteve desaparicidos. Let's say that your average pitcher is the 10,000th-best hitter in the world.
And then let's say that Matt Harvey is, oh, the fifth-best pitcher in the world. Imagine a movie by the fifth-best director going up in a film festival against a movie by the 10,000th-best director. Imagine the fifth-best jazz trumpeter in the world going up against the 10,000th-best jazz trumpeter in a jazz trumpet off. Imagine, for goodness sakes, the fifth-best pass rusher in the world charging against the 10,000th-best offensive lineman.
So that's how you get this line, which is what pitchers have done against Matt Harvey this year:
1 for 27, 16 strikeouts, .037/.074/.037
On Sunday, John Lannan went 0-for-2 against Harvey, with a strikeout. That's an improvement; last year, Lannan struck out both times he faced Harvey, on six pitches. Today, by contrast, Lannan can feel good because he put the ball in play once. That's what pitchers get to feel good about when they face Harvey. Small victories, with small rewards. Think about facing Matt Harvey as a carnival game, with bigger and better prizes for smaller and less embarrassing failures.
Tier 1 Victory: Touches Baseball
First off, let's be clear about what we're talking about here. This is a fastball to Ted Lilly:
Relevant additional information:
Relevant supplemental data:
So it's not much, oh goodness is it ever not much, but Lilly does manage, on an 0-2 count, to tip a high fastball foul. For that, he has a better story about his baseball career than you ever will.
Prize for Touching Baseball:
Toy basketball with iStockphoto watermark on it.
Tier 2 Victory: Made Him Throw a Ball
Lilly did not, in two plate appearances, make Harvey throw a ball. Jose Fernandez did not appear likely to make Harvey throw a ball, at least after his first swing:
or, reduced to its relevant trail markers: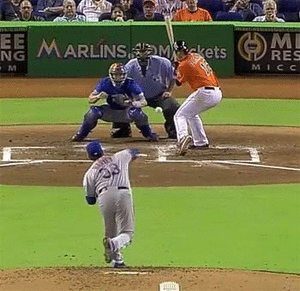 But Fernandez actually ended up having what you'd call a heck of an at-bat, fouling off such pitches as
and ultimately making Harvey throw eight pitches to earn the strikeout. Aside from that plate appearance, Harvey has never had to throw more than six pitches to an opposing pitcher. (Fernandez, later in the same game, made him throw six.)
Prize For Making Him Throw a Ball:
Stuffed bear to stare sadly at you while you undress.
Tier 3 Victory: Successful Sacrifice Bunt
We can debate the value of The Good Face in scouting, but let's be real here: If you saw these two guys staring at each other
you wouldn't need to see any stats to know you're drafting the guy on the right. This is a face mismatch like you see in eighth grade P.E., where one kid can grow a full neck beard and the other prays every night for a hair in his pits. And yet Slowey gets the job done,
which is not nearly as easy to do as you'd think (or wouldn't think, probably). There have been eight bunting situations involving pitchers against Harvey this year. Two pitchers, including Slowey, have laid it down, and six have failed. Roy Halladay, in particular, looked uncomfortable, the awkwardness of which led me to create this Roy Halladay Dance Party GIF which, really, don't click on, okay?
Prize For Successful Sacrifice Bunt:
Dozen eggs, no carton.
Tier 4 Victory: Generated Web Gem
There is not one person who watches this play and notices Jeanmar Gomez's role in it, except now all of us:
There was a very brief cut to Gomez running back to the dugout so we could see his reaction, but it was a very brief cut and his reaction wasn't much of one at all. Had a real hitter hit that ball, there'd be kicking of dirt, throwing up of hands, exasperated smiles, perhaps a friendly nod out to center field. But Gomez isn't supposed to get a hit there, so he (and we) know better than to focus on how close it was, just like you know that getting two matching numbers on a Match 3 Lotto scratcher isn't really any closer to winning than getting no matching numbers at all.
Prize For Generating Web Gem:
Los Lonely Boys bookmark from your library.
Tier 5 Victory: The Only Base Hit Harvey Has Ever Allowed to a Pitcher
Finally, the only hit.
"Nice piece of hitting there."—people paid to say things.
No pitchers got a hit off Harvey last year, either, so that's the only thing between Harvey and the hiddenest hidden no-hitter ever. What's impressive is how closely Strasburg mirrors Bryce Harper's swing against Harvey's fastball, as chronicled here earlier in the year:
Later in the game, Strasburg grounded out to shortstop, the most-pulled ball that any pitcher has hit (fair) against Harvey this year. Harvey has thrown three pitches to Strasburg: Double, groundout, ball. Strasburg is the only pitcher Harvey can't throw pitches right past.
Prize for Being The Only Pitcher Harvey Can't Throw Pitches Right Past:
Some mail.
Thank you for reading
This is a free article. If you enjoyed it, consider subscribing to Baseball Prospectus. Subscriptions support ongoing public baseball research and analysis in an increasingly proprietary environment.
Subscribe now