Re-signed 1B-R Paul Goldschmidt to a five-year extension worth $32 million (starting in 2014) that includes a club option worth $14.5 million. [3/29]
The sensible comparison to this extension is Allen Craig's five-year deal worth $31 million guaranteed. Goldschmidt, though younger, will have an amount of service time comparable to Craig's when the deal kicks in. Both players make their living hitting baseballs, and they're about equal offensively: Craig has a career .304 True Average (in 857 plate appearances) while Goldschmidt is at .302 (through 764 plate appearances). That means the terms—five years, about $30 million guaranteed—are probably the going rate for a first baseman in the pre-arb phase of his earning cycle. (You could make the argument that Goldschmidt's deal is sweeter than Craig's. In part because of the age disparity, as Goldschmidt is about three years younger, and in part because of defense: Goldschmidt may be no better than average at first base, but Craig is only there because the Cardinals can't use a DH.)
What's a lengthy extension without some nitpicking? There are two subplots to watch for with Goldschmidt. The first is whether he can improve his performance versus right-handed pitchers. He's working on a career 82-point TAv split that favors his performance against southpaws, which is about four times the size of the league-average split. The neat thing here is that Goldschmidt can get worse against lefties, improve by the same amount versus righties, and still come out ahead because of the league's pitching population. The other subplot revolves around his so-so finish to the season, as he hit .271/.351/.431 in the second half. Yes, it's the trivial note of the two, but if Goldschmidt starts slow, expect plenty of skeptics.
Cody Ross and Martin Prado became the faces of Kevin Towers' good-makeup movement this winter, but Goldschmidt's imposing figure and powerful bat belie his grittiness. Goldschmidt was an eighth-round pick who worked his way from two-star prospect to $30-million man in the span of two seasons, and Towers went out of his way to praise his slugger's character, saying, "I wish we could mold 24 more of [him]. What he embodies and the way he plays, when it comes to preparation, attitude, selflessness." Goldschmidt is living the Arizona dream. —R.J. Anderson
Signed C-R Buster Posey to an eight-year, $159 million extension. [3/29]
The sixth-best season by a catcher since 1950 belongs to Buster Posey, who was worth 7.5 WARP in his MVP 2012. The fourth-best season by a catcher since 1950—barely better than Posey's—belongs to Joe Mauer, who was worth 8.0 WARP in his MVP 2009. Mauer is where one's mind goes immediately after seeing the terms of Posey's extension: eight years and $159 million, starting after 2013, with a $7 million signing bonus, a full no-trade clause, and a $22 million option for 2022 (with a $3 million buyout). Because Mauer has Buster beat there, too: his mega-contract, also complete with no-trade clause, called for eight years and $184 million.
Like Posey, Mauer signed his eight-year extension after an MVP season, though he was a year older and two years further from free agency. At this stage, it's probably still dangerous to say this, since we're about to close the book on Mauer's third decade, while Posey still has half of his left. (No other player with fewer than four years of service time has ever been paid so much.) But in retrospect, Mauer's MVP season looks like the much more anomalous year. Mauer, over the course of his career, has averaged 14 home runs per 162 games. In 2009, he hit twice that many in 138 games. That extra power won him an MVP award—okay, the .365 batting average didn't hurt—and inflated his contract from enormous to whatever one step up from enormous is. Minnesota would have made Mauer rich had he topped out at 13 home runs in 2006, because a catcher who leads the league in average and OBP is a precious commodity even if he hits for as much power as Jason Kendall post-Pittsburgh. But the power made Mauer's value seem limitless (or limited to $189 million, which is almost the same thing).
But that power was unprecedented. Mauer hit only nine homers in the minors on his way to Minnesota, then averaged one every 51.4 at-bats in his first four full seasons in the majors. In Baseball Prospectus 2010, we wrote, "Every scout you could find would tell you that one day he'd hit 25 to 30 a year," adding, "Nobody thinks it's a fluke." The scouts were right: he hit 25 to 30 in a year. That year was 2009. And now everyone thinks it's a fluke. Since then, Mauer has gone deep every 61.4 at-bats, even less frequently than he did during his MVP season.
Posey hit more home runs in his partial rookie season than Mauer has in any season except 2009. He didn't hit them much more often last season; he just got more at-bats. He batted .336, but hitting for a high average was something we knew he could do, because he batted .333 in the minors. (Mauer's lifetime minor-league average is .330.) We weren't sure Posey would ever put all his tools together to produce a season like 2012, and we're not sure whether they'll ever come together in quite the same way again, but his past performance and skillset suggest the potential to at least approximate that type of production.
I've spent so much time talking about Mauer in an article ostensibly about Posey because the Mauer contract is the cautionary tale. It's not an albatross, but it's a deal the Twins probably wouldn't make again, knowing what they knows now. Mauer missed half of 2011, mostly with lower leg issues, and his improved health last season came at the expense of games behind the plate. With six more years of extension to go, he's already splitting time evenly between catcher and 1B/DH, which eats into his value even if he hits. That's the problem with signing a catcher to a long-term extension: he might not be one for as long as you'd like. And once he's forced to play another position, he probably won't be worth what you're paying him. As Nate Silver once put it, "There is no good news here; these guys take a long time to get ready and decline very quickly once they do."
But if there's no good news, there might at least be less bad news in Posey's case. Mauer is taller and heavier than Posey, and every extra inch and pound means more strain on his knees when he squats. There's no precedent for a catcher with Mauer's frame lasting much longer behind the plate than he already has. That's not the case with Posey. And that extra bit of aging Mauer had behind him when he signed his extension could come back to haunt the Twins in a disproportionate way. Look at Nate's catcher aging curve: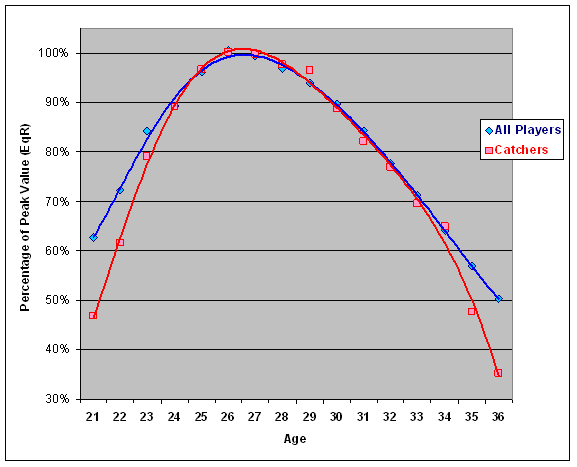 The two lines don't begin to diverge until around age 33. It's the years after that when the real damage is done. Posey's age-34 season is the last guaranteed by this contract, so San Francisco bit a bullet by avoiding that steep decline at age 35. Posey probably won't be worth the $21.4 million the Giants will pay him in 2021, but the hope is that by then he won't have to be, having already earned the money with excess value in his younger years.
There's another reason to be more optimistic about Posey's outlook, as Sam Miller suggested today on Effectively Wild. Mauer was a catcher more or less from the start of his career; Posey played shortstop as a freshman at Florida State. There's been some suggestion that if Posey is forced to move off his current position, he'd have a shot at handling third. Last October, Bruce Bochy said, "I think he could play third. That's how athletic I think he is." And according to Andrew Baggardly, "Bochy isn't alone among scouts and baseball officials, some within the Giants organization, who believe Posey would have enough range, reaction skills—and certainly enough arm strength—to be a solid third baseman." Of course, that's all pretty speculative until we see it; Mauer has been known to take grounders at third himself.
Add up Posey's marquee value, factor in what we know about how players who stick with the same teams age—if it seems like I insert those same links into every article about extensions for superstars, it's because I do—and consider the kind of contract he'd have commanded on the open market if he'd hit and stayed healthy for the next few years, and the risk the Giants assumed by extending Posey early starts to look acceptable. Considering how much money baseball teams are raking in these days, you'd have to scan pretty far down the list of bad contracts for players in the twilights of their careers before you'd get to Buster Posey at around $20 million, eight years of inflation down the road. —Ben Lindbergh
Thank you for reading
This is a free article. If you enjoyed it, consider subscribing to Baseball Prospectus. Subscriptions support ongoing public baseball research and analysis in an increasingly proprietary environment.
Subscribe now