The legend of Felix Hernandez is surprisingly old for an athlete so young. Signed out of Venezuela at the age of 16, King Felix flew through the Mariners system, earning his regal nickname en route to the major leagues and staking his claim to the Safeco Field throne while he was still a teenager. With his combination of elite talent and the work ethic to realize his upside, Hernandez is the ideal pitcher to profile in this first edition of a new series on pitcher development, as we trace his career path "then and now."
The BP staffers were cautious with ranking the inexperienced right-hander when constructing the Top 50 Prospects list of 2004, eventually leaving him off the list in favor of more seasoned players, but Hernandez would earn redemption in the '05 Annual, receiving the highest pitcher ranking as the number-three overall prospect on the Top 50. King Felix's stay atop the prospect rankings was brief, as he permanently lost his eligibility with a dominant debut that cemented his status as the future of pitching in the Great Northwest. Hernandez's talent fueled predictions of immediate stardom, as reflected in the following line from his '05 player comment: "He's going to finish in the top three in Cy Young voting in 2006…"
The path to hardware did not come quite so easily, and the heightened expectations attached to the King's right arm produced feelings of disappointment despite a performance record that was rather remarkable for a kid who was essentially going through his collegiate education in the Show. From 2006 to 2008, Hernandez was perpetually over-drafted in fantasy leagues in anticipation of ace-like numbers, yet the supposed wunderkind disappointed his followers with an ERA in the high threes and WHIPs that approached 1.40. Then something clicked in his fifth season in the league, and the King has ruled his court ever since.
For the first few years of his career, Hernandez struck out his fair share of hitters while maintaining the walk rate of a veteran, though his tendency to miss within the zone led to heavy doses of hard contact. The trends changed course in 2008, with the walk rate climbing by more than a batter per nine innings while the hit rate dropped by a comparable margin, but the net result was a similar volume of base runners. The Mariners were cautious with the right-hander's workload as he progressed through the injury nexus, drawing a line at 200 innings until his age-23 season.
| | | |
| --- | --- | --- |
| | 2005 – '08 | 2009 – '12 |
| | 666.3 | 954.0 |
| | 3.80 | 2.81 |
| K % | 21.1% | 23.0% |
| BB % | 7.7% | 6.8% |
| H % | 23.6% | 21.2% |
| HR % | 2.3% | 1.7% |
The training wheels came off during the breakout of 2009, with Hernandez establishing career bests with 238.7 innings of 2.49-ERA baseball on his way to a second-place finish in the AL Cy Young race, marks that he would exceed in his Cy-winning campaign of 2010. His walk rate came back to previously-established levels, but his hit rates led the American League in both seasons, riding a much-improved defensive unit to overcome his greatest statistical hurdle. Hernandez has discovered another tier of performance over the past four seasons, improving on his undergrad work in every major stat in the scorebook.
Hernandez's numbers are all trending in the right directions, with a K rate that has slowly increased throughout his career and a walk rate that had remained relatively static until his career-low free-pass rate of 6.0 percent last season. All three of his True Outcome rates were the best of his career in 2012, including a league-low pace of homers per nine innings, while his defense-dependent stats have remained solid. The ERAs may have bounced around the stat sheet, but Hernandez has improved across the board ever since he was released from his workload restraints.
The King has plenty of options at his disposal, with a deep repertoire of five pitches that he can deploy to keep hitters off-balance, though his effective use of those weapons has taken a different shape in recent years.
2008
Back in 2008, Hernandez routinely lit up radar guns with fastballs in the mid-to-high 90s, most of which carried heavy downward movement. He overwhelmed batters with high-speed bowling balls for his first few seasons, though 2008 was the first year that his grounder rate fell to the 50-percent zone, where it has stayed since.
Both his change-up and slider were also high-velocity offerings, registering more than 88 mph on average, and the vicious break of the slide-piece was particularly devastating to batters that were bracing for heat, resulting in his highest whiff percentage among pitches. King Felix's control numbers masked his sketchy pitch command; dozens of his SportsCenter highlights featured batters taking ugly swings at vicious pitches that fled from the strike zone.
2012
Hernandez's velocity has decreased steadily since his early days, dropping 5.5 mph over the last six years according to PITCHf/x, and he has integrated a greater mix of secondary stuff to allow his exceptional movement and pitch command to deceive batters beyond raw speed. Pitchers typically lose some velocity as they age, and though Hernandez still has the ability to reach back for extra heat when the situation especially calls for it, his max velocity could drop into the danger zone if the downward spiral continues at its current pace.
The quality of Felix's secondary pitches is such that he can survive as his fastball wanes over time, though reduced velocity places an even greater importance on pitch command and effective sequencing. His changeup now registers just four mph slower than his four-seam fastball, on average, and el cambio is largely successful due to its sharp, arm-side movement rather than the change of pace. Felix often aims his changeups beyond the batter's reach—just four percent of his changeups generated called strikes in 2012 (an astonishingly low number), yet the pitch resulted in the highest rate of swings-and-misses, with a 23-percent whiff rate. The changeup that froze Sean Rodriguez to ice the King's August perfect game was a rare occurrence, though his adrenaline pumped up the "off-speed" pitch to a near-fastball velocity of 92 mph.
Hernandez very rarely throws a changeup early in the count, using the fastball to set it up later in the at-bat. He maintains the usual pattern of using the off-speed pitch more often against left-handed batters, but Felix breaks the mold when he get to two strikes against right-handed bats, going to the tank for the changeup even more often than he did with two strikes against lefties in 2012. The numbers convey the confusion of right-handed hitters, as Hernandez had his highest whiff-rate-per-swing on changeups versus like-sided bats, at 42-percent.
Mechanics
The most significant adjustment that can be traced to the King's 2009 breakout season was based in mechanics: Hernandez introduced a twist in his delivery as he approached maximum leg lift. He would rotate his hips back toward second base as he executed leg lift, coiling in a similar fashion to Tim Lincecum, though to a lesser degree than the Tiant-like motion of Johnny Cueto.
There are benefits to be derived from the twist method, though the complicated pattern of timing and sequencing is a deterrent to many pitchers, particularly when pitching from the stretch. In the case of Felix, however, the method reinforces the feel for his timing of trunk rotation, as the extra twist helps to keep his upper body closed into foot strike, preventing him from opening up too early (by his own admission).
Every pitcher is unique when it comes to finding his ideal time signature, and the twist method helps Hernandez coordinate his particular delivery. An under-appreciated aspect of coaching is the need to tailor the instruction to the needs of each individual athlete, with the understanding that different players will interpret the same lesson in disparate ways. When working with players, I was often surprised by the various ways that my standard regimen of instruction was interpreted, and I learned to use multiple techniques to demonstrate each lesson. I might have to explain posture using five different methods, but once the lesson clicked, I anchored on the one phrase or drill that drove the point home. Likewise, it might have taken a dozen types of instruction to keep Felix from triggering trunk rotation too early, but the twist method certainly got the job done.
Mechanics Report Card
| | | |
| --- | --- | --- |
| | 2008 | 2012 |
| Balance | 40 | 60 |
| Momentum | 55 | 60 |
| Torque | 70 | 65 |
| Posture | 40 | 50 |
| Release Distance | 50 | 60 |
| Repetition | 40 | 60 |
Hernandez has improved his mechanical efficiency in nearly every category on the mechanics report card, with the lone exception of torque, as his pre-twist method for keeping his front shoulder from flying open was to add some extra upper-body load prior to foot strike, increasing hip-shoulder separation. Some players who employ the twist will naturally drift back toward second base as they reach maximum lift, but Hernandez directs his energy toward the plate while reverse-rotating the hips into the top of his delivery, giving him decent early momentum before he uncoils and bursts toward the plate.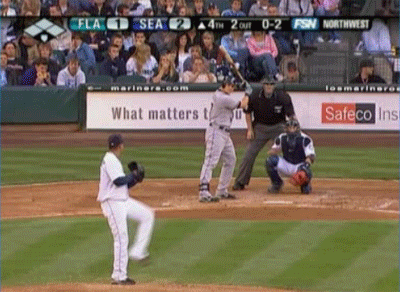 The King's momentum was inconsistent in his first several seasons, as he demonstrates in the above GIFs from a 2008 interleague game against the Marlins. His momentum is not only stronger with the twist technique, but he also repeated the intensity and timing of his charge with greater frequency in 2012. The extra momentum combines with vastly improved balance to produce a more consistent delivery with a deeper release point than at any other point in his career.
Felix has also made the necessary adjustments to incorporate the twist technique when pitching from the stretch, overcoming the biggest obstacle that is created by the extra rotation. He lowers the magnitude of twist with runners on base, but his early initiation of momentum and steady coordination when uncoiling the delivery have paved the way for an impressive transition with his signature technique.
Balance was a big issue for Hernandez during his first few years in the league, as he had a tendency to lean back toward first base into maximum leg lift. That imbalance led to vicious spine-tilt near release point (below left). He has come a long way in addressing the issues (below right), incorporating greater balance with the twist technique while maintaining better posture after foot strike, though he still has room for improvement in stabilizing the delivery near release point, particularly when he gets fatigued.
The steep development curve of Felix Hernandez is a testament to his skills as a baseball player, with a blend of raw talent and #want that fuels his commitment to excellence. The essence of player development is a never-ending desire to improve, and the best pitchers of all time have been relentless in their pursuit of a competitive edge. The historical record indicates that Hernandez is just such an athlete, and the 26-year-old could be rewarded with the richest contract in the history of pitching when his current deal expires after 2014.
Thank you for reading
This is a free article. If you enjoyed it, consider subscribing to Baseball Prospectus. Subscriptions support ongoing public baseball research and analysis in an increasingly proprietary environment.
Subscribe now