The greatest pitchers of the previous generation were dominant on a historical level, and the peak performance of Pedro Martinez might have been the greatest spectacle that the game has ever witnessed. He may have lacked the longevity of Roger Clemens, the consistency of Greg Maddux, or the biological advantages of Randy Johnson, but Pedro introduced the world to an unrivaled combination of intensity, precision, and power that baffled major-league hitters for over a decade.
Martinez lacked the size of his legendary counterparts, but efficient mechanics and incredible athleticism allowed him to get more out of his sub-six-foot frame than pitchers half a foot taller. His effectiveness was enabled by exceptional command of an explosive array of pitches, and he required ideal efficiency to maximize the impact of his pitching career. One need look no further than Pedro's brother, Ramon Martinez, to conceptualize the difference between raw genetic gifts and athletically-trained ability.
Pedro was signed by the Dodgers as a 16-year-old in June of 1988, with visions that the young Dominican would one day join his older brother at Chavez Ravine. Ramon was a 20-year-old rookie at the time, and he would spend the next 10 years playing in front of thousands of traffic-beating fans in Los Angeles, though he lacked the consistency to keep runners off the bases. Ramon won 20 games in his first full season in the rotation, but heavy workloads taxed his developing arm throughout his 20s, which combined with inefficient mechanics to set the stage for future arm problems. At 6' 4", Ramon had the prototypical height that baseball men seek on the mound, but the 160-pounder's lack of balance and functional strength foreshadowed a career that was cut short by injuries.
The Dodgers would trade Pedro following the 1993 season, flipping him to the Montreal Expos for second baseman Delino DeShields in November.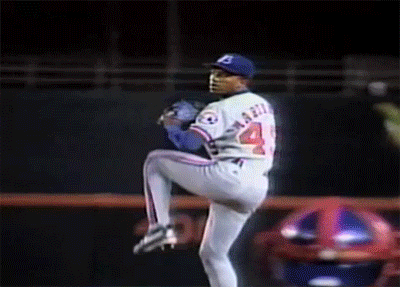 North of the border, Pedro toiled in relative obscurity during his initial MLB exposure, but his nine-inning perfect game in 1995 put him on the national radar, and an epic performance in the 1997 season earned him the National League Cy Young Award, grabbing America's attention. The Expos could no longer keep such an incredible talent hidden under the dome of Olympic Stadium, and in November of '97, nearly four years to the day that he was dealt away from LA, Martinez was traded to the Boston Red Sox in exchange for a young Carl Pavano and pitcher Tony Armas, allowing Pedro to flee Canada for greener pastures (and walls).
Pedro became an instant sensation upon his arrival in Beantown, and he would merit serious Cy Young consideration in six of his seven seasons with the Red Sox, taking the prize in both 1999 and 2000 to place on the mantle next to his NL hardware. His ability to repeat his high-energy delivery was Pedro's calling card, allowing him to locate his electric heater, his deceptive changeup, or his knee-buckling breaking ball wherever the catcher set up a target. The right-hander suffered from right shoulder stiffness that limited him to 116 innings in 2001, but Pedro returned the following year to spark another run of Cy-worthy seasons.
A pivotal moment in Pedro's career came during the 2003 postseason, with the Sox in a bitter battle with the rival Yankees and Boston's 85-year World Series drought hanging in the balance. Game Seven was on the line, with runners on second and third and the Red Sox leading by two runs in the bottom of the eighth inning. Martinez had thrown 118 pitches, with Yankee backstop Jorge Posada striding to the plate, and the television crew flashed a stat that detailed Pedro's struggles once he was extended past the century-pitch mark. Manager Grady Little discussed the situation with his ace and opted to leave Pedro in the game, and even though the right-hander coaxed Posada to loft a lazy fly ball to shallow center, the fact that the baseball fell between three fielders to plate the moving runners would incite a maelstrom of hate from the Boston faithful. Posada's Texas-Leaguer tied the game, and the Yanks would eventually go on to win in extra innings, forever etching the moment into the nightmares of Grady Little.
The issue of fatigue was a central theme in the career of Pedro Martinez, and the Little issue of Game Seven blew up to epic proportions. New metrics for injury analysis such as Pitcher Abuse Points (which appeared several years before the Grady Little game) continued to gain currency for highlighting the risks associated with pitcher workload, with the underlying concept that pitchers grow more vulnerable to injury as they become fatigued. The PAP system used the same threshold of 100 pitches as a baseline for assessing this risk, and though the system was very effective for the purpose of making generalizations about the population of pitchers, it often broke down due to the physical differences that exist from pitcher to pitcher. BP injury expert Will Carroll referred to "fatigue curves" to describe the reality that pitchers tire at different rates, and a blatant example of this distinction is the comparison of Pedro to a tireless workhorse like Randy Johnson.
Pedro battled detractors throughout much his career, as judgments about his size and stamina followed a man who played with a massive chip on his shoulder. My memory banks have zero mental GIFs of a player charging the mound against Randy Johnson, yet Pedro seemed to be in an altercation with an opposing hitter at least once a month. Martinez earned a reputation as a headhunter who wouldn't hesitate to establish his dominance of the plate, and when the Yankees and Red Sox faced off in Game Three of the '03 ALCS (five days prior to the flare heard 'round the world), Pedro ended up in a brawl with 72-year-old Don Zimmer.
The teams would meet again in the ALCS the following season, and this time around the Red Sox would advance to the World Series in historic fashion. Pedro's overall postseason performance left much to be desired, following his most difficult season in a major-league uniform, but he would step up to the challenge of the World Series to help Boston secure its legendary championship of 2004. Martinez was overshadowed by Curt Schilling and his bloody sock in Boston's run to the title, and Pedro's sudden transformation from hero to mortal may have hastened his departure from the team. Pedro signed a $53 million contract with the New York Mets in the wake of his first championship ring, but the injury bug would limit him to fewer than 500 innings through the life of the deal.
Pedro's 2005 season was solid, improving on the disaster of '04 though it fell short of the dominance that was characteristic of vintage Martinez, but he made 31 starts and pitched as many innings as he had in any season since 1997-8. The next three seasons involved a litany of ailments, starting with leg problems that flared up in the second half of 2006, followed by surgery after the season to repair a torn rotator cuff in his throwing arm. Pedro was shelved for most of the '07 season as he recovered from surgery, and his final year as a Met was shortened due to leg and shoulder woes before his contract mercifully expired. Martinez finished his career with the Phillies, and his final outing came against none other than the Yankees in Game Six of the 2009 World Series. New York would have the last laugh, beating Pedro for the second time of the series to seal the trophy.
The shoulder woes combined with age-related physical decline to rob Pedro of his velocity in his last few seasons, with a fastball that averaged under 90 miles per hour on the radar gun and an increasing reliance on his off-speed stuff. What was once a power curveball morphed into a slow hammer that wouldn't get pulled over on most California freeways. Martinez survived on his unwavering pitch command and late-biting movement, with increasing reliance on his defense to assist in the generation of outs. The lack of velocity may have contributed to Pedro's late-career spike in homers allowed, as batters had little difficulty squaring up the heat.
Mechanics Report Card
| | |
| --- | --- |
| Balance | 65 |
| Momentum | 60 |
| Torque | 65 |
| Posture | 70 |
| Release Distance | 65 |
| Repetition | 80 |
Pedro's strong combination of momentum and posture more than compensated for his lack of height, extending his release point to exaggerate the late break of his pitches. Randy Johnson breaks the scale, but Pedro's grade for release-point extension would rank even higher if it were based on personal efficiency rather than absolute distance. Like Johnson, Martinez relied on a low arm slot that approached sidearm, a technique that favored strong posture and further helped to extend his pitch release. The most impressive element of Pedro's delivery was his impeccable consistency, with the ability to repeat the same timing and sequencing on each delivery, for every type of pitch, for the duration of his career. Whether his fastball was clicking at 97 mph or 87 mph, Pedro could always locate in or out of the zone.
It will surprise some to view the above grades in light of Pedro's injury troubles, but the injury equation extends far beyond pitching mechanics to include elements of workload, conditioning, and genetics. Pedro's outstanding command and upper-tier velocity were direct results of his mechanical efficiency, but his ability to avoid the trainer's table depended on how well his body responded to the kinetic toll, and Pedro's fatigue curve left him vulnerable to overuse under otherwise acceptable workloads.
Martinez was a pitcher with a high-energy delivery and a slight frame whose dynamite effectiveness induced a heavy workload. The fact that Pedro's arm broke down under these conditions is not an indictment of him or his mechanics, but a reflection of his personal reality with respect to maintenance and fatigue. Pedro was an extreme competitor who would put his body on the line in the name of victory, and even knowing what we know, I am sure that he would have convinced me to let him stay in against Posada if I had been in Little's shoes.
Thank you for reading
This is a free article. If you enjoyed it, consider subscribing to Baseball Prospectus. Subscriptions support ongoing public baseball research and analysis in an increasingly proprietary environment.
Subscribe now