ALCS Game Four was decisive, but decidedly short on new narratives. What we saw, for the most part, was more of the same motifs that wove through the first three games. The Tigers pitched well; the Yankees couldn't put anyone on. Some slumping Yankees batters were benched; Alex Rodriguez, despite not starting, still managed to steal some of the spotlight. We couldn't get much more mileage out of a one-sided series: either the Yankees would do something drastic to change the script, or the Tigers would sweep. With Max Scherzer on the mound, the script stayed the same. The Tigers won the pennant, and the Yankees went quietly into what's shaping up to be an eventful winter.
Scherzer, as usual, had swing-and-miss stuff. The right-hander racked up 110 strikeouts in 90 1/3 innings in the second half of the season, then added eight more in 5 1/3 in the ALDS. Last night, he tallied 10 in 5 2/3 frames, working off a fastball that sat at 93, with a changeup and slider 9 mph slower. Fifteen of his 98 pitches went for whiffs, almost twice as many as Justin Verlander could claim on Tuesday. He didn't last as long as Verlander, but considering Detroit's large lead in the game, 3-0 cushion in the series, and rested bullpen, as well as the deltoid issues that briefly sidelined Scherzer in September, there was no sense in stretching him.
Before some video games can be beaten, you have to survive a section known as a "boss rush," in which you're forced to fight a series of formidable foes in quick succession. Typically, all of these bosses have been beaten already, one at a time, at earlier points in the game. But as the end approaches, they have to be conquered again, one after the other, without any breaks in between. Sometimes they've picked up new tricks since the first time you faced them. And almost always, they go in order, from easiest to most difficult to defeat. That's what this series was like for New York. The Yankees beat the Tigers in regular-season games started by Doug Fister, Anibal Sanchez, Verlander, and Scherzer. But they couldn't beat them in a boss rush.
Given how good Scherzer—the final boss—was, the Yankees' ace, CC Sabathia, picked the wrong day to have his worst start of the season. He was working on plenty of rest, but he wasn't sharp. It may have been a bad omen when his first pitch of the night, a fastball high and outside to Austin Jackson, came in at only 88 miles per hour. But subpar velocity seemed like the least of Sabathia's problems. His pitches all appeared to have less life than usual, and he couldn't command them.
"I was terrible today," Sabathia said. "Didn't make pitches. Changeup was a non-factor, fastball command at the end wasn't good."
Sabathia's defense let him down in the first and the third—both Eric Chavez and Mark Teixeira made misplays or errors that led directly to runs, not to mention additional pitches that sapped Sabathia's strength and could have contributed to his fateful fourth inning. Ultimately, though, it's Sabathia who takes the bulk of the blame for the five hits and two homers (to Miguel Cabrera and Jhonny Peralta) that chased him from the game. The Yankees bullpen allowed big flies to Austin Jackson and Peralta again (in the seventh and eighth, respectively) to keep the game out of reach. Although we were treated to the rare sight of a Yankees hit with a runner in scoring position—by Nick Swisher, of all people—in the sixth, it was an isolated incident, not the start of something. Drew Smyly, Octavio Dotel, and Phil Coke combined to hold the Yankees scoreless after Scherzer's departure. Coke pitched 5 2/3 scoreless innings in the series in his new role as quasi-closer.
Alex Rodriguez pinch-hit for Raul Ibanez with two outs in the sixth, men on first and third, and the Yankees down by five runs. He flied out, which told us nothing about anything, except, perhaps, for the fact that Joe Girardi's gut wasn't quite so blatantly anti-A-Rod or pro-Raul that he'd prefer Ibanez to Rodriguez against a southpaw. He also pinch-hit Curtis Granderson—whom he'd benched against a righty starter—for Russell Martin in the seventh. Granderson struck out, the 16th time he'd done so in 30 postseason at-bats. At least backup catcher Chris Stewart, who went behind the plate for the bitter end, gets to tell his grandkids he played in the postseason.
The Yankees' offensive numbers for the series—in which they never led, for even an inning—were eye-poppingly bad, both individually and as a group. But it would be wise to avoid reading too much into nine games of futility. There was no deep-rooted flaw, no ticking time bomb, no rotten core, that produced these results. The Yankees' power-and-patience approach at the plate has worked in the postseason before and will work there again. They're old, and it would be good for them to get younger. They'll have little choice but to make changes, since several of their starters are free agents. But as always, where the Yankees are concerned, the roster surgery will be more cosmetic than invasive, a retool, not a rebuild. There's a good chance that they'll be back next October and hoping to put 2012 behind them—younger, but not young, cheaper, but not cheap, similar, but not the same.
Six years ago, the Tigers swept the A's in the ALCS and had to wait a full week to start the World Series against St. Louis. They lost in five games and reportedly felt flat. This time, they'll have six days of downtime, but they've planned scrimmages and simulated games to keep themselves sharp. Even a bit blunted, the Tigers would be World Series favorites, regardless of which team they have to take on. It took them a few months to get going, but it's clear now that they've become every bit as good as we expected them to be.
I leave you with a GIF of Brian Cashman and Yankees special-assignment scout Jim Hendry looking sad while surrounded by a cheering crowd at Comerica.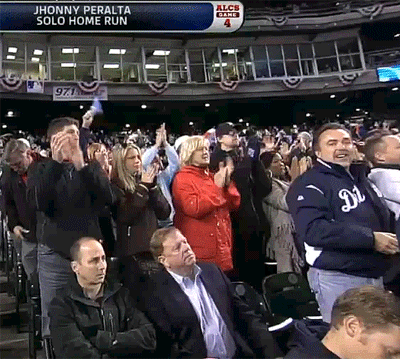 Thank you for reading
This is a free article. If you enjoyed it, consider subscribing to Baseball Prospectus. Subscriptions support ongoing public baseball research and analysis in an increasingly proprietary environment.
Subscribe now