For the first eight innings, Game One of the ALDS was shaping up to be a typical 2012 Orioles win: a short-ish outing by a starter, followed by a parade of relievers, a few more scoreless frames, and finally a one-run win, most likely in extra innings. The O's approach was simple: keep running out relievers until CC Sabathia blinked. It worked for a while. But for once, Baltimore's bullpen blinked first, as the Yankees beat their best and emerged from the ninth with a lead that made their eventual victory look a lot easier than it was.
Jim Johnson doesn't miss many bats, but he does get grounders. For most of this season, they haven't found holes. In Game One, some of them did. The big blow, though, was a home run off the bat of Russell Martin, a player whose old pattern was to disappear in the second half, but who's heated up since the start of September. It was fitting that the Yankees went ahead with a big fly—the first Johnson has allowed since June—since that's how they've done the bulk of their scoring all season. When the Yankees aren't hitting homers, they look beatable, but they're rarely held homerless for long.
The same vintage version of CC Sabathia we saw in September showed up for his first postseason start, cruising through 8 2/3, and while Hammel looked sharp for someone who hadn't thrown a meaningful pitch in almost a month, he didn't have the same staying power. As I wrote on Sunday, the Yankees' patience and ability to make contact is what sets their offense apart from the Orioles', and Hammel had to labor to get through 5 2/3.
It was the sort of game that some pundits describe as a "statement"—the team that's been there before putting the upstarts in their place. We don't know whether the statement will stick. Still, the Orioles suddenly look a little less like a team of destiny, and a little more like one whose luck is about to run out. In one half-inning, the Yankees confirmed what we've been wondering about for a while: Baltimore's bullpen isn't too big to fail.
On to the bullet points:
While Johnson confirmed the worst fears Derek Carty and I expressed about him over the weekend, Baltimore's other bullpen arms lived up to their billing, combining for three scoreless innings. On Sunday, I wrote that Brian Matusz would be called upon to neutralize the Yankees' big lefty bats in the late innings, with Darren O'Day drawing the righties. Both pitchers did their jobs in Game One, as Matusz got Robinson Cano to ground out and struck out Nick Swisher and Curtis Granderson, while O'Day retired Derek Jeter, Ichiro, and Alex Rodriguez. After Johnson gave away the game, Tommy Hunter came in pumping mid- to high-90s heat. Johnson is the closer, but he's probably not the best pitcher in this bullpen.

The success of Matusz and Hunter makes me wonder who's next. You know some front office will look at them, see late-inning arms where once they saw fringy fourths or fifths, and decide to put their own struggling starters through the same shorter paces. Maybe taking 60 innings now and sacrificing the possibility of three times that many innings later is the baseball equivalent of the Stanford marshmallow experiment, or maybe it's just making the most of an asset that likely won't last long anyway.

The Yankees scored their first run of the game on a 3-2 double by Ichiro with Jeter on the move from first. It was strange to see the Yankees score that way, and not only because no one hit a home run. Yankees hitters haven't been very successful when they've decided to swing with a runner in motion—they've swung in those situations at a roughly average rate, but they've put the ball in play less often than all but four other teams. But put a player with Ichiro's bat control behind Jeter, and even the Yankees can play small ball when they want to.

I've seen Camden Yards fill up for the Yankees in the last few years, but I'm not sure when I last saw it fill up with Orioles fans. Best guess: before Cal Ripken's retirement.

Speaking of Rodriguez, here's a little compilation I call "A-Rod missing fat fastballs."


Rodriguez had a tough night at the plate, going 0-for-4 with a walk and three strikeouts. He swung 10 times and only once put the ball in play. No, I'm not going to call him un-clutch. But Yankees fans should probably start hoping he's just choking. If A-Rod's problems were psychological, they could perhaps be cured, or at worst would manifest themselves for only one month a year. The more likely and more discouraging explanation of why he's missing pitches he once would have crushed is that he's surrendered some bat speed. A-Rod isn't aging well, and he has a lot of aging ahead of him before his contract expires at the end of the 2017 season. It'll be interesting to see whether Girardi decides it's worth the distraction to move him down in the lineup.


There was also the time he aborted a slide into second when he mistook J.J. Hardy for a swarm of bees.
Girardi's decision to remove Sabathia with two outs in the ninth didn't strike me as an example of the October overmanaging he's known for. Sabathia had thrown 120 pitches. While that might not be much by the standards of his previous seasons, this isn't necessarily the indestructible CC who could throw 250 innings and start on three days' rest and look none the worse for wear. This is the CC who's hit the DL twice, lost some velocity, and looked less than sharp at times (though not in his last several starts). Maybe Girardi could have gotten away with using someone a little lower than Robertson in the bullpen pecking order, but there was no reason to extend his starter.

In the top of the ninth, Joe Girardi made a non-move I've seen managers not-make before but never understood. With no outs, the bases empty, and the Yankees up 3-2, Raul Ibanez singled. Girardi did not remove him for a pinch-runner. Jeter, the next batter, singled, driving Ibanez to third. Then Girardi pinch-ran for Ibanez with Eduardo Nunez, who'd go on to score on an infield hit by Ichiro. Why remove Ibanez once he's at third, but not as soon as he reaches base?

CC Sabathia struck out seven Orioles on Sunday, but only three of the strikeouts were swinging. Most accounts of his performance credited either his pinpoint control or home-plate umpire Tony Randazzo for expanding the corners of the strike zone. Of course, Sabathia and Randazzo deserve some credit (or blame, depending on your perspective) for those extra strikes, but so does someone else: Russell Martin. When you think about the best framing catchers, Jose Molina probably comes to mind first, but Martin is an excellent receiver in his own right.


And those are just the called strike threes—I'm not even including the called strike ones and twos, of which there were plenty.


The batter reaction might be the best part of a perfect frame; each hitter has his own way of dealing with the psychological trauma of watching a ball become a strike.

Mark Reynolds half-heartedly digs in for the next pitch he knows isn't coming, then Charlie Browns out of the batter's box.
Nate McLouth can't decide whether he walked or struck out, so he splits the difference, simultaneously tossing his bat and checking his shin guard. Then he blows a bubble.
Matt Wieters gives the umpire some helpful feedback.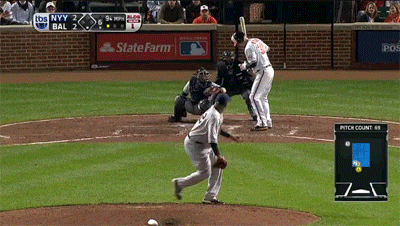 Robert Andino tries to do a double salchow.
CC Sabathia's pants will see you the size of Jonathan Broxton's pants and raise you one Royals reliever.

Since the Yankees are up 1-0, I'll end with this image of an intensely focused Yankees fan forever raising the roof.
Thank you for reading
This is a free article. If you enjoyed it, consider subscribing to Baseball Prospectus. Subscriptions support ongoing public baseball research and analysis in an increasingly proprietary environment.
Subscribe now