There is, in the American League East this year, an inspirational story worth cheering for. It is a story of underdogs, of overachievers, of a group of players counted out, of a team of men who didn't give up. When everything was against them, these men fought harder. I'm almost choking up over here.
Not the Orioles. Pfft. Bunch of big-shot millionaires. Nope, I'm talking about a truly inspirational roster: The New York Yankees.
I'm serious! Well, I would say that if I were serious, and I would say that if I were being satirical, and I'm honestly not sure which direction this piece will go, so we're safe either way. But here's what I know: when you get past your idea that the Yankees are paid a lot and represent systemic imbalance and should win and can't possibly be an underdog, you can find a lot of reasons to be pretty happy for the Yankees.
Start with Derek Jeter. Ugggggggh you're so sick of Derek Jeter, but Derek Jeter overcame a lot. Derek Jeter's parents were of different races, and Jeter had to deal with racism because of it.
You'd go places and get stares; if you were just with one of your parents, people would give you a double-take because something just didn't seem right," Jeter said during the television interview. "You'd hear some things, whispers when you walk in, laughs. It also taught you that there are people that were uneducated in terms of different races."
When asked if the "N-word" was used, Jeter said it was.
Can you imagine? Growing up in a culture that judges a child because other people don't approve of his parents' love? That seems like the sort of thing you're against!
Jeter isn't not the only one whose parents' marriage made his life complicated. CC Sabathia's
"dad used to come to the games, too, but abruptly stopped. He stopped coming around the house. Sabathia was 13. 'CC never asked what happened, or where he was,' Margie says. 'But he would always look in the stands for his dad. I was looking for him too.'
Sabathia's dad was a drug addict who was in and out of his life; he got HIV, and he died of stomach cancer at the age of 47. Sabathia's mom "took a keen interest in her son's baseball career. Margie was so set on C.C. becoming a pitcher that she invested in catching gear for herself." Hey, don't be so cynical. This is touching. Think about all the things your mom did for you. Moms are the best.
Moms are the best. You know what Russell Martin does with his money? He pays his mom's bills so she can retire and focus on artistic pursuits. "Now, she goes into old folks' homes and she sings," Martin said. (Martin's dad, incidentally, used to play saxophone in the subway to pay for Martin's coaching.)
Nick Swisher's parents split up when he was a kid, too. Gah this is sad:
"I had bunk beds in my room," Nick remembers. "One night, in the off-season, my dad started sleeping in the bottom bunk and made me sleep in the top. I thought he was just kind of hanging out with me, you know? Little did I know that a week later they were gonna drop the bomb on us. I didn't see it coming at all, man." Swisher's parents divorced when he was in the sixth grade.
Swisher was so upset by the split that he ended up moving, on his own, to live with his grandparents. "Sports became his release," according to his dad. "He poured everything he was feeling into baseball." Nick Swisher was a kid once, and when he was a kid he got hurt, and that's a terrible thing. Is that why Nick Swisher still feels so much anxiety about being loved?
"I've never been part of an organization that welcomed me in and said, 'You know what, you are exactly the guy we want. Don't change a thing. Be yourself.' I've never really had that before," he says. "Oh my gosh! Talk about filling your heart up, man! I'm the type of guy, you give me a hug, I'll run through a brick wall for you. Every time I take the field and the place goes crazy …" Swisher ­pauses. "Man, I really want to be here. I want to stay here."
Bless Nick Swisher's heart, whether you find him annoying or not. Dude is a person, and person is a dude.
Brett Gardner was a walk-on in college, and during his tryout he didn't hit a ball out of the infield. Versions of the story vary, but according to Wikipedia, Gardner didn't bother waiting for the coach to make a decision; he just started showing up and practicing with the team.
A decade later, Gardner did the hit-a-home-run-for-a-kid-with-cancer thing. Well, kid awaiting a heart transplant. Brett Gardner, with 15 career home runs, hit a home run for a kid who needed a heart transplant, on demand. I mean come on.
Ichiro seems happy, but Ichiro wasn't always happy, because Ichiro's dad sounds like he was sort of the worst:
The elder Suzuki claimed, "Baseball was fun for both of us," but Ichiro later said, "It might have been fun for him, but for me it was a lot like Star of the Giants," a popular Japanese manga and anime series about a young baseball prospect's difficult road to success, with rigorous training demanded by the father. According to Ichiro, "It bordered on hazing and I suffered a lot."[citation needed]

When Ichiro joined his high school baseball team, his father told the coach, "No matter how good Ichiro is, don't ever praise him.
Similarly, Hiroki Kuroda described the abuse his coaches put him through. The headline alone:
Details:
As a boy, he sneaked away from an abusive high school coach to gulp water from a polluted river. He saw some of his teammates, desperate with thirst, drink from a puddle, and he heard of others who would do so from a toilet.
Drinking from a toilet, or even thinking about drinking from a toilet, is all it takes to get me to root for a person. Go Hiroki Kuroda!
Robinson Cano's dad, Jose Cano, pitched just six games in the majors and went to Taiwan to try to keep his career alive. This isn't quite the same as if Robinson Cano went to Taiwan to try to keep his career alive before becoming a star, but it's also not totally different. Cano spent part of his teenage years in a Newark neighborhood so tough that his father insisted the family move back to the Dominican Republic. Years later, of course, Cano was offered to the Rangers in the A-Rod trade and rejected by the Rangers in the A-Rod trade. Poor young Robinson Cano, basically told by two teams he was no good.
Rafael Soriano hit .167 as a corner outfielder in rookie ball and was weeks away from washing out of baseball before the Mariners converted him to pitcher. Ivan Nova didn't start pitching until he was 15, so he was way behind in his development. As a result,
Each day, Nova woke up at 5 a.m. to work out. At times, he wanted to stay in bed, but his father, Manuel, a manager of a restaurant/bar on the beach in San Cristobal, was up to encourage his son to work hard, something the father had done all his life to provide for his children. There were times when the family didn't have enough to eat, and Manuel Nova would sacrifice half his dinner so his five children, who all slept on one bed, could have a bit more food.
Nova knew he couldn't send his father away when he came calling at 5 a.m., no matter how much he wanted to sleep.
Joba Chamberlain's mom was on drugs. He worked in a city maintenance department to pay bills before finally enrolling in a Division II school. Andruw Jones hit .158/.256/.249 in the major leagues as a corner outfielder one year. How is he still here? How did that not end his career? Andruw Jones is somehow a survivor! And Eric Chavez is basically Lew Ford, except a) he disappeared from the majors metaphorically instead of literally, which is not substantively different and b) he's actually really good again. Phil Hughes got injured in the middle of a no-hitter in his second career start. Now he gets booed. What if that injury had waited eight more outs?
Raul Ibanez had just 27 career home runs before his age-30 season. He was a total scrub. A part-timer at best. And then? He's 15th all-time in RBIs from 30 on, and 31st all-time in hits, and 40th all-time in home runs. He's one of the great post-30 hitters in history. That's a wonderfully inspiring turnaround, especially if you're roughly 30 years old right now and not totally thrilled with what you've accomplished in your life.
Mark Teixeira is just apparently a pretty good dude who turns off his cell phone when he enters the locker room so he won't bother his teammates. Uhh Chris Stewart reads a lot of books. That's unusual for a baseball player. He might be reading this. He's just like you!
Poor Boone Logan was put in a position to fail. He was super, super raw—he didn't start pitching until he was a senior in high school—and when he was 21 the White Sox jumped him from the short-season Pioneer League to the majors coming out of Spring Training. He was terrible! Of course he was terrible. He was terrible, then he was terrible, then he was terrible, then he was terrible, and teams kept trading him, and it wasn't until his fifth or sixth season that he finally got to be good instead of bad while the entire world was watching.
David Robertson's hometown was crushed last year by "the largest single-system tornado outbreak ever recorded." Forty-three dead, 1,000 injured. He said: "My entire family and most of my friends still live there. It's where I first fell in love with the game, playing Little League. It's where I played college ball. It's where I proposed to Erin. It was home and always would be." The other thing about David Robertson that makes him easy to root for is that this little thing is totally in love with him and wants him to win. You can't root against this little thing, can you?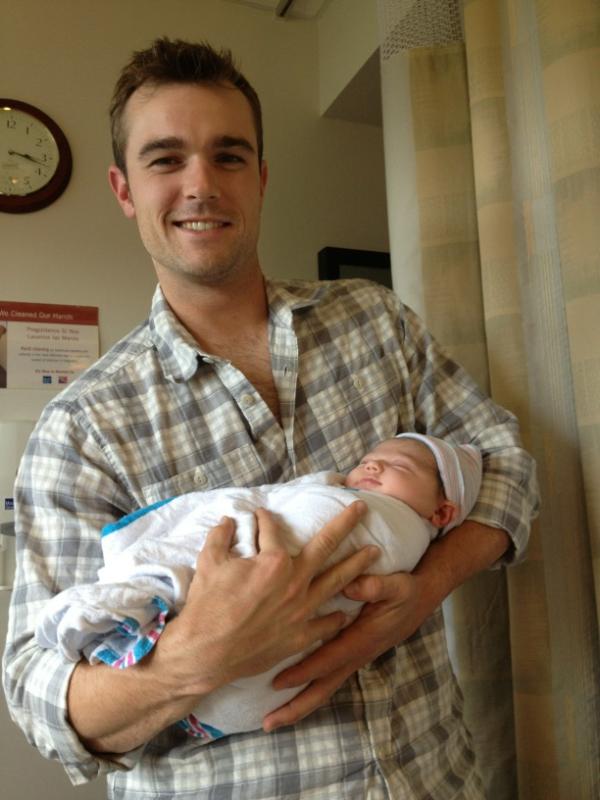 For that matter, how can you root against David Phelps, who made his major-league debut this year while his two-week-old daughter was in the stands? You can't. You want that little girl to think her daddy is a winner, don't you?
It's not like Andy Pettitte wanted to be a bad guy. The pressure this game puts on you, that life puts on you. None of us is as strong as we think we are. The temptation came when Andy Pettitte was weak, and now Andy Pettitte's obituary will mention that he cheated. People will think he was a bad guy.
Curtis Granderson wrote a children's book a few years back and admitted in it that "I wore glasses in school — ugly glasses! And in my school, kids made fun of people who wore glasses. They called you 'four eyes' or said you needed a seeing-eye dog, all kinds of mean stuff." He also said, in an interview promoting the book, "I'm not much different from you. All the different issues you had to deal with, I had to deal with, that led me getting to this point." All the different issues you had to deal with. Whatever has made you sad. Whatever has held you back. Whatever gland you have that stopped working and now you have to take supplements every day and it makes you feel so old. He dealt with all of them.
Cody Eppley. Poor Cody Eppley doesn't even get an anecdote in this piece. Jayson Nix doesn't even get his own paragraph. And that other guy, I forget that he's on this team and he's not even going to get named.
Derek Lowe on second thought let's avoid this one.
Joe Girardi's father, according to Gay Talese's profile of Girardi in The New Yorker, "held three jobs (bricklaying on weekends, bartending at a Howard Johnson's at night, and on weekdays hawking gypsum products as a travelling salesman). His mother stayed up late working toward a master's degree in clinical psychology." Angela Girardi was diagnosed with cervical cancer when Girardi was a teenager. She died when he was in college. "He was there when she opened her eyes, looked around, and whispered, 'Don't forget me.'"
Even Alex Rodriguez. What could possibly be likeable about A-Rod? What could he have possibly overcome? I once found this newspaper story from 1993:
Steve Butler, who has signed with Florida State, marvels at Rodriguez. "He has to perform every time out," Butler said. "A classic case was last Saturday night. He struck out twice looking, and the crowd was on him. He does the littlest things wrong and they get on him."
Dude was maybe 15 or 16 or 17 at the time, and he already had to be the heel. He already had people who didn't know him booing him, expecting him to be a jerk because they just didn't like something about him. Dentists, you know, dentists have a job that makes them very unpopular, and (presumably) because of this dentists have a very high suicide rate. It's hard to be not liked. You maybe tell yourself, nah, it's cool, I'm the villain, I have a power, they hate me but they respect me. But no. It's hard. It's hard to be Alex Rodriguez, because people don't like him, and people don't like him because he drinks and drives hits his wife is loudly racist wanted to have money, wanted to be appreciated, and wanted to win. The nerve.
So I guess I'm still not sure whether I wrote this seriously or not seriously, but I think mostly I wrote it seriously. Obviously, you're going to cheer for the Orioles this month, unless you're a Yankees fan. You'll probably cheer for the A's. We like underdogs, and we don't like the guy who, as the saying goes, was born on third and thinks he hit a triple. That might apply to the Yankees as a team. But it doesn't apply to the Yankees as players. Life is hard, really hard, and nobody makes it through without being challenged and without being tested. Not a single player in this month's playoffs, on any team, is perfect. But not a single one is irredeemable, either.
Thank you for reading
This is a free article. If you enjoyed it, consider subscribing to Baseball Prospectus. Subscriptions support ongoing public baseball research and analysis in an increasingly proprietary environment.
Subscribe now