If you're like me, you've been waiting for PITCHf/x leaderboards filled with info from Brooks Baseball for a while. And now that you have them—again, if you're like me—you're compelled to keep sorting columns in descending order, in every possible permutation, just to see what will rise to the top. Sometimes what rises to the top is a name you don't expect to see. This is an article about a few of those names, and the pitches that plucked them out of obscurity and took them to the top of a leaderboard where no one would have expected them to be.
There are many ways to gauge the effectiveness of a particular pitch. One way is to see how often batters fail to hit the pitch when they attempt to. This leaves out a lot of information—how often they attempt to hit it, how well they do when they succeed, how well the pitch sets up a subsequent offering—but it is a quick-and-dirty way to assess unhittability. The most unhittable pitches—by this definition of "unhittable"—are pretty predictable. Cole Hamels has the most unhittable changeup. Zack Greinke (or Edwin Jackson, depending on your minimums) has the most unhittable slider. A.J. Burnett has the most unhittable curve. (That one might seem slightly less predictable, but even during his disappointing seasons, Burnett's curve was always hard to hit.) Among relievers, if you set the thresholds low enough, Aroldis Chapman has the most unhittable fastball and the most unhittable slider. Aroldis Chapman is really hard to hit.
Swings and misses are sexy, but having one pitch that's hard to hit doesn't necessarily make a pitcher effective. In fact, in the cases of the following four starters, it definitely doesn't. Here's how you pull off one sexy pitch without putting together the complete package.
Four-seam fastball: J.A. Happ
How unhittable is it: Hitters have missed Happ's four-seamer a quarter of the times they've swung at it. That's the highest rate among the 38 starters who've thrown at least 1000 four-seamers this season.
Why it's surprising: Because it's thrown by J.A. Happ, who has a 5.08 ERA in his last two seasons and 300-plus innings. And because he doesn't throw it that hard: Happ's four-seamer averages 91.1 miles per hour. The average velocities of the other four fastballs in the top five: 93.8, 95.2, 95.3, 94.1.
What a whiff on a 91-mph four-seam fastball from Happ looks like: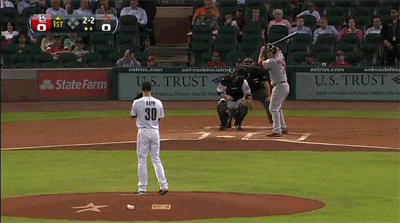 Note: I could have shown you Happ whiffing Jerry Sands or Jonathan Sanchez on 91-mph four-seam fastballs, but, hey, Matt Holliday!
Has it been this hard to hit before: Not quite, but close. Happ's four-seam whiff rate ranked sixth last season, at 21.3 percent. The bad news: despite those whiffs, Happ struck out only 7.7 batters per nine last season. The five guys with four-seam whiff rates higher than his collectively struck out 9.5 batters per nine.
Why it's so hard to hit: Happ has a deceptive over-the-top delivery that hides the ball from the batter until right before release. You've already seen him throw, but let's slow down his delivery. Here's what he looks like two frames before the ball leaves his hand:
Now one frame before. His elbow has moved, but the ball basically hasn't. It's still hidden behind his head.
Then he lets it go, and the batter wonders where that baseball came from.
Player testimonial, courtesy of David Murphy: "His fastball is deceptive and he hides it a little bit. It's 90-91 mph, but it looks like it explodes out of his hand at 95-96 mph. It gets on you a little bit, has good four-seam action, and it's just deceptive."
At least two major-league managers (Charlie Manuel and Manny Acta) have called Happ's heater "sneaky."
Also of interest: Happ's four-seam fastball averages almost 12 inches of vertical movement. Only Clayton Kershaw's has more. So not only does Happ's way of hiding the ball make his fastball look faster, his heater also looks like* it's rising.
*"Rising" fastballs don't really rise. They just drop less than they look like they should.
According to Max Marchi, the best predictors of vertical movement are spin rate and speed. What Happ lacks in velo, he makes up in spin rate. And it's not just how many rotations his four-seamer makes on the way to the plate—it's also the angle of the rotations. A pitch with perfect backspin has a spin angle of 180°. Happy's spin angle is right around 150°, which is about as good as it gets.
Most likely sequence to lead to a swinging strike: Happ's fourth-most-frequent sequence to end at-bats goes like this: four-seam fastball in the zone, followed by four-seam fastball high and away. Check out the red squares in the "Swing/Strike" row, first against lefties and then against righties:
Free advice for hitters from an armchair advance scout: if Happ just threw you a four-seamer in the zone for strike two, look up and away and resist the temptation to swing. Better yet, don't even look. Then you won't even be tempted.
Why he's not better: All pitchers work off their fastballs, so you'd think Happ would have it made. But whatever alchemy makes Happ's heater miss bats doesn't extend to his off-speed stuff. Over his last two seasons, Happ's four-seamer whiff rate has been higher than his whiff rate with any other pitch. That's not a formula for success. Even Matt Moore, who has the second-highest percentage of whiffs with his four-seamer this season, gets way more whiffs with his curveball and changeup. Since Happ's off-speed stuff isn't enticing, he struggles to get hitters to chase outside the strike zone. Fewer chases has translated to more walks and a pretty pedestrian strikeout rate (until 2012, at least).
Happ has actually improved in almost every respect this season, even if his ERA doesn't indicate it: more chases, fewer walks, more strikeouts and grounders. Still, even if he'd pitched to his FIP, he'd be about league average. That's about the best you can expect from someone so dependent on one pitch..
Sinker: Justin Masterson
How unhittable is it: Sixty-nine starters have thrown at least 500 sinkers this season. Sixty-eight of them have had lower whiff rates with the pitch than Masterson's 18.8 percent. Of course, the primary goal of a sinker is to get groundballs, and Masterson's does that on 65 percent of balls in play—more often than all but four other pitchers'.
Why it's surprising: You're probably going to notice a pattern here. Masterson's ERA is almost 5.00, and with an average velo of 91.3 mph, his sinker speed ranks 37th out of the 69 qualifiers. The pitch isn't a visual treat, and neither is Masterson's stat line.
What a whiff on a 91-mph sinker from Masterson looks like: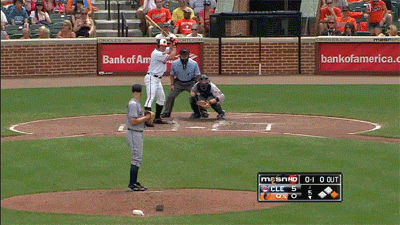 Has it been this hard to hit before: Yes. In 2010, almost 20 percent of swings against Masterson's sinker were whiffs.
Why it's so hard to hit: Simple: it sinks more than any other sinker. Its vertical movement this season averages -0.5 inches, meaning it drops more than a pitch thrown at the same speed with no spin would. No other sinker's vertical movement is a negative number.
Most likely sequence to lead to a swinging strike: Also simple. Against right-handed hitters, the second-most-frequent way Masterson ends at-bats (and gets swinging strikeouts) is by throwing back-to-back sinkers below the zone.
Why he's not better: This arm angle:
It worked that time against Jim Thome (a nightmare matchup for Masterson), but Masterson's sidearm delivery gives lefties too long a look. Masterson has better career numbers against right-handed hitters than Roy Halladay does, but lefties have a career .292/.367/.434 line against him. He relies on sinkers and sliders, which also happen to be the two pitches with the biggest platoon splits.
Cutter: Luke Hochevar
How unhittable is it: Among the 41 pitchers who've thrown at least 300 cutters this season, only Homer Bailey has had a higher whiff rate with the pitch than Hochevar's 31.8 percent.
Why it's surprising: Because it's thrown by Luke Hochevar, who has the fifth-highest ERA of any pitcher with at least 150 innings this season and owns a career 79 ERA+. (The former first overall pick has been worth exactly two WARP in almost four full seasons' worth of innings.) And because it averages just under 89 mph—a decent pace, but not a remarkable one.
What a whiff on an 89-mph cutter from Hochevar looks like:
Has it been this hard to hit before: Just about. Hochevar's cutter had a 30.3 percent whiff rate last season, which ranked behind only Tim Hudson's and Chris Carpenter's among full-season starters.
Why it's so hard to hit: Hard to say. Nothing about the cutter's speed, movement, usage or location immediately marks it as a standout pitch. It just keeps missing bats.
Why he's not better: This is the fascinating part: according to Royals pitching coach Dave Eiland, Hochevar has been as bad as he has because of the cutter.
Now, is his cutter that bad of a pitch? No, but when you throw a cutter, you have to get on the side of the baseball. When you throw the fastball, two- and four-seamer, you have to be behind it. When you throw a change-up, you have to be behind it. When you throw a curveball, you have to get back on top of it. If you throw too many cutters, you start slipping on your fastball. You don't get back behind it. You have to go back to your curveball, and you get beside it. It's flatter. … Use it sparingly. For me, only five, six percent of his pitches should be cutters. Use it when you need it.
Hochevar has thrown 15 percent cutters, roughly three times Eiland's recommended daily allowance. It's hard to blame Hochevar: when innovation backfires, it's only natural to fall back on what works. The cutter is his comfort food, and he's been binging.
Hochevar admits he's hesitant to shelve his cutter while pointing out opponents are "only hitting about .170" when he throws it.

…

Hochevar agrees that his cutter can lead to bad habits on other pitches but argues the solution is to eliminate the bad habits, not the cutter.

"I really don't think it matters what pitch you're throwing if you execute it. A good pitch is a good pitch."
Some KC fans seized on Eiland's edict as the latest sign that the Royals don't know what they're doing. But maybe he's right, and Hochevar does have to give up something to get something. Clearly, the cutter isn't enough.
Slider: Zach Britton
How unhittable is it: Exactly half of the swings against Britton's slider this season have come up empty. Only Greinke's and Jackson's sliders have been more elusive among starters who've thrown the pitch at least 200 times.
Why it's surprising: Britton's slider is slow—just under 82 mph. That doesn't mean that much. Jered Weaver's slider is about the same speed. But Weaver is a Cy Young candidate, and Britton is a guy with an ERA over 5.00.
What a whiff on an 82-mph slider from Britton looks like:
Weak swings are pretty typical.
Has it been this hard to hit before: With Britton, "before" is limited to last season. And the answer is yes, Britton's slider has been this hard to hit before. Harder, even. His slider whiff rate last season was 53.4 percent. We're still talking about a fairly small sample size here—Britton has thrown just over 500 sliders total, fewer than some pitchers have thrown this season alone—but his slider has been harder to hit than any other starter's since the start of last year.
Why it's so hard to hit: Look at A.J. Pierzynski's feeble little wave. Put yourself in his place. Imagine how much more feeble your wave would be, if you tried to hit that. As long as Britton can locate that pitch on the outside corner, with that movement tailing away from southpaws, he can keep throwing it until Buck Showalter tells him to stop.
Why he's not better: Britton has nearly doubled his slider percentage from last season, which has led to a lot more strikeouts. However, he's still vulnerable to opposite-handed hitters, and his control could use some work.
Thank you for reading
This is a free article. If you enjoyed it, consider subscribing to Baseball Prospectus. Subscriptions support ongoing public baseball research and analysis in an increasingly proprietary environment.
Subscribe now