Claimed LHP Daniel Moskos off waivers from the Pirates. [7/6]
The Pirates sealed Moskos' Pittsburgh legacy when they selected him instead of Matt Wieters in the 2007 draft. Five years later, Moskos gets a fresh start. Moskos continues to battle elbow issues, even this season. His upside points to left-handed specialist; a less than ideal outcome for the fourth-overall pick. But the draft status no longer matters. Besides, Don Cooper has done more with less before. Should Cooper work his magic with Moskos, then you could see him join Leyson Septimo and Brian Omogrosso on the Blackhawks third line. I mean in the White Sox bullpen.
Optioned RHP Nathan Adcock and UTL-S Irving Falu to Triple-A Omaha. [7/9]
Activated OF-R Lorenzo Cain and 2B-L Chris Getz from the disabled list. [7/9]
Claimed C-R Adam Moore off waivers from the Mariners; optioned him to Triple-A Omaha. [7/7]
Released C-R Humberto Quintero. [7/5]
You can forgive Cain if he feels the universe is conspiring to turn the Royals fan base against him. Cain came to Kansas City in the Zack Greinke trade, of course. He spent most of last season in the minors due to uncharacteristically strong seasons from Melky Cabrera and Jeff Francoeur. When Cain did get his opportunity this season, he became the fifth different player to start in center field for the Royals on opening day since 2008. He then went 2-for-15 before straining his hip. Luckily for Cain, he has the talent to atone for a sluggish start. Those Royals fans that have soured on Cain should warm up once they realize his return means fewer plate appearances for Jarrod Dyson.
Three reasons can explain every acquisition: need, want, or obligation. Throw obligation out of the window because Dayton Moore and Adam Moore do not share blood. You can ditch want as well, although it may have applied a few years ago. This feels like a need-based move. Quintero's release and Manny Pina's ongoing rehab left the Royals with two healthy catchers on the 40-man roster. Had an injury occurred to Salvador Perez or Brayan Pena, the Royals' alternative may have been Max Ramirez; and behind him on the Triple-A depth chart is Cody Clark. Moore is no great shakes, but having more organizational depth behind the plate never hurts.
Re-signed 1B/DH-R Edwin Encarnacion to a three-year deal worth $29 million with a $10 million club option for 2016. [7/12]
Back in March, when explaining why he chose to re-sign Dustin McGowan, Alex Anthopoulos said, "But in this division, with what we're up against and what we're trying to do, we have to take a little bit more risk, or maybe a lot more risk than a lot of the other teams, and that's part of it. But I'll take the risk on the right human being, and if you bet on the human being, you're going to be fine."
In extending Encarnacion, Anthopoulos is again betting on a human being. This time it's hitting coach Dwayne Murphy. It was Murphy, along with Luis Mercedes, who served as the guiding forces behind Encarnacion's preseason mechanical adjustments. To be precise, Encarnacion shortened his swing and changed from a one-handed follow through to using both hands (as noticed by Jack Moore):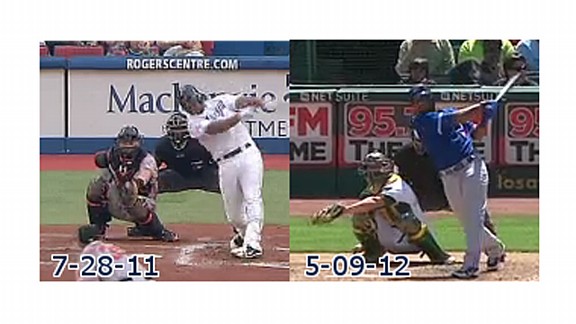 We've seen this help a batter before, just as we've seen the Jays bet on substantial in-season improvements before. The difference between Encarnacion now and the Jose Bautista and Adam Lind extensions of the past comes down to the track record involved. Encarnacion has had an adjusted-OPS over 100 in every season since 2006 except one. That's not to say there isn't risk involved. There is. Encarnacion's value stems entirely from his bat.
But the money and length are reasonable here, and what alternative did the Jays have? Reports suggest they were feeling out the Encarnacion trade market as recently as last week. The new Collective Bargaining Agreement presumably killed their chances of getting a good piece back, since the new team could not receive draft-pick compensation. Similarly, the Jays may have felt Encarnacion would accept the qualifying offer. That left Toronto with two avenues: extend Encarnacion or let him walk at season's end.
When the Twins extended Ryan Doumit I wondered if we'd see more good, not great players receive extensions as a way to improve their trade value. It applies here, too. The Jays can keep Encarnacion through season's end and shop him in the offseason. Alternatively, they could keep him and see if these improvements have turned him into one of the league's better hitters. If the worst-case scenario is having an above-average bat under control through the 2015 season at an average annual value of less than $10 million then you should probably feel okay about doing the deal.
Thank you for reading
This is a free article. If you enjoyed it, consider subscribing to Baseball Prospectus. Subscriptions support ongoing public baseball research and analysis in an increasingly proprietary environment.
Subscribe now