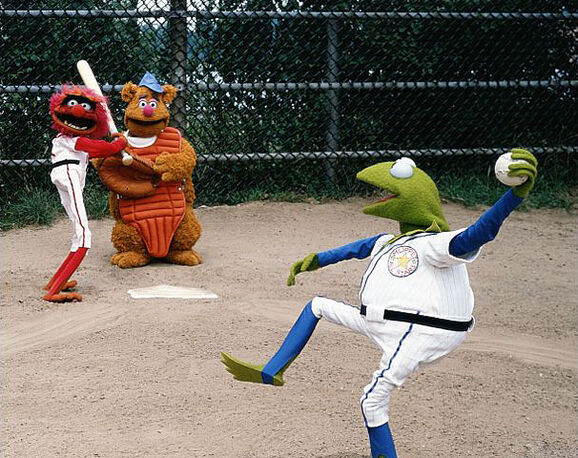 As we head into the Thanksgiving holiday weekend, we can all look forward to some delicious turkey and gravy, some awkward conversations, a little football (if we have nothing else to do), far too many crazy "Black Friday" shoppers, and, oh yes, a new Muppets movie.
For those of us of a certain age, the Muppets (and everyone in the Muppets universe) were an important part of our childhood, teaching us valuable lessons while treating us like adults. Kermit the Frog, Gonzo, Fozzie Bear and everyone else were funny and relatable despite dealing with issues foreign to most 10-year-olds. It's a formula that worked great in 1975 and still works today.
Sadly, the Muppets rarely visit the baseball world. The biggest connection is in the film The Great Muppet Caper, when Charles Grodin frames Miss Piggy while stealing the largest diamond in the world, "The Fabulous Baseball Diamond", which can be found on a baseball mitt-shaped pillow in the Mallory Gallery. Even in the expanded Muppet universe, such as Sesame Street, baseball is rarely featured. The 1986 Mets' visit to Sesame Street, including Ron Darling helping Tully with his baseball card collection and Mookie Wilson and Keith Hernandez playing ball with the Count, is notable, but my favorite moment is below – a scene with Grover at Dodger Stadium (complete with colorful fans in the crowd).
The Muppets' regular cast of characters is one of the richest, most diverse groups you can find in movies, with everything from singing chickens to weirdos from outer space getting screentime (and making you laugh). It's no accident: when your characters are what define your world and your success, they tend to be well-constructed. With that in mind, it seemed like it might be fun to match up the best-known Muppets with today's ballplayers to see what we might find. As a fan of the Muppets and of baseball, I'm pretty happy with the results.
Kermit the Frog
This one is almost too easy. Kermit is clean-cut, well-spoken and the universally-loved leader of the Muppets. That is the perfect recipe for Yankee shortstop Derek Jeter. I don't know if Jeter ever sits in a swamp singing about the Rainbow Connection, or if he could successfully lead his ragtag group of pals out of a rundown hotel and into stardom, but there's no better Kermit in all of Major League Baseball than Jeter.
Miss Piggy
There are three things that define Miss Piggy: a desire to be in the spotlight, a drive to be loved by everyone, and her relationship with Kermit. Once you remember that Derek Jeter is Kermit the Frog, the Miss Piggy choice becomes incredibly obvious. That's right – MLB's Miss Piggy is none other than Alex Rodriguez.
Gonzo
This one's a bit of a stretch because I was hoping to use only currently active players on this list, but I couldn't pass this one up. Baseball's certified weirdo these last twenty years has been, without a doubt, Manny Ramirez. He may have quit baseball for good at the start of the season, but that's not enough to keep me from calling him the Gonzo of the league. His "weirdo-ness" is too great. (I suppose if I had to go with an active player, I'd choose Ichiro, who has a completely different, "cool" weird vibe.)
Fozzie Bear
Sweet and (kind of) funny, Fozzie is a good sidekick who tries a little too hard to get a laugh out of everybody. San Francisco's closer might not be a sidekick, but he may just be best suited for that role. Brian Wilson certainly has the "trying too hard to be funny"-thing down pat, though.
Dr. Bunsen Honeydew & Beaker
The smartest member of the Muppets, Bunsen doesn't exactly fit in with the rest of the group. Ross Ohlendorf doesn't exactly fit in with the rest of the baseball fraternity, having served an eight-week internship during the 2009 off-season, three years into his major league career (among other academic pursuits). Beaker may be smart as well, but it's hard to say. Instead, we know him as the weird looking Muppet who hardly ever speaks. If you can find a more accurate description of Zack Greinke, I'd love to hear it.
Animal
Wild-haired and just plain nuts, Animal is the craziest, most energetic member of the Muppets. Whenever Animal is around – whether it's on-stage at the drums or sitting in the back of the bus – you never know what is going to happen. Tim Lincecum might be "the Freak", but Animal's MLB counterpart is actually Jonathan Papelbon. His attitude and antics make every appearance something to pay attention to.
The Swedish Chef
Bork Bork Bork! A cheff ooff zee Svedeesh persooeseeun, knoon fur hees tell het, beeg moosteches, und foonny vey ooff telkeeng. Eccurdeeng tu un oold ferseeun ooff hees Veekipedia pege-a, Dan Uggla "descends frum zee unteetled brunch ooff un oold Svedeesh nuble-a femeely." Vhu ilse-a cuoold be-a zee Svedeesh Cheff? Bork Bork Bork!
Sam the Eagle
I don't think Luke Scott would mind this comparison.
Rowlf
It's not well-known now, but Rowlf used to be the most popular Muppet. His laid back personality and musical gifts make him very likeable today, but he certainly isn't appreciated at all like he used to be. There aren't many musically-inclined ballplayers to choose from, so I'm stuck taking California-laidback Barry Zito as MLB's Rowlf. I'm not sure how happy I am with it, but at least their personalities seem to match.
Pepe the King Prawn
Easily one of my favorite Muppets, Pepe is a smooth talking prawn with a Spanish-accent, mmkay? He is very funny, but also highly underrated among his fellow Muppets. Adrian Beltre is also really, really good at what he does while being criminally underrated by his peers. The fact that Jon Miller would over-pronounce both of their names in the same way makes it all the more perfect.
Statler and Waldorf
Old curmudgeons watching over the field from above, making snarky comments about all the current talent. No, I'm talking about Statler and Waldorf, not Bud Selig and Joe Torre…
That's all I can come up with. The cast of the Muppets is big and varied, with enough minor stars and underappreciated guys for everyone to have a favorite or three. If I missed your favorite, or if there's a better MLB comp out there for someone listed above, let me know.
Thank you for reading
This is a free article. If you enjoyed it, consider subscribing to Baseball Prospectus. Subscriptions support ongoing public baseball research and analysis in an increasingly proprietary environment.
Subscribe now