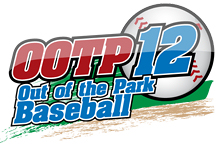 Our friends at Out of the Park Development have given us a few free copies of OOTP Baseball 12 for PC or Mac to give away, so we're adding those to the prize list for the Internet Baseball Awards. (Craig Brown reviewed OOTP 12 for Baseball Prospectus earlier this year.) If you're a subscriber who has played the game yourself and want to let people know what you think, please leave your thoughts in the comments.
If you're a tablet or smartphone enthusiast, we've also got a few codes for iOOTP, the Out of the Park Baseball product for iOS. You can run iOOTP on an iPhone, iPod Touch, or iPad, and it has native iPad support.
We got a late start with balloting for the IBAs this year and we're already in the middle of a crackerjack World Series, so we're extending the deadline for voting (and for making your own public ballot) to Thursday, October 27 at 11:00PM PST.
Click here to vote in the 2011 Internet Baseball Awards.
Thank you for reading
This is a free article. If you enjoyed it, consider subscribing to Baseball Prospectus. Subscriptions support ongoing public baseball research and analysis in an increasingly proprietary environment.
Subscribe now