The Good
Through two starts in the big leagues, Padres right-hander Dinelson Lamet is opening some eyes. On Tuesday night against the Cubs, Lamet generated an outstanding 17 swinging strikes over 93 pitches, including 10 with his slider. Lamet has generated 28 swinging strikes through 184 pitches in his two starts, a 15.2 percent rate, which is well above the major-league average of 9.6 percent for starting pitchers. He has struck out 16 of the 42 batters he has faced, a 38 percent rate, also well above the major-league average of 20.3 percent for starting pitchers. He's kept free passes under control, walking three of the 42 batters he's faced, a 7.1 percent rate, slightly better than the league average of 8.3 percent.
It's only two starts, but Lamet's pure stuff jumps off the page. Lamet has averaged 95 mph with his fastball and has topped out at 98 mph. The average starting pitcher sits at 92.5 mph with his fastball. Here's Lamet striking out Michael Conforto with 98 mph gas in the first inning of his start against the Mets last week: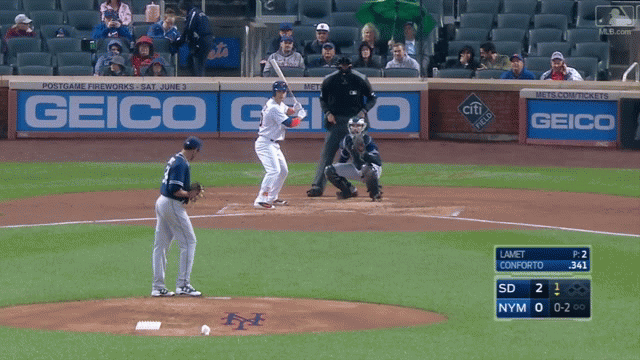 Lamet's slider has been highly effective. He's generated 15 swinging strikes through 61 sliders thrown, a 24.5 percent rate, with league average swinging-strike rate on a slider at around 15 percent. The pitch has sat between 83-88 mph and averaged about 86 mph. Here's a back-foot slider thrown from Tuesday night that strikes out Jon Jay: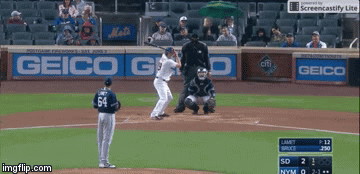 Lamet has also flashed a nasty change up. Lamet has sat 88-92 mph with his change up and showcased some vicious movement on a few of them. This is a hard 92 mph change up that gets Jay Bruce to flinch before running over the plate for a called strike:
And here's an 89 mph change up that fools Michael Conforto in a 3-2 count: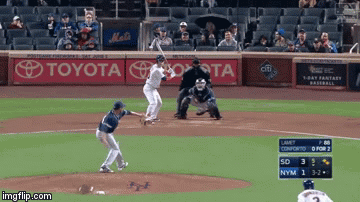 The Bad
One of the knocks on Lamet as a minor leaguer was a reliever profile, and Lamet hasn't held his velocity particularly well in either of his first two starts. The average starting pitcher loses about 0.4 mph on his fastball from the first inning to the fifth inning. On Tuesday night against the Cubs, Lamet lost about 2 mph, down to 94.1 mph in his fifth and final inning, a drop from 96.4 mph in the first inning and 96.1 mph in the second inning. In his first start against the Mets, Lamet also held his velocity at a below-average level, losing just under 1 mph, down to 95.4 mph in the fifth inning from 96.2 mph in the first inning.
Lamet also has been inefficient with pitch counts. He has averaged 18.4 pitches per inning, which is less efficient than the league average of 16.6 pitches per inning. If you want to knock Lamet for something, he's been below average at holding his velocity in each of his first two starts and he hasn't been efficient with his pitch counts.
Buyer's Guide: Buy
There are some concerns about how Lamet will hold up as a starting pitcher in the long term. He's done a below-average job at maintaining fastball velocity. He hasn't been great at keeping an efficient pitch count that will allow him to remain deep into games. The 2017 Padres are also a bottom-three offense by runs scored, OPS, and wRC+, so run support likely will remain limited. A lack support combined with a possible problem with Lamet pitching deep into games doesn't bode well for the wins category.
But for me, Lamet's performance has been too eye opening to ignore. His ability to miss bats with premium velocity and a nasty slider looks super legit, and he's flashed a changeup that might be able to keep lefties off his fastball if he can find consistency with it. The 92 mph change he threw to Jay Bruce in his first big-league inning jumped out, and showed a glimpse of what could be if he could harness a good third pitch to complement his electric fastball and slider combo. Petco Park isn't quite the same pitcher's paradise as it used to be, possibly due to city construction changing the wind patterns, but it's still a forgiving home park for pitchers. As currently constructed, Lamet looks like a useful starting pitcher, and he carries upside for more with further development at the big-league level.
Thank you for reading
This is a free article. If you enjoyed it, consider subscribing to Baseball Prospectus. Subscriptions support ongoing public baseball research and analysis in an increasingly proprietary environment.
Subscribe now