Victor Martinez went 2-for-4 yesterday, which makes him 27 for his last 72—good for a robust .375 batting average during that time from the fantasy wasteland known as the catching position. Thankfully, Jim Leyland has made sure Martinez has caught at least 20 games this season, giving fantasy owners another season of Martinez behind the plate, but all is not well in Motown.
Flash back to June 10th of this season when Martinez hit a two-run home run off then Mariner hurler Erik Bedard, going the opposite way in the bottom of the 4th. I linked to that home run because of its notoriety; Martinez has not hit a home run since. His dry spell has now reached a career-high 205 at-bats, which eclipses his awful 198 dry spell that ran from 9/25/07 when he homered of Felix Hernandez to 9/2/08 when he took John Danks deep.
The horsepower may be missing from Martinez's bat, but the engine is still running as he has hit .341./397/.385 over his past 205 plate appearances. Considering the fact that only seven other catcher-eligible players are hitting over .270 this season (McCann, Hernandez, Pierzynski, Avila, Moline, Lucroy), it seems a bit nitpicky to focus in on the lack of power, but I find it problematic that Martinez has the same amount of runs driven in during this power outage as Dexter Fowler has all season. I find it disturbing that Darwin Barney has seven more extra base hits than Martinez during a similar homerless streak and that Juan Pierre has one more extra base hit during his homerless run. He and Ryan Theriot started their homerless streaks just a day apart, yet Theriot has one more extra base hit in nearly 50 fewer plate appearances. Justin Smoak hit his last home run on June 13th but has the same amount of extra base hits since that point than Martinez does (despite 75 fewer at bats).
Despite those power struggles, Martinez is still on pace to exceed last season's RBI total of 79. He should also surpass last season's runs scored total of 64 and could even potentially exceed his career high batting average of .316 from the 2006 season. Still, the six home runs are a huge drop off for a player that has hit 20 or more home runs in three of the past four seasons. Sure, he is 32-years-old, but how does a hitter's home run total drop off this quickly in one season, much less in on that he is clearly seeing the ball so well in?
Injuries: The Injury History section of Martinez's player card is remarkably clean, by his standards, this season. He has one stint on the disabled list with a groin strain that shelved him for the latter half of April, but that is really it. In the past, he has had several injuries, but this season, his bill of health is relatively clean.
Ballpark: Last season, he was in Fenway, which is obviously a bit friendlier to right-handed hitters than it is left-handed hitters, yet Martinez hit 12 from the left side and eight from the right side last season. This season, he has hit all but one of his home runs as a lefty, possibly due (in part) to the fact that Comerica Park tends to favor right-handed power. Using the tool from Katron.org, however, we can see that playing his home games in Detroit has not cost him much at all: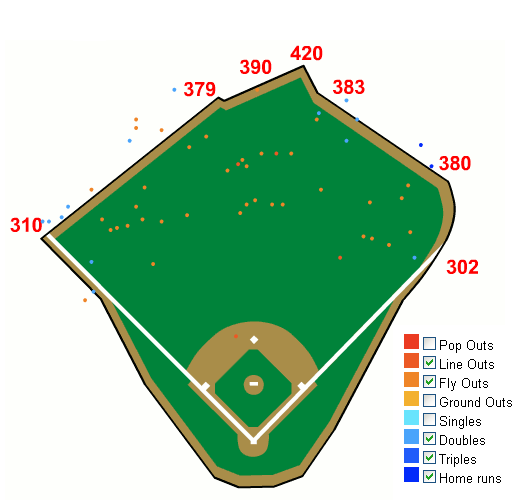 To date, two of his doubles to right-center field at Comerica would have been home runs in Fenway while the six doubles he has hit to left and left-center could have clanked off the Green Monster or gone into the Monstah seats. For argument's sake, let's assume that two of the six would have been Fenway home run distance. Just three of his fly ball outs at Comerica would have threatened the wall, so, in all, he would likely have just seven more extra base hits this season if he were able to take Fenway's dimensions with him to Detroit.
Distance: HitTracker shows us how far Martinez is hitting his home runs this season. Just three of his six home runs have gone at least 400 feet this season, and only two of them would have gone out in any park.
Compare that to last season when 11 of his 20 home runs were hit 400 or more feet and 16 of his 20 home runs were considered "no doubters."
Home run distance is influenced by how fast the ball is traveling as it leaves the bat. HitTracker becomes even more useful in that it also measures that. In 2010, the average home run left Martinez's bat at 102.3 miles per hour and 15 of his 20 home runs left the bat at 100mph or faster rates. This season, his home runs have averaged 101mph leaving his bat and four of his six home runs have left the bat at rates exceeding 100mph. The table below shows the average speed of the balls that left his bat and became home runs in recent seasons with 2008 excluded due to the recovery from his elbow injury.
| | |
| --- | --- |
| Year | Average Speed Off Bat |
| 2011 | 101.0 |
| 2010 | 102.3 |
| 2009 | 102.8 |
| 2007 | 101.9 |
| 2006 | 104.2 |
Batted Ball Types: In 2009, Martinez hit 23 home runs with a 35 percent fly ball rate. In 2011, he once again has a 35 percent fly ball rate, but the balls are not traveling as far. In 2009, 13 percent of the fly balls that he hit for the Indians and Red Sox became home runs, but just five percent of the home runs he has hit for the Tigers have resulted in home runs.
We are left with a 32-year-old fantasy catcher that is providing elite batting average and is exceeding most of his production from a valuable 2010 season, but he's hurting owners in the home run department. He is hitting balls at nearly identical rates as last season, but they are not traveling as fast off the bat as they once did and thus not as far off the bat as they did in past seasons. If you projected Martinez for another 20 home run season, you are left wanting more help from him in that critical counting category, and you are likely going to continue to remain in that state throughout the rest of the season. His power expectations for 2012 should be adjusted down to the mid-teens as his days of 20 home runs seasons are likely a thing of the past.
Thank you for reading
This is a free article. If you enjoyed it, consider subscribing to Baseball Prospectus. Subscriptions support ongoing public baseball research and analysis in an increasingly proprietary environment.
Subscribe now